NFL
Rookie Trojans Set Up For NFL Success: Leonard Williams
USC had six players taken in the 2015 NFL Draft, tied for fifth-most among all schools. Among the six selected, however, the three with the most direct opportunities for significant playing time are Leonard Williams (sixth overall, NY Jets), Nelson Agholor (20th overall, Philadelphia Eagles), and Buck Allen (125th overall, Baltimore Ravens).
Williams goes to a situation in New York that is already loaded at defensive line, but he will still see a lot of opportunity, as one of the best incoming NFL prospects. Agholor should see plenty of snaps due to Jeremy Maclin's free agency departure and Chip Kelly's pension for using young receivers both early and often. And finally, Allen already has a chance to win the second running back job this year behind one of the best offensive lines in the league. All three of these players have clear paths to playing time, and the respective situations each has been drafted into could mean great success in the very near future.
First up, The Big Cat in the Big Apple.
Leonard Williams
Williams arrives to a Jets team that already boasts one of the best and most unique defensive lines in the league.
At one 3-4 defensive end spot, Sheldon Richardson brings leverage and quickness to make up for what he lacks in raw speed. Richardson's game revolves around relentlessness and explosion once he sees an opening into the backfield. He lives on contact and is a very powerful player: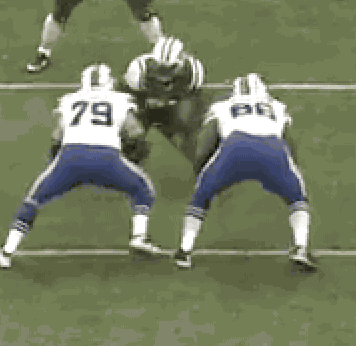 Muhammad Wilkerson—the other defensive end—is more of a finesse player, who has the athleticism and length to get around blockers rather than through them: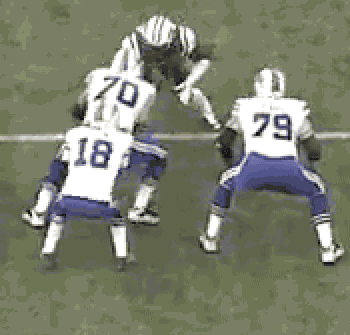 Meanwhile, nose tackle Damon Harrison has the size and strength to take on double teams and clog running lanes consistently, but doesn't bring much to the table in terms of penetration and pass rush: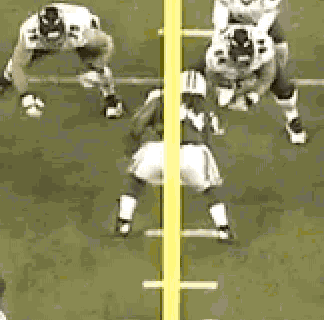 Todd Bowles likes to vary the alignments of the 3-4 down defensive linemen. One of his favorite alignments is somewhat of a loose "bear" front, in which there is a nose tackle head-up on the center, and each defensive end plays a 3-technique spot. Here's an example (#93 Calais Campbell is actually at more of a 3-technique here, almost head-up on the guard rather than over the gap next to the guard, but the tight splits of the d-linemen is what's important):

And here (even though #95 Tommy Kelly is more of a 4i):

In a traditional 3-4 scheme, the ends will play 5-technique roles right outside of the offensive tackles, so Bowles' preference is a more condensed formation. This formation is more "1-gap" based (rather than traditional "2-gapping" 3-4 defenses) and helps clog running lanes up the middle. It can also help with getting players in single matchups (ex. Calais Campbell is 1-on-1 with the right guard in both of the above images), and facilitates the process of freeing up blitzers up the middle.
Bowles likes to blitz through the A-gaps a lot, and covering up or occupying the interior offensive linemen overloads the middle meaning opposing teams simply can't block extra interior pressure (since they can't block two players at once). This puts a whole lot of responsibility on the running backs and tight ends to know their assignments. Todd Bowles is a master at this mental game.
When Williams comes into the game at the base defensive end spot, he will fit into Bowles' condensed base front quite nicely. He was an elite run defender at the college level, and there is no reason why he shouldn't simply just plug in and continue his "stacking and shedding" at the next level. Additionally, in Bowles' blitz-happy defense, Williams will often be asked to simply occupy blockers to free up blitzers, something he should also excel at.
Here is another type of front that Bowles used occasionally:

Notice the four "big" down linemen: No. 98 Frostee Rucker, No. 92 Dan Williams, No. 95 Tommy Kelly, and No. 93 Calais Campbell. These are all 3-4 scheme players that Bowles deployed in a 4-man front in order to get a little heavier and theoretically stiffer against the run on this play. Going four-heavy with Williams, Richardson, Wilkerson, and Harrison should be nearly impossible for any offense to run against. (Seriously, that should be insane).
The Jets liked to run something a little similar last year, but their personnel allowed them to do it more often and in different situations:

Again, No. 96 Muhammad Wilkerson, No. 93 Kendrick Ellis, No. 91 Sheldon Richardson, and No. 98 Quinton Coples are all base 3-4 players playing in a 4-man front here. The Jets used this heavier front in sub-packages, while other teams usually will go lighter and faster in sub-packages. However, Wilkerson and Richardson are two of the best all-around defensive linemen in the game, so Rex Ryan wanted to keep them on the field for as many snaps as possible.
While Wilkerson and Richardson and excellent pass rushers, and even Coples is competent (even though he hasn't lived up to his first round draft status), Ellis is listed at 346 pounds and doesn't really bring much to the table as far as interior athleticism is concerned. Ryan undoubtedly put Ellis out there in this situation to command the guard-center double team, subsequently freeing up the other three linemen by putting them in single matchups. Ellis' sheer bulk also gives New York insurance just in case Chicago did try to run in this situation.
But Ellis is a New York Giant now, and plugging Williams into this 1-technique role would definitely give their sub-package pass rush a little more pop. His strength can allow him to anchor against a double team, while his stellar run-defense prowess means the Jets won't have to worry much about staying honest.
Bowles asked Calais Campbell to take on this 1-technique role fairly often in Arizona, and Campbell excelled at it: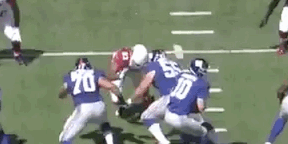 He takes on the double team, anchors, and even disengages to make the tackle. Simply beautiful.
For comparison, here is Leonard making a play in the midst of bodies too: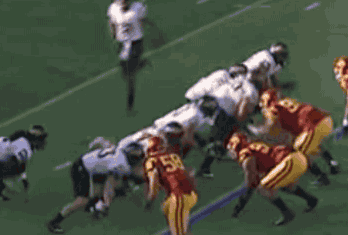 And one of hi many great plays against a single block: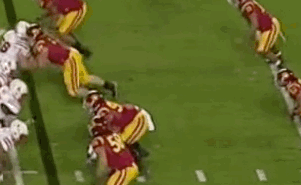 Williams has the capacity to anchor the defensive line in sub packages, where he should see action right away as a Jet.
Touted for his versatility, Williams will surely be used a fair amount as a simple rotational piece to give his teammates rest on certain plays as well. But while he is indeed versatile, it seems that he should be used more in place of Richardson than Wilkerson, since he is more similar as a player to the former.
Watch for Williams to play a lot on the interior, especially at 4-technique (head-up on the offensive tackle) or 3-technique (in the gap between the tackle and the guard). Leonard's style of play is more about power than finesse—and for USC fans, this down-and-dirty play by Richardson (91) should look very familiar to what they saw out of Williams over the past few years: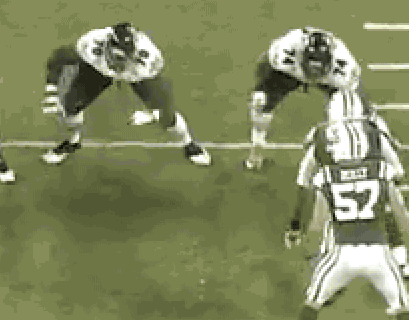 Bowles is notorious for the sheer volume of blitzes he will throw at an offense in any given game; Williams and the other Jets linemen should also see a ton of single blocks because of it. Williams and Co. will be nearly immovable in the run game, and they will see an abundance of one-on-one pass rushing opportunities.
While defensive line wasn't a need for the Jets heading into this season, Williams will come into a low-pressure situation. Most importantly, he won't have to be the Jets' best pass rusher right away, which some have questions about him doing. The bottom-line is this: The Jets' defensive line is already a dominant unit, and the addition of Williams should create a snug fit that will benefit both the player and the team.
Follow Andrew McKagan here or email him at [email protected]