California
'Springfield' Grand Opening At Universal Studios Hollywood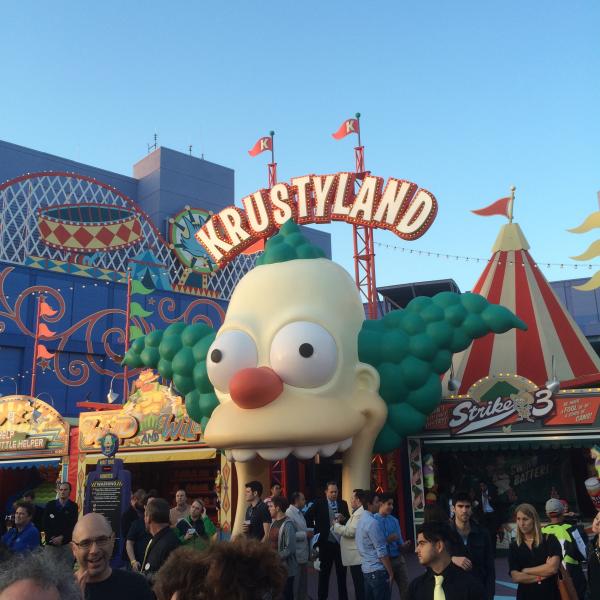 The Simpsons have permanently arrived at Universal Studios
Hollywood to celebrate the unveiling of "Springfield." The theme park was generous enough to provide journalists and enthusiasts alike with a taste of what was to open today. Mark Woodbury, President of Universal Creative, insists the new interactive "Simpsons" themed environment is a must-see for fans all over the world. From various buildings featured in the show to one-of-a-kind culinary excursions, Springfield did not disappoint.
Larry Kurzweil, President of Universal Studios Hollywood, wants "guests visiting from around the world to have the literal sensation of being hurled through their television sets into the fully deimensionalized town of Springfield and to experience the many iconic landmarks made famous throughout the Simpsons in the past 26 seasons."
Walking around, guests will find no shortage of food or laughs, as fans can taste restaraunts featured in the show and walk past buildings they've yet to see in 3 dimensions. Every corner is covered with something that is sure to put a smile on one's face. Ever wondered what Homer's favorite donuts or Moe's customized drinks tasted like?
Be sure to try some of these following places: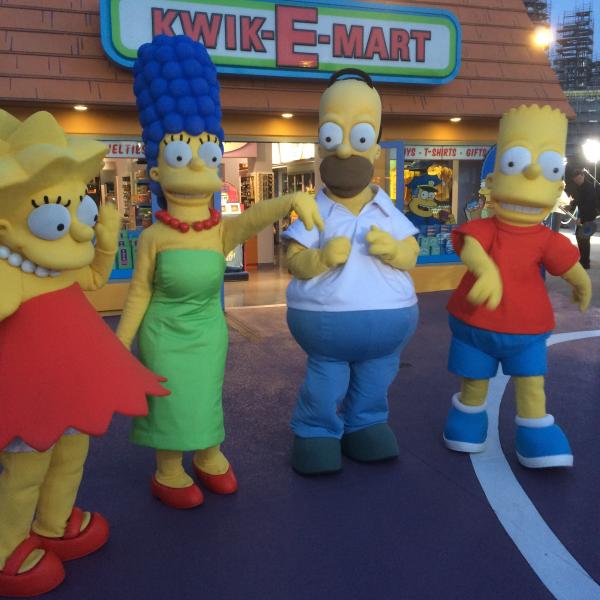 Krusty Burger
Luigi's Pizza (you can't go wrong with the "Meathaters Pizza")
Bumblebee Man's Taco Truck
Cletus' Chicken Shack and...
Don't forget to ask for a "Flaming Moe" from Moe's Tavern.
For dessert, order a (highly recommended Maple Bacon) donut at 'Lard Lad,' and top it off with a scoop from Butterfat's Ice Cream Parlor.
Many of the show's stars and writers came to show their support for the newly unveiled world, as Nancy Cartwright (Bart Simpson) and Yeardley Smith (Lisa), and Joe Mantegna (Fat Tony) enjoyed their time seeing their own characters come to life.
Al Jean, Executive Producer of the Simpsons, broke the ice with several jokes and endearing remarks to put everyone in the perfect mood to start exploring.
"I want to seriously say as a writer what an electric it is to see stray thoughts you had 25 years ago come to life and sell for nine dollars. Enjoy a Duff or a Flaming Moe, and feel you're actually in the wonderful fictional world we've enjoyed since 1987." He continued, "Please, please buy merchandise. As much as fits in a very large bag. It's all we ask. Thank you."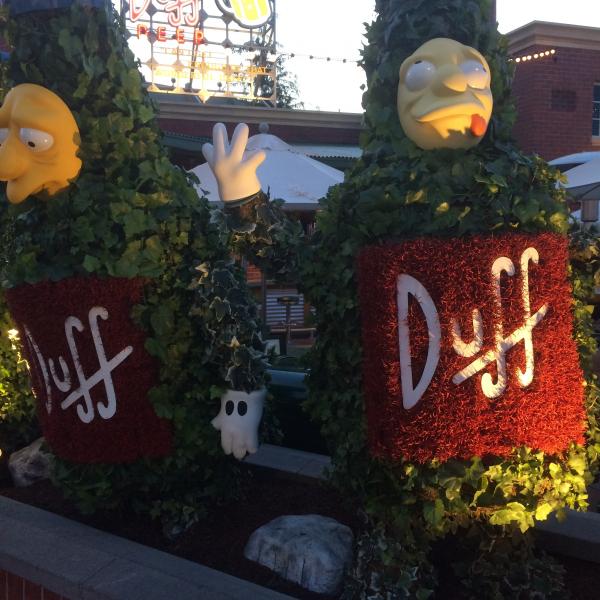 Following Jean's advice, I ventured out to play the various theme park games offered near the Simpsons Ride entrance. Several rounds of balloon darts, basketball games, and horse-racing gave the guests tons of stuff toys; A surpluss of Barts, Lisas, Homers, Marges, and Maggies will be available for the taking, granted you master your dart throwing skills.
But before filling your bags with Simpsons swag (also available for purchase in Kwik-E-Mart), make sure to spend time at the iconic Simpsons Ride that inspired the completetion of Springfield.
Come to Springfield: the perfect place to eat, play, and laugh. Every detail in this land is worth checking out.
"We hope you have as much fun exploring this new land as we did building it," Kurzweil also said.
Reach Staff Reporter Sonia Gumuchian here. Follow her on Twitter here.