Theater and Dance
'Motown' Proves Cultural Relevance And Legacy At Pantages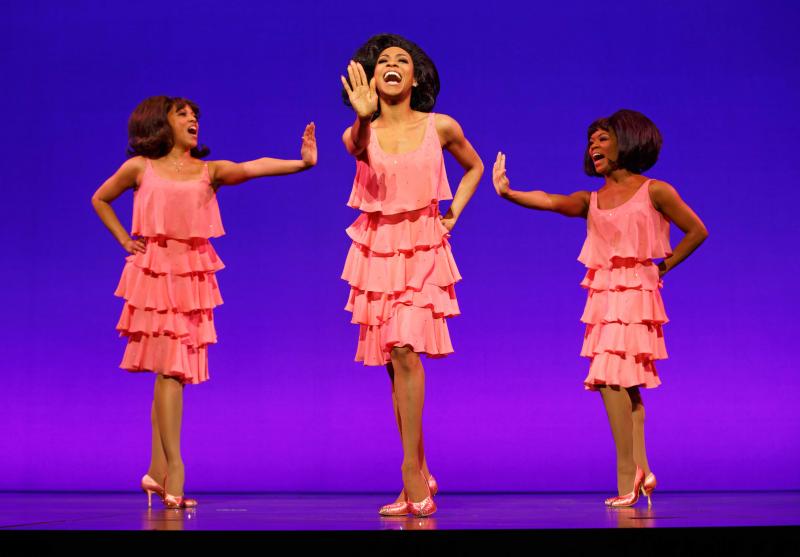 "I'm not going to Broadway-ize Motown, I'm going to bring Motown to Broadway." This is how Berry Gordy, the founder of the iconic Motown record label, described his intentions in bringing the story and music of Motown to the stage in a Broadway musical. And its an apt description
—
"Motown: The Musical," which is now playing at the Hollywood Pantages in its Los Angeles stop on its First National Tour, is more a musical revue than it is a traditional musical in any sense of the word.
The show charts the rise and fall of the legendary independent record label, Motown, under the vision and tutelage of its founder and driving force Berry Gordy (Julian Thomas III). Berry Gordy produced and wrote the show himself (based on his own autobiography), so it is understandably a little one-sided. It paints Gordy as a hero, the loving, magnanimous, ingenious father of the Motown family and glosses over legal troubles and creative disputes, always putting Gordy firmly in the right in every scenario. Considering Gordy is the one telling the story (both onstage and in reality), it's not surprising, but it is frustrating and results in main characters who lack any real depth or nuance. It also prevents the show from ever truly manifesting itself into high-stakes storytelling, since conflicts are never given room to develop into any drawn-out drama.
"Motown" is a jukebox musical, meaning it relies on the integration of popular music and pre-existing songs rather than featuring an entirely original score. Other jukebox musicals, such as "Jersey Boys" and "Mamma Mia," weave music into their storytelling, using the songs to highlight and reflect the emotional context of narrative moments. "Motown" takes a different tact, telling the story of the label and its music chronologically.
Though this occasionally leads to some clashes between storytelling moments and song selection, it results in something that speaks to Motown's legacy and its enormous success at a specific moment in American history. It demonstrates how the music of Motown was, at least for much of the 1960s and 70s, a soundtrack to and commentary on our times. When the country was embroiled in the drama of Civil Rights and the Vietnam War, Motown hits like Marvin Gaye's "What's Going On?" and Edwin Starr's "War" reflected the turmoil of the era. From earlier, lighter fare like The Temptations and The Supremes to the soul music of the counterculture era to the hits of Stevie Wonder and the Jackson 5, Motown was the sound of America both here and abroad for decades. The musical does an excellent job reflecting the cultural power of the label, even if it does almost deify its founder in the process.
Given this, the show has its strongest moments when it features such songs in the context of the political turmoil that inspired them. Its most powerful production numbers are the aforementioned "War" and "What's Going On?" — featuring strong choreography and ensemble work, as well as a palpable political charge. Perhaps this is because with this Opening Night coming in the wake of a week of violent unrest in Baltimore, songs like "What's Going On?" are profoundly relevant. In a year where the flourishing specter of racism in America has been broadcast on an international stage, this song is a stirring call to action that still can inspire anger, sadness, and confusion in a listener faced with the truth and relevance of the lyrics' questions.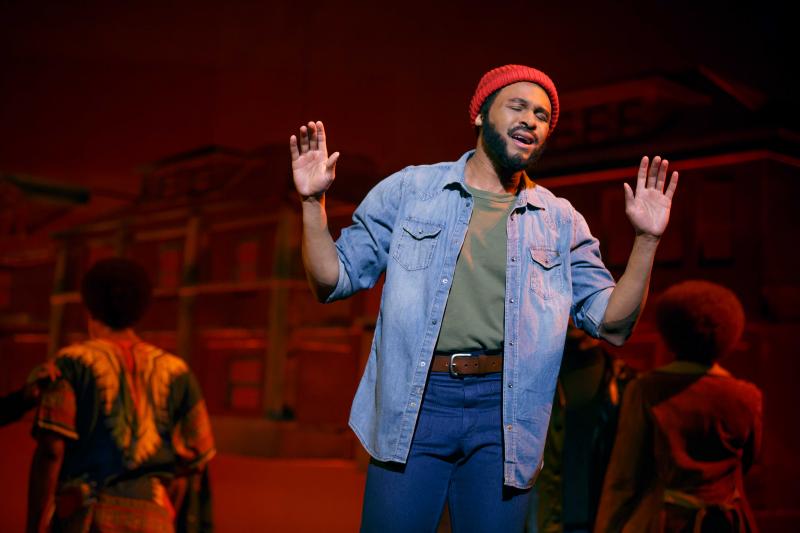 This is helped by strong performances from a gifted ensemble and Jarran Muse as Marvin Gaye. "War" features the entire ensemble in an exciting production number with choreography that echoes and punctuates the pulsing beat and anti-war cry of the song. Patricia Wilcox's choreography shines throughout, reflecting the iconic steps of groups like The Miracles and the Jackson 5, but it gets to take on a unique moment here in a number that bristles with counterculture energy.
Jarran Muse steals the show as Marvin Gaye — when he came out in Gaye's full beard and iconic red beanie to bemoan "What's Going On?," it seems as if Gaye has returned to life for a brief moment. He resembles Gaye to a startlingly degree — from vocal quality to physical demeanor, and it made me ache for the long-in-development Marvin Gaye biopic to finally come to fruition. Muse reminds us why this man was both a purveyor of sexual healing and a necessary, ferocious political voice. Muse's rendition of "What's Going On?" left me with angry tears in my eyes knowing this song still rings so tragically true.
Other stand-out performances come from Allison Semmes as Diana Ross, Elijah Ahmad Lewis as Stevie Wonder, and Leon Outlaw, Jr. as young Michael Jackson. They nail the vocal ticks and physicality of the respective artists they bring to life. Lewis not only sounds like Wonder, but his physicality goes beyond mere mimicry in his efforts to bring Wonder's distinctive body movements and head wobble to life. Michael Jackson had a once-in-a-lifetime voice, so it's a wonder that another young boy could even come close to his vocal prowess. Outlaw Jr. knocks Jackson 5 classics "ABC" and "I'll Be There" out of the park and infuses the role with his own delightful, boyish charm.
Semmes particularly soars when Ross moves from her role as lead singer of The Supremes to 1970s goddess and independent artist. Looking radiant in long hair and a sparkly white dress, Ross (Semmes) leads the audience in one of the show's most winning moments with her rendition of "Reach Out and Touch." She steps down into the audience to invite guests to sing with her, ultimately asking the entire house to join hands, sway, and sing. It's a moment that puts the unifying factor and cultural force of Motown's music into concrete form-- a group of strangers holding hands and connecting through the giddy joy and shared love of song. She also brings lovely nuance to the romantic moments and trials of Ross' lengthy relationship with Gordy, bringing a depth to the performance and conflict beyond what the shallow script gives her.
Despite all the stand-out performances, the real heroes of this show are the ensemble members who jump from portraying everything to members of groups like The Miracles, The Temptations, and the Commodores to Vietnam War protestors to songwriters and Hitsville employees. There is no unnamed, mass ensemble, as every performer takes on multiple named roles. Yet, they blend beautifully as a group throughout and transition effortlessly from one role to another.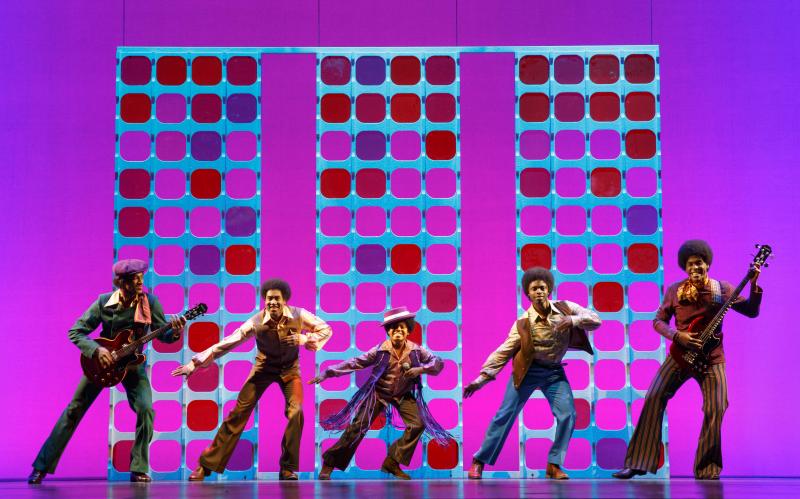 Much of the credit for these seamless shifts must go to Costume Designer Esosa and Hair and Wig Designer Charles G. LaPointe. Ensemble member Ramone Owens told me he has twenty-one costume changes and that that's on the low end for the show. Esosa and LaPointe bring us from 1938-1983 over the course of the play, jumping through changing fashion trends, hairstyles, and facial hair. Berry Gordy (Julius Thomas III) alone goes from a clean-shaven, wavy-haired young man to a fully bearded, slightly afro'd music innovator, and the wigs and facial hair never look remotely false. Esosa and LaPointe not only expertly transition through decades and styles, but they also recreate the iconic looks (both in clothing and hair) of artists like Smokey Robinson (Jesse Nager), Marvin Gaye (Jarran Muse), and Diana Ross (Allison Semmes) who enormously influenced fashion at the height of their fame.
Despite it's musical revue flavor leading to thin storytelling, "Motown" is still a rollicking crowd-pleaser. Nearly every song is a recognizable classic, and they are all performed masterfully from vocals and harmony to distinctive choreography. You feel as you've been transported back to watch these songs that are part of the fabric of American culture at the moment they entered the pop culture lexicon. The show is the very definition of a "feel-good" production, appealing to nostalgia and anyone who grew up with these songs embedded in their life.
Motown was, for many, the sound of America, and more importantly, the sound of a rightfully more diverse America that many were just becoming awakened to in the 1960s. The production with its non-stop string of hits, starting with the crooner standard "To Be Loved" and ending with the soul sounds of Stevie Wonder and funk of Rick James, makes the impact and legacy of Motown the real subject of its storytelling -- and you can't leave without a spring in your step and an immense sense of awe that all these hits and iconic cultural figures and moments came from one place.
During the opening night curtain call, prior to the eighty-five year old Berry Gordy showcasing some astonishing dance moves, the director Charles Randolph-Wright commented on art's ability to connect and heal. The show not only showcases Motown's role as a generator of artistic moments that helped connect and heal a traumatically divided nation, but it also enacts this process itself. For three hours, an audience of varying races, ethnicities, and social strata can come together in the dark to connect, and in remembering the profound relevance of the Motown songs and story, move toward healing.
"Motown: The Musical" is playing at the Hollywood Pantages (6233 Hollywood Boulevard) through June 7. Tickets start at $25. For more information, visit www.HollywoodPantages.com/Motown.
Contact Staff Reporter Maureen Lee Lenker here or follow her on Twitter @maureenlee89