Film and TV
Film Review: 'Kurt Cobain: Montage Of Heck'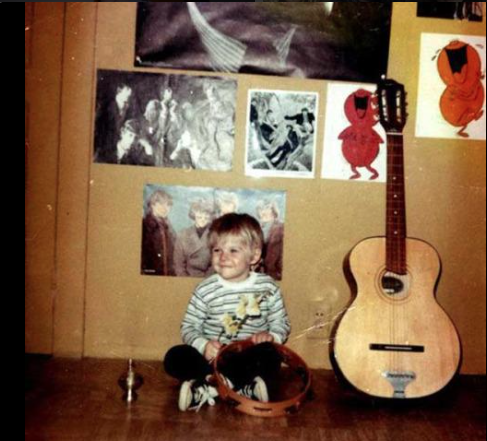 Before the documentary begins, we see a picture of
Kurt Cobain
smiling with the quote "I'd rather be hated for who I am than loved for who I am not."
With this quote, "Kurt Cobain: Montage of Heck" shows us the tragic and compelling story of Kurt Cobain's troubled path to success in Nirvana. To understand the Punk Rock-influenced band, the documentary shows Kurt as a toddler. He was a happy child—showed with a lullaby version of "All Apologies"—until his parents' divorce. By his family and friend Krist Novoselic, Kurt is described as a person who was always thinking, working, keeping busy and was someone who hated feeling shamed, embarrassed and ridiculed.
While being suicidal at a young age, music was what kept the young singer/guitarist alive. Kurt's diary entries and drawings coming to life with animation allow the audience to get inside his head while listening to his early takes on many of Nirvana's famous songs. His journal entries show Kurt's perfection and genius that couldn't be fazed by embarrassment, which eventually led to his death. Footage of him performing with his bandmates also shows these qualities, tying into his first negative concert review.
We see footage of Kurt while rehearsing and performing at venues, but we also hear his voice while watching animated scenes of his life while living with girlfriend Tracy Marander.
READ MORE: Why John Oliver Is Here To Stay
Footage for this documentary were obtained from Kurt's family members, including interviews and journal entries.
Though the documentary has interviews of Cobain's family and friends with no narration, it's told through Kurt's eyes through journal entries that show his goals as a musician and his tragedies as a person.
We see just how small his community was, having no friends except his bandmates, a broken family who he says he loves, but cannot relate to and two loves. In unhappiness, the documentary also shows his struggle to stay alive even with his band's success. With mental stress causing physical stress, he takes to heroin to numb pain and humiliation.
"Kurt Cobain: Montage of Heck" isn't just a documentary—it's a scrapbook of Cobain's life. Like his mother says about her life has a housewife shorty after marrying Don Cobain, "Kurt had to be born, it was a must."
Interviews include Kurt's mother, Wendy O'Connor; his father, Don Cobain; his sister, Kim Cobain; his stepmother, Jenny Cobain; bandmate/friend, Krist Novoselic and wife, Courtney Love. Songs featured are "Oh Me," "Something in the Way," "Scentless Apprentice," "Smells Like Teen Spirit," "School," "Breed," "Heart Shaped Box," "Lithium," and more.
Reach TV Editor Tanya Mardirossian here. Follow her on Twitter.