Film and TV
Brooke Anderson Of 'Entertainment Tonight': How To Own Your Day[Dream] Job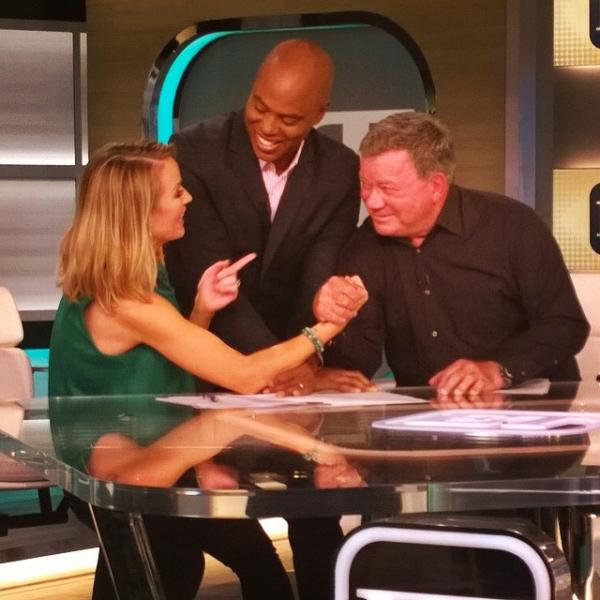 Award-winning broadcast journalist
Brooke Anderson
may humbly refer to herself as "a wife and mom with a passion for fashion and fitness," but in reality, she's one of the hardest working women in television, complete with a Southern sensibility that's sweet as pie, and a work ethic (and triceps!) made of pure steel. Anderson has been honored by
The Academy of Motion Picture Arts and Sciences
as a part of the 2011 Oscar Correspondent Contest's Blue Ribbon Panel, and received the National Daily Point of Light Award for volunteerism from President George W. Bush during his administration.
When she's not busy arm-wrestling with William Shatner on the set of the Emmy Award-winning show "Entertainment Tonight" (yes, that's Captain Kirk himself pictured above), interviewing the First Lady, or reporting live from the red carpet, Anderson is the doting mom to two little girls, and a passionate advocate for cancer research. Anderson took time out of her busy schedule to share a few pieces of advice exclusively with USC Annenberg students on a recent visit. She spoke about the importance of being earnest, enterprising, and above all, every bit of who you really are -- whether you're working on your day job, your daydream, or your dream job:
Be enterprising. If you're rejecting the status quo in the newsroom (or the boardroom) think about strong alternatives or solutions to offer. For example, "if you disagree on what the story (or the headline or angle) is, make sure you have ideas on what it should be instead," says Anderson.


There's no such thing as being "over-prepared." Anderson emphasizes the importance of research and preparation in everything she does. Ask yourself, "How do I stand out? What's different about my story?" Being prepared also gives you the ability to be spontaneous, something Anderson says can be thrilling, even if you're not on live TV.


"Lean In" and you can have it all. "My parents always told my siblings and me that anything is possible if we work hard," Anderson says. "There was definitely never a discussion of 'can you have it all?' or how hard it would be to have it all," she added. Reading Sheryl Sandberg's uber-popular book, "Lean In," also helped refine the "work hard, work smart" mentality she grew up with, especially now that she juggles a hectic full-time television job, a husband, a five year-old and 16 month old.


Never Burn a Bridge. You never know when you'll need a work favor, a second chance, or a new opportunity. When it came time for Anderson to make a decision on whether or not to leave CNN after more than ten years of service, she felt uneasy about the change and wondered whether she would contractually be allowed to leave. She started out working the overnight shift directly after graduation from the University of Georgia, and over the years her responsibilities ran the gamut from writer and guest booker to producer, and eventually correspondent for CNN and Co-Host for HLN. When it came down to it, and she was ready for a change, she was pleasantly surprised to hear these words of support: "Brooke, you've always done everything we've asked you to do. You deserve this."


Stay true to who you are. When asked to take voice lessons to change how she speaks for television (she was blessed with a charming accent by way of being born in Savannah, Georgia), Anderson says, "I didn't want to have to change who I am." To get around the request, she taught herself how to speak in a way that made her boss happy and allowed her to maintain her warm, Southern sensibility, with Georgia 'on her mind' and heart. Now how's that for a 'sweet and clear' solution?
Reach Staff Reporter Kristin Marguerite Doidge here and follow her on Twitter here.