Los Angeles and Region
Dog Euthanasia Is Down, One L.A. Organization Helps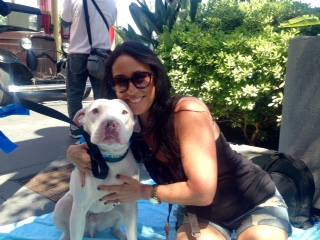 The landscape of dog adoption and euthanasia is changing in Los Angeles. Adoption rates are up and euthanasia is down.

Between 2013 and 2015, the County of Los Angeles Department of Animal Care and Control saw a 42% decrease of euthanasia performed in shelters. This decrease is a result of a partnership developed between private dog rescue organization or 'adoption partners' and county shelters. One rescue is taking that partnership a step further, with dog-to-owner match making.

Wags and Walks is a Los Angeles-based organization founded by self-proclaimed "Chief Animal Lover" Lesley Brog. Brog couldn't bear the thought of the euthanasia of any more dogs. "I followed my heart, left my job as a pharmaceutical sales representative and started taking them one by one, getting them to the groomer, the vet and into great homes. What followed organically were amazing people to help," said Brog.

What makes Wags and Walks different is that they work to match family-friendly dogs with their perfect owner.

"When placing a dog we consider if the adopter has children, other pets, a yard," said Volunteer Kyley Cristiano. "Is the adopter gone long hours, is the adopter active, do they have experience with dogs or are they looking for a certain breed…. We get to know our dogs to determine how they fit into that criteria."

To make these matches, Wags and Walks do what they call the "Lesley Test." Brog enters county shelters looking for friendly, outgoing dogs that get along with other dogs and children. Once Lesley retrieves the dogs, she or other Wags and Walks volunteers foster them temporarily until a qualified owner adopts them.

SEE ALSO: Playing For Bigger Possibilities: How ACEing Autism Changes Lives Through Tennis

Dogs are a much larger commitment than Wags and Walks' $400 adoption fee, a fee $300 more than that of the county shelter. "Dogs require more than just love," said Brog. "They need a safe home, a responsible owner and the understanding that a dog includes up to 20 years of medical care, food and grooming."

Wags and Walks' selective shelters pulls have resulted in a quick adoption turnaround. Since the start of 2015 more than 200 dogs have been adopted. That's more than half the organization's 2014 adoption rate, with Wag's seeing just a 1-2% return rate.

The boost in adoption comes from this partnership between dog rescues and public shelters. L.A. County currently works with 224 adoption partners who visit up to four times a week to perform shelter pulls and transport adopted dogs to their new homes. Marie Lentz, director of the Dexter Foundation Dog Rescue in Redondo Beach, says shelters often reach out and ask organizations to foster a dog before resorting to euthanasia. "All you need is two weeks to save a dog," said Lentz.

While shelters rely on adoption partners like Wags and Dexter, they've created in-house programs to help get their dogs adopted. "90% of our dogs are adoptable," said Betsey Wevster, chief deputy director of the County of Los Angeles Department of Animal Care and Control. "We have two donation-based programs that help bring our dogs back to life. Grooming Gives Hope takes our neglected, mangy dogs and gets them made-over by professional groomers, and Dreams Come True funds the medical procedures of pre-adopted dogs that adopters cannot."

Promotion is another tool shelters use to get more dogs adopted. Once groomed, a volunteer photographer visits the shelter to take "glamour shots," which are shared on the shelter's social media, spreading the word about the shelter's adoptable dogs.

Even with these efforts, 6,000 dogs were euthanized in L.A. County shelters last year. For the county, education is key. Though an L.A. County ordinance regulating care for dogs, known as Title X, requires dog owners to spay/neuter their dogs, many go untreated, producing unwanted litters that result in dogs ending up in shelters.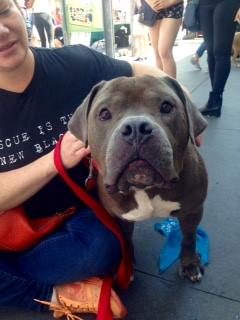 Most shelters only have funding to house and feed dogs. Shelter volunteers come in to help socialize, train and test the temperament of the dogs, especially human and dog-to-dog interaction. But if the County of Los Angeles' Department of Animal Care and Control board of directors had the funding, they'd rather spend it on community outreach and education to ensure countywide implementation of the Title X mandate. "If we had more funding, we would put it into offering our spay/neuter program at the lowest cost to ensure all pet owners have access to improving their pet's health and preventing overpopulation," said Wevster.

While spay/neutering can keep dogs out of shelters, it's the lack of training that often keeps them in. Animal trainer Karen Pryor, has taken her experience training dolphins to the dog world, developing clicker training, a 23-year-old reinforcement-based method that uses clicker devices. The clickers, found online and in pet stores, create lasting memory-based results unlike the fleeting, often-used corrective trick-based method many owners use to train their dogs.

"It's a game you play with the dogs," said Pryor. There's a mat, you click and if they go to the mat they get a treat. You build an opposing behavior to whatever you don't want. Using this technology, in about 15-20 minutes you can quiet a kennel full of dogs. It sticks with them, once they realize they did something that results in food, you have their attention."

Many owners aren't equipped with dog training knowledge. "It's hard to correct bad manners with love and a leash," said Pryor. "Matching people with a dog they can handle and be happy with is great, but focusing an owner's attention towards developing the dog to please is what's going to work for them."

Wags and Walks fund operations and training through profits made from adoption fees, donations, "gofundme" accounts which function as online fundraisers and their annual "MuttinButLove" gala whose 2015 goal aims to raise funding for the adoption of 1,000 dogs.

What's bringing adoption funding to organizations like Wags and Walks is promotion done through social media and in the ads of car services like Uber. "Our dogs were featured, and after we had companies reaching out to us for puppy parties," said Morrow. "They make a donation and we go to their office and give workers an hour-or-two puppy break. They play with dogs, we raise money and dogs get adopted."

These events are conducted in what are called "pup-up cafés," which have become increasingly popular worldwide, including in Los Angeles. They are temporary eateries, held in storefronts rented out for the event. Local government health codes bar food preparation on the premises but food trucks and café's provide refreshments for the pop-up event.

One of those events happened this past March. Wags and Walks dogs were brought to a makeshift "pup-up" café in Los Angeles to play with dog lovers, at the cost of a $15 donation. This resulted in these dogs getting the exposure and hands-on playtime that led to the adoption of 20 dogs.

Whether through promotion, galas, or citywide adoption events, the core of what shelters and adoption partners like Wags and Walks want is the same.

"Our main objective is to bring awareness to what it means to be a responsible pet owner," said Shane Lee, a staff assistant with the County of Los Angeles Department of Animal Care and Control. "Have your pet micro chipped, spayed and neutered, have your animals licensed; these are all things that help keep pets out of shelters."

And working with adoption partners can only help. "We all want to lower the number of dogs in the shelter and by working together we've lowered that by 10-15,000 per year, if we keep it up, we can only get better," Lee said.

Reach Contributor Mona Khalifeh here.