Food
New Food Truck Buddha Bing Offers Fresh Spin On Popular Chinese Snack
Weichao Kong and Mike Nassif, co-founders of Buddha Bing, a new food truck staking its claim near the USC campus, have experienced firsthand the excitement and challenges of the mobile restaurant business.
Nassif said the idea for the truck emerged in 2008. He was visiting China with a friend, Teddy, who introduced him to a popular Chinese street food called jian bing— a thin fried pancake typically filled with egg and fresh herbs. Upon returning home to Los Angeles, Nassif craved the savory and spicy snack found on nearly every street corner in China.
Tired of his desk job, Nassif decided to pursue a second career in hospitality, and began selling jian bing in Teddy's café in the San Gabriel Valley. The product generated interest from customers, many of whom had never experienced jian bing before.
SEE ALSO: Atypical Tourists: Coolhaus Food Truck
"People were interested in the product," Nassif said. "It's hard to find here; only a few places make it."
Sales were slow, though, and the idea went on the back burner. Later on, Teddy called Nassif and told him he'd found someone else to get in on the idea— a man named Weichao Kong, who would become the third co-founder of Buddha Bing.
Teddy introduced Kong and Nassif, and that's when business really took off. They immersed themselves in the venture, striving to develop the best possible product.
"We had a decent recipe in the beginning, but knew we could make it better. So we experimented; we probably ate a thousand of these things," Nassif said.
Buddha Bing offers eight varieties of "bings." The "OG Bing" is a paper thin crepe stuffed with crunchy fried dough, fresh romaine lettuce, cilantro and a runny egg. Adaptations to the original include "Swine Song," which contains tender braised pork, and "Greenthumb," comprised of kale, avocado and smoked kimchi.
Once the owners had perfected their product, they began appearing at food-focused festivals throughout the L.A. area. Their first event, the Asian American Expo, was in January 2015. All they had was a small booth, a table and a crepe maker.
SEE ALSO: Your Truck-Made Burger May Be More Sanitary Than Its Restaraunt-Made Counterpart
"That crepe maker screwed us over. There was a line from here to the church of people wanting our food," Nassif said, pointing to the church about fifteen yards away. Nassif explained that the crepe maker did not accommodate a high-volume workflow.
At their second event in February, the San Gabriel Lunar New Year celebration, Nassif said he and Kong were better prepared to handle large crowds. In March, the pair decided to lease a truck. Their first day of business was April 6.
That day, Nassif recalled, they were in disarray: they sped to their venue and a fryer mishap filled the truck with smoke. "We didn't even do that well that night," Nassif said. "All that effort for, like, 40 tickets."
Despite initial obstacles, the pair has adapted to the fast pace of orders. "Now we crank out 40 tickets, no problem. We do that for lunch," Nassif said.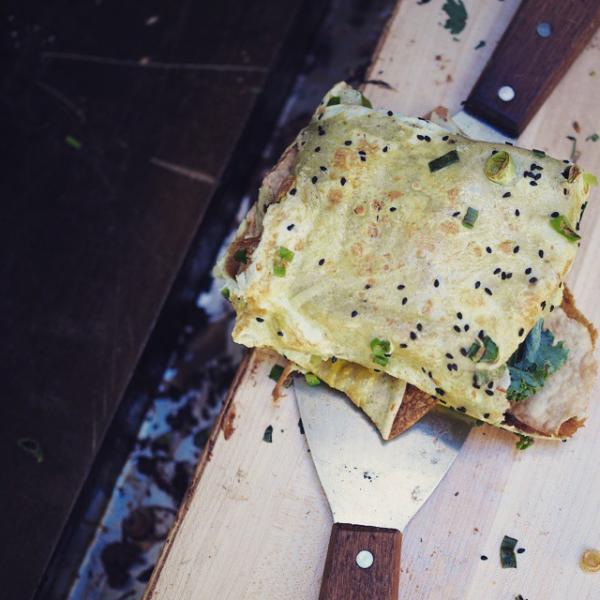 Nassif and Kong aim to develop a following among USC students, parking their truck almost daily on the corner of Jefferson and Hoover streets.
"There's a sizable Asian population at USC, and they're nostalgic about our food, because they can't get it anywhere else in the States," Nassif said.
Nassif explained the challenges of building a loyal customer base. In an industry with sushi burritos, waffle sandwiches and blended fruit bowls, if your product isn't special, it will go unnoticed among the wide variety of unique offerings.
Buddha Bing specifically targets an Asian niche of consumers.
"For Chinese people, this is something really special," Nassif said. "People come to our truck and say they haven't had jian bing in two years, and they miss it."
According to Nassif, if an aspiring food truck owner has a solid product with a clearly defined customer base, the barrier to entry is relatively low.
SEE ALSO: 10 Trendy Food Mashups
"There's a reason there are a lot of food trucks," Nassif said. "The profit margin is healthy. We wouldn't be doing this if it wasn't. But we're not swimming in money, and we have to put in a lot of work."
What's in store for the future of Buddha Bing? Kong said he wants to expand the business, maybe into restaurants— or at least acquire a truck where they can make five or more crepes at a time.
But for now, Nassif said, "We're immersed in this. We wake up and do this, and when we go to sleep at night it's because we're done doing this."
Reach Staff Reporter Ciara Lunger here.