Entertainment News
Asian Youtube Event Does More Than Raise Charity Money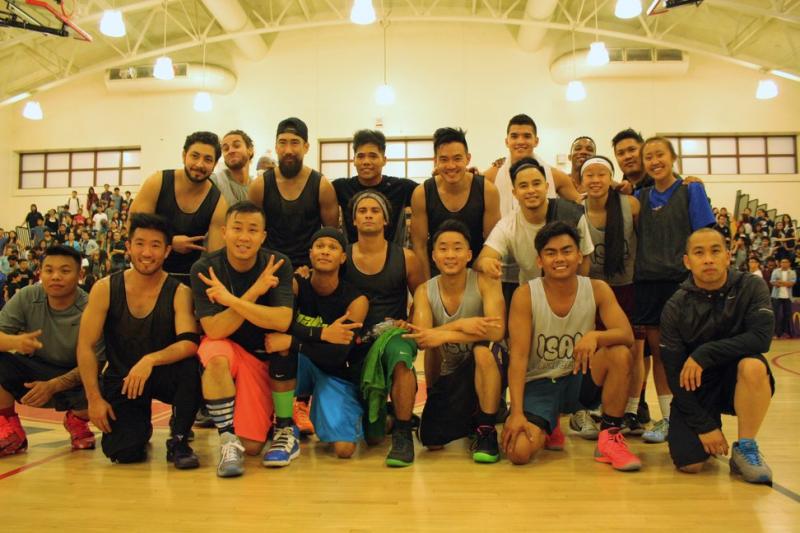 Walking into Mark Keppel High School's gymnasium in Alhambra Friday evening, there was a charged energy in the atmosphere. It didn't only have to do with the near quarter-mile of hundreds of people one had to pass through in order to enter the gym, nor that Southern California summer just began.
It was mostly, perhaps, the internet celebrities who were practicing 3-point shots on Mark Keppel's court...and casually breaking into a backflip from time-to-time.
Grass-roots movement and organization International Secret Agents (ISA) hosted a McDonalds-sponsored charity basketball game in collaboration with its founders, Wong Fu Productions and Far East Movement, and youtubers Andrew Fung and David Fung of FungBrosComedy. All net proceeds from the sold-out event were to benefit Nepal disaster relief and the charity Autistic Self Advocacy Network.
"...[This] game is the perfect way for us to not only provide a fun event for our fans but also raise money for two very worthy causes," said Wong Fu Productions' Philip Wang in a press release.
READ MORE: Give 'Fresh Off The Boat' A Chance, Despite The Controversy
The players of the game were youtubers whose videos are viewed millions of times around the world, including AJ Rafael, Dominic (D-Trix) Sandoval, and Richie Le. As they gathered together for a pep talk before the game, Andrew Fung reminded them that beyond raising money for charity, "we're doing this for the fans."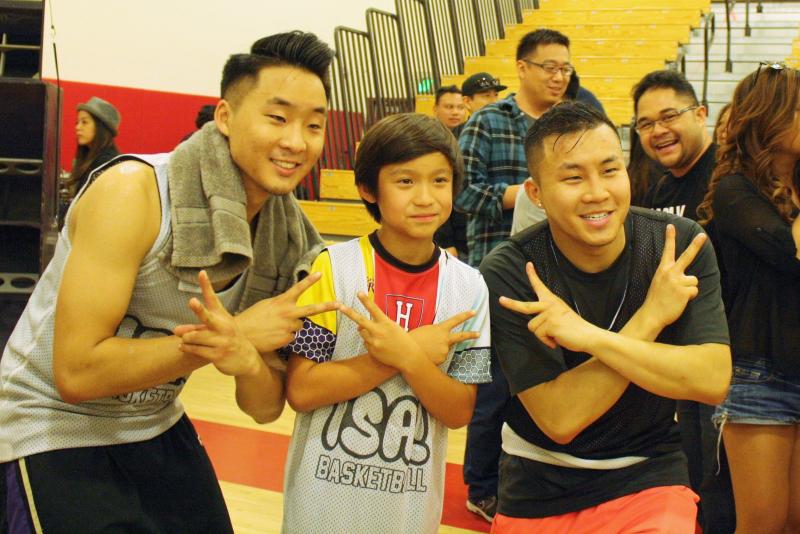 Internet celebrities were not just players in the game. Wesley Chan (Wong Fu Productions), Joanna Sotomura (Everything Before Us, Video Game High School) and Mari (Atomic Mari) Takahashi (Smosh) were the emcees of the event, for instance. And Wong Fu Production fans were thrilled to see familiar faces such as Yuri Tag ("When it Counts"), Chris Dinh and Cathy Nguyen watching from the sidelines. "Fresh off the Boat" stars Forrest Wheeler and Ian Chen made an appearance as well, with Chen blowing the crowd away by
singing the national anthem
, and Wheeler throwing the ball at tip off.
But even with the huge presence of internet celebrities, the game itself wasn't a high-brow affair. The youtubers on the court knew how to shoot a basketball, but some had fun by occasionally backflipping and dancing for brief moments throughout the game. To the crowd, and especially for the players, it was a game between friends rather than stars.
"It does feel really good," Rafael said, "especially the fact that a lot of my friends are here, not only supporting but playing on the court as well."
ISA prides itself on bringing the Asian-American community together, and the aspect of community engagement was not lost in the game. Two freshly graduated seniors, Lauren Saiki and Arin Lee of Mark Keppel High had the opportunity to play the entire game alongside the youtubers they grew up watching.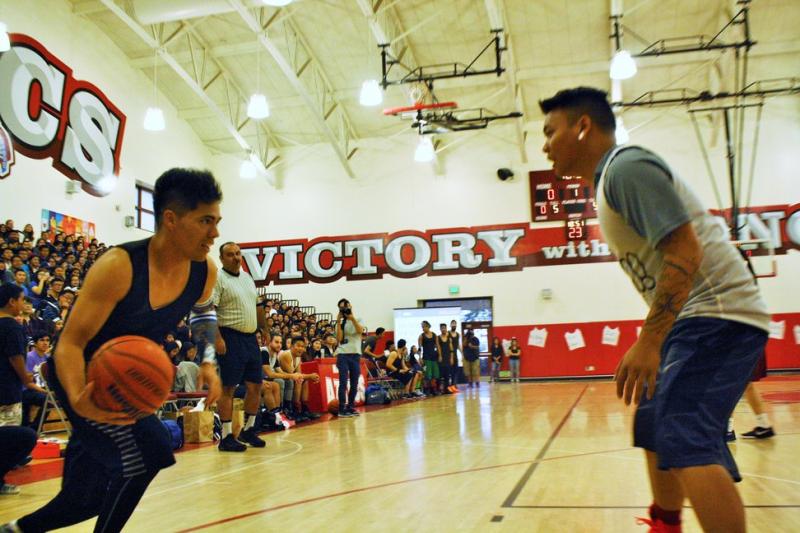 "It's crazy, we watched so many on youtube, like AJ Rafael and Wassabi Productions," Lee said.
"Really excited to put on a show for the crowd," added Saiki, who will attend college in West Virginia on a basketball scholarship, "It's just really awesome doing something I love with really cool people."
READ MORE: Filipinos, It's Okay To Be 'Amerikano'
When they weren't on the court, youtubers like the Fung Brothers often went into the crowd to take selfies with their fans. And one fan was even dragged into the court to shoot a free throw. At halftime, fans participated in shooting contests with celebrity partners and even took part in a dance-off with other fans. For Kevin Phung of Alhambra High School, being part of the dance-off and seeing his favorite Youtubers was a great experience.
"I was iffy [about the dance-off] but I enjoyed it," Phung said, "Feels really good to support disaster relief and see Dtrix do air flares. It was the first time I've seen them in real life!"
In light of Asian Pacific American Heritage Month, the charity basketball game gave Asian-American youth in the greater Los Angeles region an opportunity to see the people who inspire them. Monterey Park council member Mitchell Ing, "recognizes the talent" of Asian youtubers and is a big supporter. When Ing's father was young, he didn't feel he had support as an artist. Because of this, Ing made it a point for the past seven years to encourage youtubers by providing facilities for their shoots.
"I want them...[to know] that there is support in the community for them," Ing said.
The ISA charity basketball game gave fans a glimpse of their favorite youtubers and raised money for charitable causes, but Ing noted the deeper impact that events like these have on Asian-American voices, "What this does is it encourages young artists to seek their dream. They may not be on mainstream television, but they can still do something, and contribute and tell their story to the community."
Reach staff reporter Heidi Carreon here and follow her on Twitter here.