USC Sports
USC Spring Practice Nears The End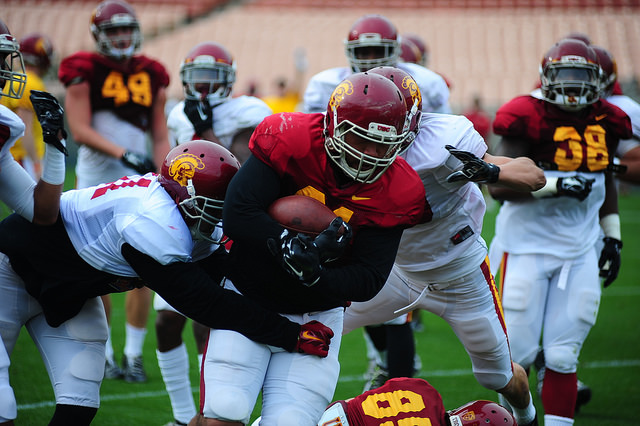 A week from the culminating Spring Game, USC had its final Saturday session at the Coliseum, braving the hot sun en route to what Coach Steve Sarkisian called "a fun practice."
"We got to cover a lot of different phases of the game," Sarkisian said.
That they did. The Trojans delved into more than just basic scrimmaging by going through a competitive goal-line session, a red-zone scenario, a 7-on-7 format, an overtime period and what Sark called a "move the ball" period as well.
"There was a lot of different scenarios we were putting the guys in," he admitted. "They responded really well."
The defense certainly made their case and their presence known in all the different parts of practice, especially in the end where the team carried out it's usual four-minute drill that requires the defense both stop the offense and get the ball back.
"We think we're gonna be really good," said Sark when asked to address the defense's performance.
The Trojan defense succeeded not only in the final act, but also held the offense to one field goal and a missed field in the overtime session, while allowing only two goal-line touchdowns and stopping 7 others.
"Our youthfulness from a year ago became invaluable experience that is helping us right now." Sark explained. "All those reps and some growing pains we had to endure a year ago are making us a better defense today."
Highlighting the play of standouts like S John Plattenburg, LB Su'a Cravens, LB Kevon Seymour, CB/WR Adoree' Jackson and S Leon McQuay, Sark emphasized versatility's role in their improvement.
"We want to be more aggressive. We want to get after the quarterback," he pressed. "To do that we have to cover really well."
So far, so good.
QUICK HITS
Singling out Su'a Cravens brought out gushing remarks from Sarkisian, who lauded the linebacker for being "disruptive at the line of scrimmage" and his unique ability to always be around the ball.
"What I appreciate about Su'a, which I think he's really excelled and changed his game is his effort every play," Sark said. "He's not just relying on ability."
Sark also praised the high IQ of Chris Hawkins alongside Plattenburg, while reiterating that the reps and growing pains they had last year are truly setting the stage for a successful year.
"We count on the safeties to make specific calls to adjust the defense to fit," he said of the duo. "When you have two guys who really get it, that's when we're good on defense."
"I'm just trying to better myself in little different aspects," Plattenburg said while also praising Hawkins physicality and play. "[We're] Just trying to step it up to another level."
--
QB Max Browne, who has had a very impressive spring thus far, is seemingly developing a chemistry with junior college transfer and early enrollee WR Isaac Whitney. Browne has repeatedly been looking and throwing Whitney's way and on Saturday, they connected for an impressive 80-yard touchdown, among other throws, that exhibited their growing familiarity with each other.
"It's been four weeks of pretty good ball ... I'm feeling good," said Browne, who said his goal is to be the best backup QB in the nation. "You never know when the opportunity is going to come, so you can never relax."
--
The Trojans have two more spring practice sessions on Tuesday and Thursday before the annual Spring Game next Saturday, and two-way star Adoree Jackson who played defense today, said he is not sure whether he will be situated on offense, defense or both come Saturday.
Nevertheless, both the team and Coach Sarkisian want this to not be an end to a successful spring, but simply another continuous step to carrying the momentum into next fall.
"We're gaining confidence as the days go on," Sark pointed out. "But all that has to start back over again when we come back in August."
Reach Associate Sports Editor Paolo Uggetti here, or follow him on Twitter at @PaoloUggetti.