Sports
USC Spring Football: Passing Offense Flies In The Rain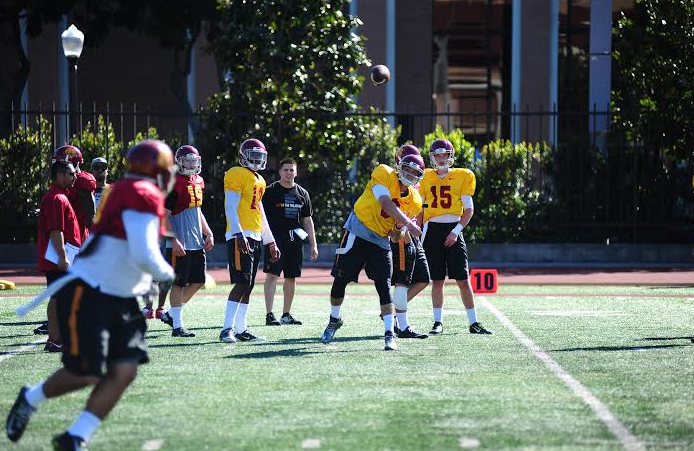 It was a rainy Tuesday at Cromwell Field, but that didn't ruin the Trojans' parade as the passing offense went deep early and often. Quarterbacks Cody Kessler and Max Browne were consistently slinging the ball downfield, a trend USC has continued to focus on in the past three weeks of spring practice, and saw results in the form of deep touchdowns.
Sophomore Adoree' Jackson switched from cornerback to wide receiver Tuesday, and snagged a touchdown from each quarterback, including one on the left sideline from Kessler where Jackson ran all the way to the end zone despite the play being whistled dead. Jackson will be back on defense Thursday, but the sophomore standout certainly looked excited to be running with the offense.
Kessler also threw a bomb to a somehow-wide-open Steven Mitchell toward the end of practice, with Mitchell standing and waiting for a second before bringing the ball in with both hands. "He wasn't the primary read, he was on alert just in case," Kessler said. "I stepped to the side, looked downfield and didn't think it was possible he (Mitchell) was that wide open. It was a defensive bust in coverage."
Let It Rain
Most of practice was played under light showers, which made Kessler even more excited with the offense's impressive outing. Along with Jackson and Mitchell, JuJu Smith, Darreus Rogers and Christian Tober also racked in long grabs from the trigger-happy quarterback duo. "I think it's kind of cool it rained a little bit," Kessler added. "It's something we're not used to, but when we go play Oregon or Washington, this (weather) could be a possibility."
Stepping Up At The End
Offense had the advantage for most of practice, but it was the defensive side who win the challenge to end practice. After going down 2-0, the defense made three straight stops in a simulated third down, including a sack from defensive end Delvon Simmons to end practice early, conveniently a few minutes before a downpour hit the practice field.
READ MORE: USC Spring Practice Nears The End
"There might be games like 45-42 in our conference, but we'll be counting on our defense at the end of the game, and that's exactly what happened today," head coach Steve Sarkisian said.
Spring Gaming
Sarkisian said the format of Saturday's game spring game will be similar to 2014. The Trojans didn't play full-tackle then, and while Sarkisian expressed a desire to play a full game, he acknowledged there are too many question marks to answer before having a full-tackle spring game. "We're not exactly where we need to be depth chart-wise," the head coach said. "I would love to split up teams and play a game, but we're not just not there yet."
Not At Practice
Sophomore cornerback John Plattenburg missed practice to nurse an ankle injury, while redshirt senior defensive tackle Claude Pelon did not attend because he is dealing with academics.
Reach Senior Sports Editor Jacob Freedman here or follow him on Twitter.