Sports
USC Lacrosse Tops Colorado, Stays Undefeated In MPSF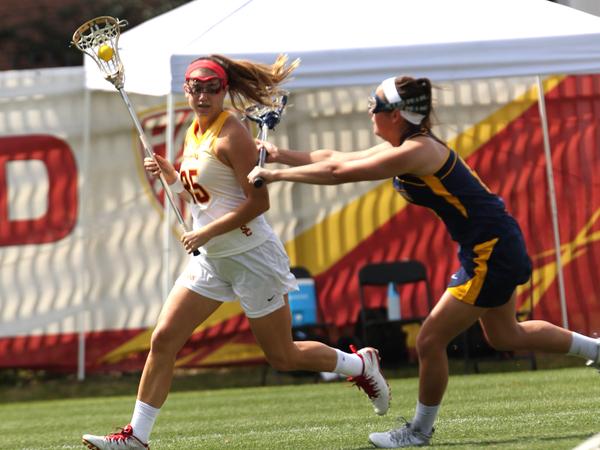 For the past two years, USC Lacrosse has continued to steadily improve under the leadership of coach Lindsay Munday. Friday's matchup against the Colorado Buffs was a testament to that. The Women of Troy (9-3, 5-0 MPSF) defeated the Buffaloes (6-5, 1-3) 12-9 to match a program-high nine wins on the season.
The game was truly one for the record books for USC. Not only did they secure nine wins, they also matched the program's best start in MPSF play, broke a program record with 25 ground balls, and standout sophomore attacker Michaela Michael tallied a career high 7 points (6 goals and 1 assist).
The game was incredibly competitive and well-fought throughout. Even when the Women of Troy went on a 3-0 run to make the score 4-2 at 18:09 in the first half, the Buffs continued to punch back. Colorado goalie Paige Soenksen played a great first half and kept USC from pulling too far away throughout the game.
USC went to half with a 5-4 lead, but the Buffs quickly tied it up 6-6 off of a Katie Macleay goal within just four minutes of the second half. Just a minute later, the Buffs took the lead for the first time since early in the first half. USC stayed poised and played a difficult back and forth battle for the lead for the next 10 minutes.
READ MORE: USC Falls Flat Against UCLA In Series Opener
With 15 minutes left, junior attacker Caroline de Lyra scored her first goal of the game when it was needed most. de Lyra tied it up at 9 a piece, and just 30 seconds later, scored again to let USC regain the lead. Behind USC's staunch defensive front, the team didn't look back from there.
de Lyra spoke of her back-to-back goals and said "It only took me all game to score, but it really got everyone rallied up and gave us the momentum over them."
USC added two more goals behind Michael and Amanda Johansen for a 12-9 lead with 5 minutes left in regulation. The Women of Troy were able to play keep away to close out this competitive matchup.
"I think it showed our leadership and maturity, because there was a time in the second half when it could have swung Boulder's way," Coach Munday said of the win. "We made adjustments, we didn't lose our confidence. We stayed poised and focused on the game plan."
"This is the first time we really played a full, hard 60 minutes," de Lyra added, "So it was a really great win."
USC continues their weekend home series against defending MPSF champion Denver on Sunday for Senior Day.
Reach Staff Writer Carly Fasciglione here or follow her on Twitter.