Los Angeles
Student Profiles: Meet The New Student Body President and Vice President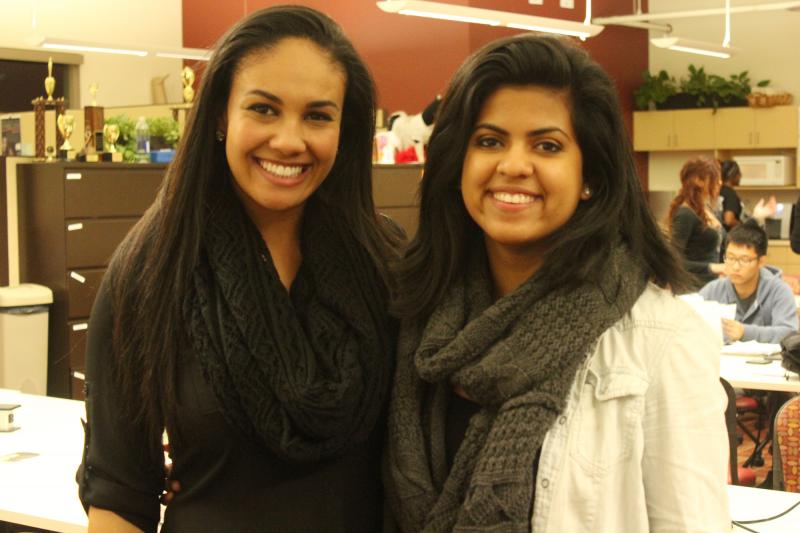 The feeling of suspense fills the room as the prospective candidates wait for the results of the 2015 - 2016 presidential election. The room is completely silent as Undergraduate Student Government announces the results of the election.

Victory marks the end of a long campaign for president-elect Rini Sampath and vice-president elect, Jordan Fowler.

Sampath and Fowler are the first all-women-ticket to be elected at USC. Both Sampath and Fowler make it clear they did not run because they are both women, but they are happy to inspire anyone to try to achieve their goals regardless of how things were done in the past.

"I want to show that not just women but anyone who ever has questioned or doubted they cant do it, they can", Sampath said. "I'm happy we're making history but I hope most people will do the same."

"Here we are finding out that we were doing it and then we found out Princeton and Syracuse have all women tickets running now too," Fowler said. "We are not letting our gender hold us back anymore and if you're qualified, go for it regardless of certain circumstances that you cant change."

As exciting as it was to make history, Sampath and Fowler know they have a long year ahead of them.

Sampath and Fowler plan to deliver on every point on their platform. A shuttle from USC to LAX has been established and they have already begun a plan to create a price cap on GE textbooks.

SEE MORE: USG Looks to Create Price Cap for GE Textbooks

Sampath and Fowler describe their method of delivering on every platform point as "to divide and conquer." They plan to work very closely with Program Board and the Executive Cabinet within Program Board to foster "Real Results." The duo plans to task each Executive Cabinet Director with a different platform point that coincides with their respective committee.

"With a platform point like increase staff at Counseling Center, that would fall under the executive cabinet, the advocacy portion, and one of our advocacy committees is called Wellness Affairs", Sampath said. "The way that we task our directors with these project is the in which it will actually get accomplished because they have the entire year to focus on those projects."

The committees can also go through the USG Senate if there is pushback from administration.

Senior Director of Communication, Christine Hennes is excited to see what unfolds next year with the new leadership of Sampath and Fowler. Working so closely with Sampath and Fowler allowed her to see the chemistry the two have when attacking a platform point.

"The best part about them as a team is they're able to work together where Rini has a clear direction and is able to be a spokesperson for the team and Jordan does so much work behind the scenes that a lot of people don't even realize happen, so their leadership styles really compliment each other," Hennes said.

Sampath found the need to advocate for others at an early age. She got her start in student government as early as elementary school. When Sampath was in the fifth grade at Paloma Elementary School she pushed for students to be able to sit with whomever they want at lunch rather than by the assigned class seating.

"I think even early on I had this realization that in student government you do have the capacity to advocate for students needs," Sampath said.

One of the issues Sampath is most passionate about is advocacy for underrepresented groups at USC. Sampath was born in India but moved around a lot growing up which allowed her to see the many struggles different groups face. Sampath wants to have those students' voices heard.

"It's an opportunity for me to pass the mic," Sampath said. "If I do have this spotlight, and I get the opportunity to go to these meetings and events it's also the opportunity for me to pass the mic to someone who doesn't get that chance."

Executive Director of Program Board, Ama Konadu Amoafo-Yeboah, is happy to see the newfound attention for underrepresented groups on campus.

"Rini and Jordan are really working hard to change the narrative at USC and really make sure things that were never talked about before are talked about now, and I think that's really powerful and a great step in the right direction," Amoafo-Yeboah said.

Fowler also found her calling for advocacy at a young age but she decided to run for VP because of a sophomore majoring in economics named Zack Wentz. Wentz is a disabled student in Delta Omicron Zeta, the leadership fraternity on campus, who really wanted USC to spearhead a wheelchair basketball game. As the current Director of University Affairs, Fowler worked with Trojan Pride and the Men's' Basketball Team to make his vision a reality.

"Just to see how happy he was to see his vision come to fruition just validated why I do what I do and why USG is so important and why I love being a part of it," Fowler said.

Next year will be a special year for Fowler as she is dedicating her year in office to her high school friend Katherine Hass who passed away in a scuba-diving accident. Hass was very passionate about diversity and the importance of inclusion, acceptance, and comfortableness.

"All those platform points are about making a student's life a little bit better here on campus and I know that's what Katherine wanted and that's what we want to do," Fowler said. "I'm going to remember what would Katherine do and she was all about inclusion, student comfort, and acceptance of all students."

"What we want to do is reinstill that feeling that yeah, student government is here to help you," Sampath said. "Student government can make change happen on campus and that's why me and Jordan have run the slogan of Real Results."

Reach Staff Reporter Tiaira Muhammad here or follow her on Twitter here.