NFL
Projecting Leonard Williams In The NFL
USC defensive lineman Leonard Williams is projected to be a Top 5 pick in most mock drafts, including this latest one from Sports Illustrated. However, while many see Williams as a physical freak and the safest pick in the draft, some view him as a one-dimensional player, and even compare him to draft bust (but solid NFL player) Tyson Jackson. After re-watching some of Williams' games from last year, here are the answers to some questions in regards to Williams' draft status.
1) What strengths make Leonard Williams such a highly projected pick in this draft?
Leonard Williams' biggest strength is just that--his strength. He has above-average athleticism too, but the upper body strength he possesses combined with his arm length that enables him to maximize his abilities are his deadliest asset.
His ability to "straight-arm" blockers will be hugely beneficial to him at the NFL level, and he already is very adept at using his length to keep himself clean and free to make plays: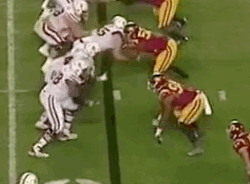 Stanford's Kyle Murphy (78), an NFL draft prospect himself, simply can't get his hands on Williams enough to deter him with a block, and Williams uses that straight-arm technique to shed the block easily and make a play.
Whether it's getting his arms into a blocker's chest to collapse the pocket or "two-gapping" and then disengaging to make the tackle, Williams' skillset is extremely conducive to succeeding in the trenches.
This time on a pass rush: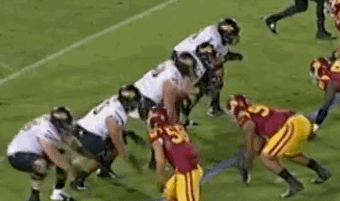 The arms of Stanford's Jesse Burkett (73) are fully extended, but Williams' technique and length of his own is too much for the blocker to combat.
And here's one more of Williams two-gapping a run play: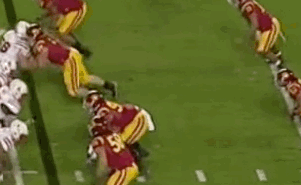 2) What facets of Williams' game might he need to improve on?
A recurring knock on Williams has been his lack of explosiveness upfield and his lack of consistency rushing the passer in general. He definitely could have been more consistent in this aspect of his game--he was indecisive and "danced" far too often instead of using his feet efficiently, and he also was inconsistent in his pad level.
Look how many steps he takes here without making any sort of decisive move: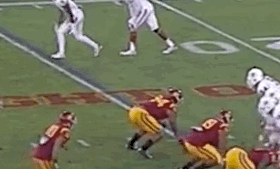 Notice also how he (94) is standing almost straight up, which doesn't give him any sort of leverage advantage.
Same thing here:
It looks like he has an opportunity right off the bat to make an inside move, but he simply doesn't follow through.
There are a couple possible reasons that can account for his pass rush inconsistency. The first one is that he was asked to "two-gap" quite a bit, which entails a "mush rush" from the defensive lineman, since he is playing the run moreso than the pass, and attacking the blocker across from him instead of one of the gaps in between blockers.
However, defensive linemen are rarely, if ever, asked to two-gap on passing downs (like third-and-longs), and Williams wasn't particularly dominant in these situations either. Another overall cause of this perceived weakness could be the sheer amount of snaps Williams played on a game-to-game basis for USC. He played nearly every snap on defense due to USC's lack of depth at the position, which is particularly taxing for defensive linemen, who essentially engage in an all-out wrestling match 60 to 80 times per game. It is therefore understandable that Williams wasn't able to play at full-go on every play. In the NFL, it is assumed that he will get more resting time and will therefore be more impactful and disruptive on a snap-to-snap basis.
There were definitely flashes of encouragement from Williams from a pass rushing perspective. Here he is with a nice violent yet simple bull rush, getting nice hand placement: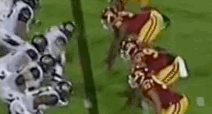 And a sweet little swim move here: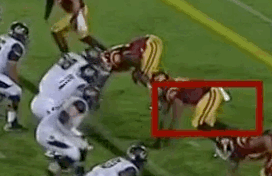 Williams probably still needs to work on his pad level consistency, but that can be fixed. Also, NFL coaching will likely improve his footwork and teach him to eliminate some of those wasted steps shown above.
3) Which current or past NFL star does he remind you of?
Williams obviously isn't the Hall-of-Fame caliber player that Justin Smith is, but the thick upper body and brute strength is similar between the two, and the overpowering aspect of each of their games stands out when watching each one on tape.
Here's Smith extending his arms and strongly disengaging from his blocker in the run game, similar to what Williams does on a regular basis: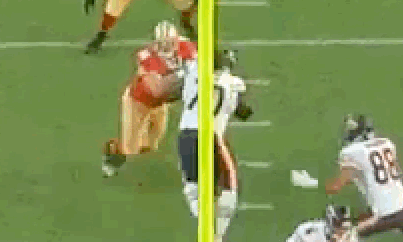 Justin Smith isn't the quickest or most athletic guy on the field at this point in his career, but his great hand usage and brute strength are enough to overcome his lack of explosiveness off the snap. Here's an example: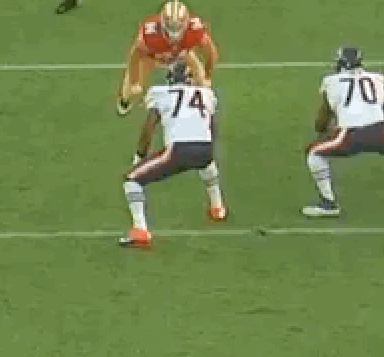 A knock on Leonard Williams has been much the same, which is that he doesn't get off the ball quickly enough and isn't as explosive as you'd want a Top 5 pick to be. However, Williams is probably more athletic than Justin Smith is at this point, and has shown to have an explosive first step at times (he just needs to be more consistent). Add to that the fact that Williams will only get better technique-wise, and there doesn't seem to be much cause for concern as far as his pass rushing ability is concerned--he's talented enough that he'll always find ways to generate pressure.
Another player Williams is somewhat comparable to is Green Bay's Mike Daniels. Daniels isn't a well-known player, but he should be. And while Williams is about five inches taller than Daniels, they do share some attributes, most notably their sheer strength. Daniels is one of the strongest defensive linemen in the NFL, plays with intensity all the time, and has a mean bull rush.
Similarly to Williams, he's pretty athletic too: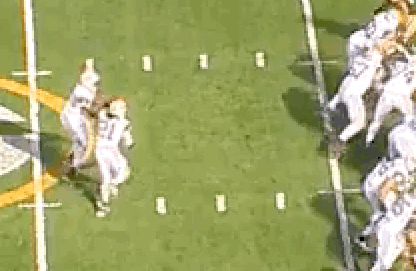 Williams may not have always been explosive, but his ability to track down players in the open field is quite reminiscent of the above play.
As mentioned, Daniels' hand and arm strength is also similar to that of Williams. Here's a back-to-back comparison: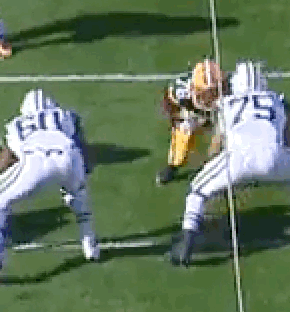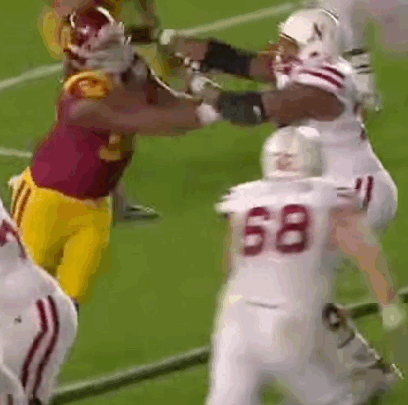 As for the comparisons to Tyson Jackson, they do have almost identical size at 6'5", 300 pounds, and are both hard to move against the run. But Williams is so superior athletically to the lumbering Jackson that it almost seems like an insult to compare the two. Jackson often looks like the slowest player on the field, while that almost surely won't be the case with Williams at the next level.
One more comparison to be made is with DeMarcus Ware. While the two aren't really similar in their body types or positions, the way in which they use their arms can definitely be comparable. While Williams isn't as adept technique-wise as Ware is, Williams can definitely get to that point during his NFL career.
Ware isn't athletic as he once was, and while he can't run around offensive linemen like he used to, he is still very capable of creating pressure in other ways. Check out how he uses a left handed club move here to get inside of D'Brickashaw Ferguson: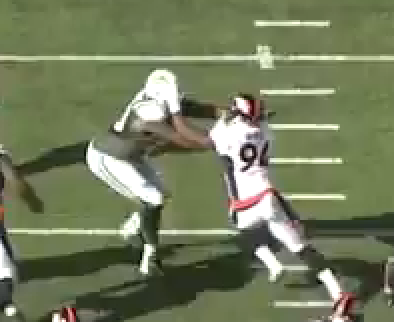 He uses his long arm to fend off Ferguson at first, which allows him to get inside. Then: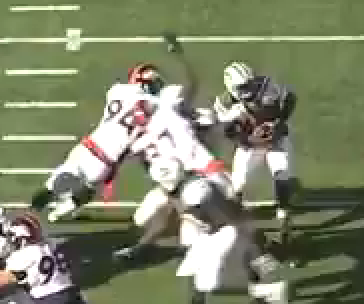 He uses his long right arm to somehow corral Geno Smith into a sack. Leonard Williams won't be as relatively athletic in the NFL as he was in college, but this is the type of move he should be capable of at the next level.
And while their games aren't really similar at this point, Williams would be smart to try and emulate the Arizona Cardinals' Calais Campbell. Campbell is really good at getting low and using leverage to his advantage, even at 6'8", and uses his long arms extremely well. Campbell almost always lines up slightly farther off the ball than his fellow d-linemen because of this--it enables him to use his long arms to keep blockers away from his body instead of lining up right on the ball where blockers have a better shot at getting their hands on him. Campbell is also very decisive, which again is something Williams can work on in his pass rushing. Look at this rush, which shows a variety of things about Campbell's (93) game:
He first goes quickly to the outside club move to try to get around Alex Boone (77) with finesse, which doesn't work. But this is okay, since Campbell is good enough to counter with a strong inside leverage move. He "rips" underneath Boone's arms, into his chest, and up through his inside arm, successfully getting inside leverage and drawing the holding penalty. Decisiveness, technique, and leverage are all evident in this play alone. Williams would surely benefit from a couple counter moves and using consistent leverage as well.
4) Do you see him more of a pass rushing threat or a run defender at the next level?
Coming in right away, Williams is probably a better run defender right now than he is a pass rusher. He appears to have only scratched the surface as a pass rusher, and some improvement as far as his pad level and footwork as previously mentioned could very well vault him into the upper-echelon of really good interior pass rushers (think guys like Smith, Daniels and Calais Campbell). However, it may take some time for Williams to grow into himself as a consistent pass rusher, although he will surely have his moments. Until then, certain teams could definitely use Williams in some creative ways to generate some pass rush (we'll get to that in a second).
5) What team(s) fit Williams the best?
The Titans would be a fine fit, where Williams would be paired with Jurrell Casey to make up a quasi-Calais Campbell (Williams)/Darnell Dockett (Casey) combo that defensive coordinator Ray Horton coached in Arizona two years ago. That would make for one of the most threatening interior duos in the league on early downs, but Horton has also shown a tendency to use his best players in creative ways on passing downs. Check out the 300+ pound Casey here, rushing from a stand-up outside linebacker position on the right side of the screen:

Horton will move Casey around in a multitide of positions, on both the left and right side of the defense, playing anything from a 1- to a 5- (or, as apparently shown here) even 7- or 9- technique. Williams is more athletic than Casey is, and it would be really interesting to see how many different places Horton would put Williams.
In Jacksonville, it would also be intriguing to see how Williams would be used. He seems to be the perfect fit for Gus Bradley's "big d-end" spot that Red Bryant occupied last year (the last down lineman on the right side of the screen):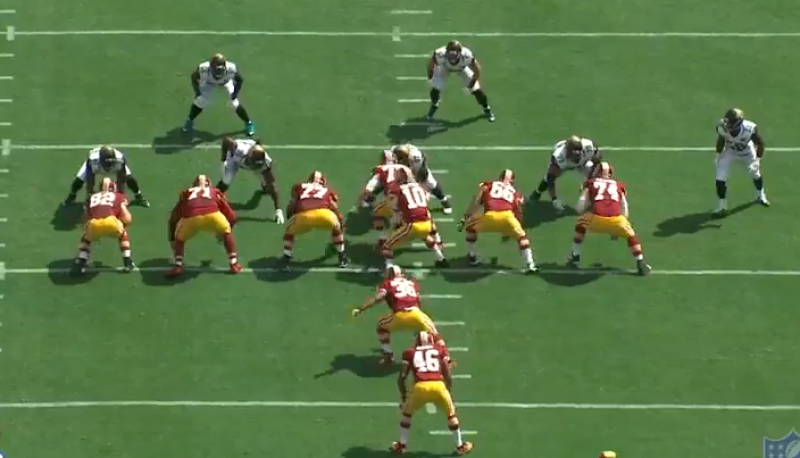 Williams' size and prowess in the run game makes him an excellent fit here at the 4-technique or 4i because he has shown the ability to two-gap, but his athleticism makes him much more dynamic than a one-dimensional player like Bryant (or Tyson Alualu). Plus, Williams could theoretically kick inside on passing downs with Sen'Derrick Marks to create a mean interior pass rushing combo.
Either of these teams would be excellent destinations for Williams. The Raiders also seem appealing, since watching Williams take up blockers for Khalil Mack in a Justin Smith/Aldon Smith-type relationship would be fun, to say the least.
***
If the 2014 draft was done over again, defensive tackle Aaron Donald would probably be one of the top players chosen instead of falling to thirteenth. Donald is the perfect prototype for today's NFL, because he's so explosive and uses his short-ish frame to facilitate leverage so well. While Leonard Williams doesn't exactly fit that mold, what he can do is anchor a defensive line while learning how to better use his tremendous skillset to rush the passer. He's simply too athletic not to become a very good pass rusher soon. If a team has confidence that their coaches can help Williams improve (which, considering his talent, shouldn't be too hard), they shouldn't hesitate to pull the trigger.
Follow Andrew McKagan here or reach him through email at [email protected]