Los Angeles
Parking Sign Pilot Program Aims To Reduce Parking Citations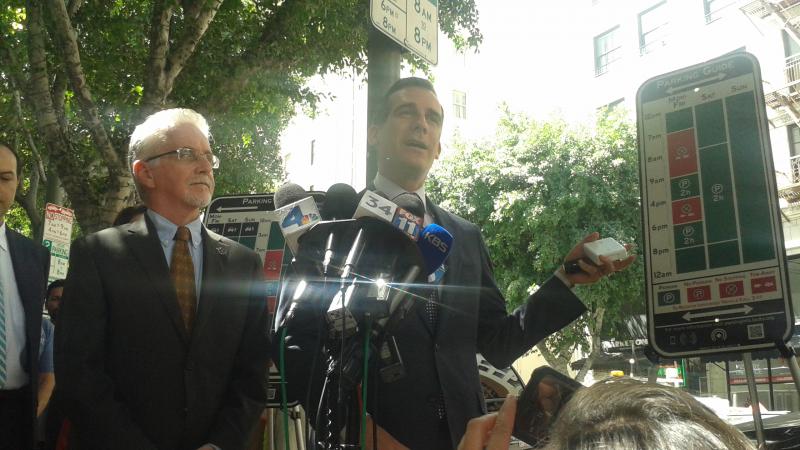 Los Angeles Mayor Eric Garcetti introduced the city's
new six-month parking signage pilot program
on the corner of Spring Street and 6th Street on Friday. The $20,000 program aims to make the signs more comprehensible where parking, as Garcetti put it, can be like "a full contact sport."
"Here in the City of Los Angeles we should be in the business of making it easier to park, not making it easier to get a ticket," Garcetti said.
One hundred new parking signs will be installed for seven blocks on Spring Street and Main Street as part of the pilot program. The new signs will feature a pictorial summary of the existing parking restrictions as a 12-hour grid with blocks of time in red or green that indicate when it is OK to park. "Beacons" installed on the signs can notify drivers how much time they have left in the parking spot, but the app for the beacons is yet to be created. The signs' effectiveness will be observed by the Los Angeles Dept. of Transportation, or LADOT.
SEE ALSO: L.A. City Council 'Monkeying' With Parking Apps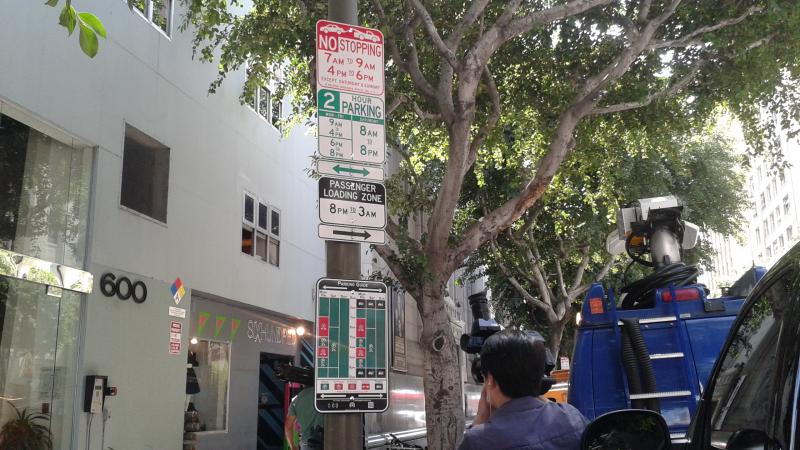 Garcetti hopes the final the pilot locations will include both Downtown L.A. and Hollywood due to their complex parking restrictions. Setting up new signs and taking down old ones, however, will take time because the City needs approval from the California Traffic Control Devices Committee. But Councilman Paul Krekorian, 2nd District, shares Garcetti's enthusiasm for what the new signs can do to improve parking conditions in L.A.
"Sometimes...it seems you have to interpret hieroglyphics [to understand the signs]," Krekorian said, "but today we're unveiling the Rosetta Stone."
And it seems that a "Rosetta Stone" is much needed for drivers in L.A. Traffic officers issue about 2.5 million citations a year in Los Angeles, which averages to just over 200,000 citations per month. Many of these citations are given to people who do not understand the parking signs, which are confusing enough to be infamous on the Internet. Stacy Baker, who worked as a security officer on Spring and 6th for six years, even saw the cars of unknowing drivers get towed.
"Some people come up to me asking, 'where is my car?' I tell them, 'did you read the sign?' They say, 'I didn't understand the sign. I thought I had [enough time],"' Baker said, unsure if the parking signs will be helpful to people visiting from out of state or other countries.
If the new signs are installed throughout L.A., it will be the first city in the country to have signs consisting of grids.
Reach Staff Reporter Heidi Carreon here and follow her on Twitter here.