Arts+Culture
L.A. Goes (Kind Of) Literary: Stars Pay Tribute to Allen Ginsberg's 'HOWL'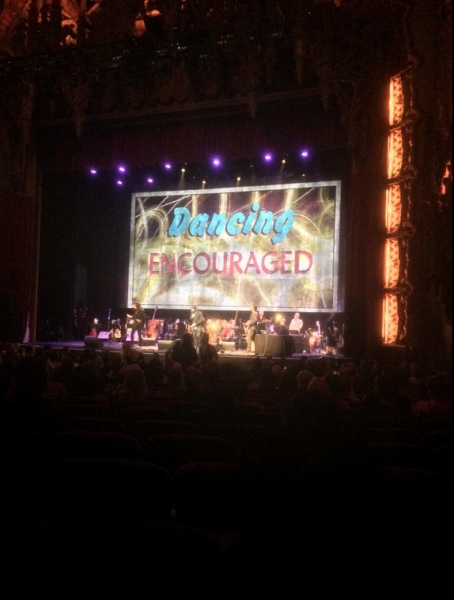 I walked into the swanky, newly restored theater at the Ace Hotel on the evening of April 7 expecting a literary tribute to Allen Ginsberg's "HOWL," a monumental poem of the Beatnik generation. Instead I was treated to Lucinda Williams singing Lou Reid, Van Dyke Parks singing Lawrence Ferlinghetti, indistinguishable folksy bands singing their original songs, pretentious millenials sipping beer out of plastic cups, old guys sipping beer out of plastic cups, countless shout-outs to the show's producer Hal Willner, countless propaganda shoutouts for the David Lynch Foundation, and one breathtaking recitation of "HOWL."
READ MORE: "HOWL" With Joy For National Poetry Month
Ostensibly, music producer Hal Willner pieced together a program of musicians and entertainers to celebrate the 60th anniversary of the first unveiling of "HOWL." In a small gallery in San Francisco, iconic poet Allen Ginsberg recited his three-part work, which has since been both lauded as one of the finest works of American literature and criticized for its frank discussion of sex, drugs and the turbulent and debauched Beat lifestyle. The controversy surrounding "HOWL" reached its peak with a 1957 obscenity trial, ending with the California State Superior Court ruling that the poem was of "redeeming social importance" and thus protected.
I stepped out of my Uber and onto the downtown L.A. curb, slick from the uncharacteristically rainy weather that got several references throughout the program, one from none other than Amy Poehler. Immediately, I was immersed in what at first glance appeared to be a reincarnated Beat generation—young 20-somethings dressed in expensive but flippantly cut black dresses and jackets. I wondered how many of them had been lured by the impressive performance roster and hip venue and immediately bought tickets, performing a cursory google search of "Allen Ginsberg HOWL" thirty minutes before the event. Sprinkled in among the millenials was the occasional senior, who might have actually been alive to remember the Beat generation.
In the glittery, dark and draped ante-theater, the crowd mingled; not only was there a main bar, but also two smaller ones inexplicably placed outside of the restrooms. Perhaps the thought was that Allen Ginsberg would have wanted us to be lightly buzzed for this. Inside the ornate, baroque theater, the show began with a sweeping proclamation: "This is not highbrow. Let's make this mean something!" Immediately a DJ in a snapback dropped a techno beat as black and white stylized portraits of Allen Ginsberg filtered through the backdrop.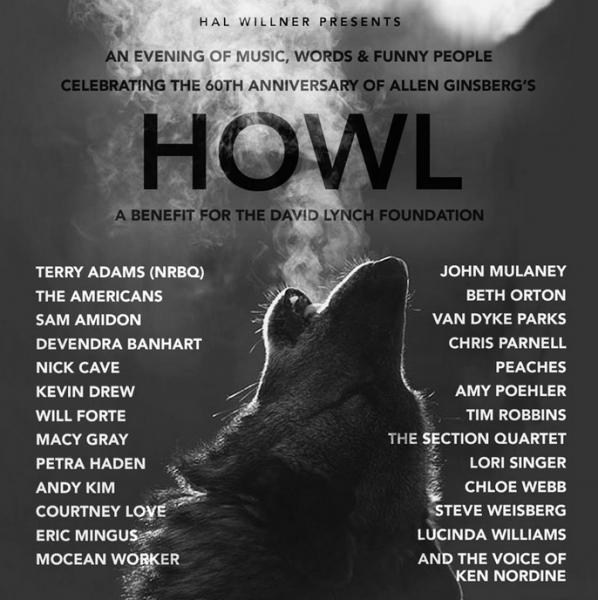 An assortment of similarly styled young alt/folk singer-songwriters paraded across the stage; I slipped into a pleasant daze until Amy Poehler and Chris Pharnell woke me up with a "Ballad of the Skeletons" rap and a "raise your hand if you've ever had an abortion" joke. More musicians whom I frankly did not recognize resumed the flow of the show; in the performers' defense, few drew attention to themselves or even announced their names,making the show refreshingly devoid of celebrity. If anything, each one made a point to gush about the producer, which at times made the show feel more like a tribute to Hal than to "HOWL."
Just as I was beginning to grow cynical about this charity concert masquerading as an ode to poetry, silently bemoaning L.A.'s tragic lack of a literary scene, Van Dyke Parks took the stage and half sang, half recited "I Am Waiting" by Lawrence Ferlinghetti, Ginsberg's fellow Beat poet and friend. His lyrical voice over a string quartet music compilation gave the poem unexpected depth; finally, this poetry event was starting to include more poetry.
After another hour or two of intensely Beat vibes and little substance, the show's climax finally arrived. We were all simultaneously introduced to "HOWL," the legendary poem, and Hal, the invisible hero behind this whole orchestration. In a duet arrangement, Willner and actress Chloe Webb performed excerpts of Ginsberg's poem, their voices rich with ecstasy and fury as they reverberated through the theater.
In this moment, the show redeemed itself as a true celebration of Ginsberg's work. Granted, the vibe was undoubtedly on the sceney side, the visual and auditory arrangements trendy, and the crowd leaning toward pseudointellectual. But just enough genuinely poignant moments punctuated my experience that I left feeling enriched, if slightly exhausted.
After all, Los Angeles does not affect to embody the literary and highbrow—leave that to New York. In essence, the Ace Hotel's "HOWL" celebration brought together a community of artists profoundly influenced by Ginsberg's work, paying him homage in the their own way. Would the poet himself have appreciated the show? Impossible to say—but the audience loved it, and so did I.
Contact Staff Reporter Katya Lopatko here.