Entertainment News
How Celebrity Kids Celebrated Easter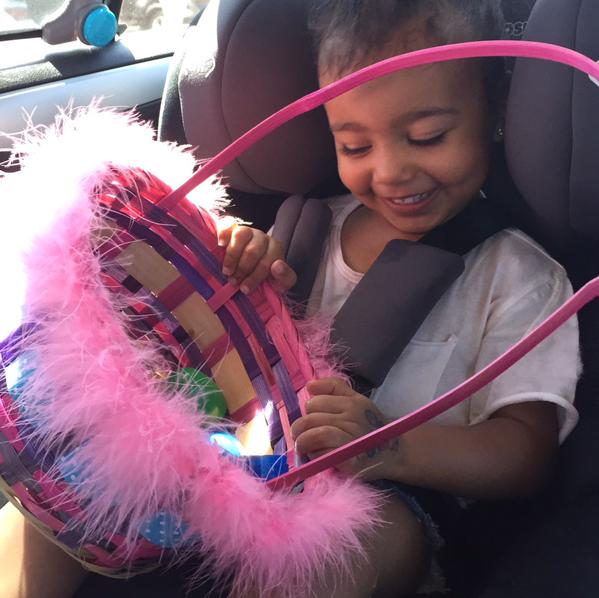 Easter...
It's that time of the year for pastels, Peeps and a whole lot of egg hunts. As you carry on with your Easter festivities—whether it be decorating eggs, munching on Peeps or bunny-shaped chocolate, or dressing up as the Easter Bunny itself—see how celebrity kids celebrated their Easters!
Kim Kardashian & North West
The "Keeping Up With the Kardashians" star and Little Nori celebrated Easter early, going on an Easter egg hunt at a local farm last week. North even brought her "BFF" to the egg hunt. Kim was one proud momma as she uploaded many pics of her little toddler to her Instagram.
Jessica Alba, Honor Marie Warren & Haven Garner Warren
It's a cinnamon buns and fried eggs with avocados kind of day for this family. Alba uploaded a pic of her daughters' Easter breakfast to her Instagram, following an adorable pic of one of her daughters face down on the floor in a bunny suit. "#somebunny is exhausted #happyeaster," she captioned.
Melissa Joan Hart & Tucker McFadden Wilkerson
The former "Sabrina, the Teenage Witch" star and her 2-year-old son spent time coloring some Easter eggs! But it sounds like the decorating didn't go so smoothly. "This is what happens when you let a 2 year old color Easter eggs. He likes to mush them in the 'sauce.' #eggcasualty," the mom of three wrote.
READ MORE: April Fools 2015: Celebrity Edition
Jamie Lynn Spears & Maddie Briann Aldridge
The former "Zoey 101" star posted a pic of daughter Maddie with a whole lot of Easter candy! Little Maddie was snapped hugging her dog infront of an asortment of candy, eggs and an Easter outfit.
Giuliana Rancic & Duke Rancic
The "E! News" host gave us an Insta-glimpse of how her little Duke spent his Easter, and by the looks of it, it was with a whole lot of goodies! "My little bunny playing with all thel ittle surprises in his Easter basket this morning. Happy Easter to you and your families!!!" she wrote. The Rancics spent their Easter Sunday in Chicago and had a lovely Easter-themed lunch outdoors.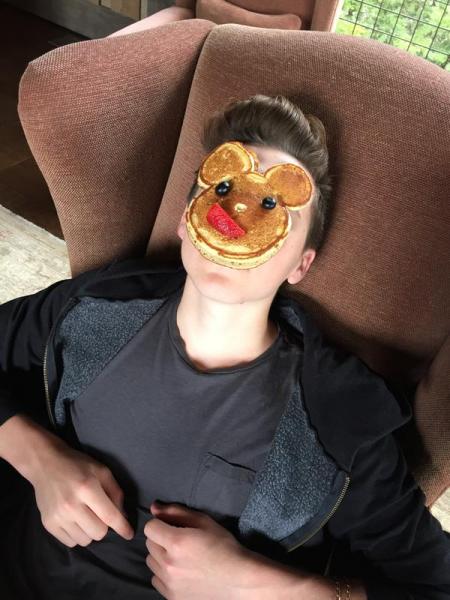 Victoria & Brooklyn Beckham
The 16-year-old heartthrob Brooklyn Beckham spent his Easter Sunday making Easter bunnies and...with a pancake on his face? The former Spice Girls member posted on her Instagram a fun pic of her eldest son with a bunny-shaped pancake on his face. "@BrooklynBeckham enjoyed his Easter Breakfast! x vb," the model captioned.
Katherine Heigl & Naleigh Kelley
The mother-daughter duo spent their Saturday before the Easter holiday prepping treats! Heigl's husband, Josh Kelley, uploaded an adorable picture of the couple's daughter Nancy helping mix a bowl of (what looks to be) butter.
READ MORE: Most Fabulous Celebrity Instagrams
Kim Zolciak & Her Six Kids
The 36-year-old "Real Housewives of Atlanta" star celebrated Easter with none other than the Easter Bunny! Zolciak and her six kids posed for a family picture on the staircases of their home, and her two oldest sons did the honor of sitting on the Easter Bunny's lap. "Happy Easter… #KashWasNotFeelingTheEasterBunny #CantBelieveAllTheseKiddosAreMine #NotEasyGetting6ToSayCheez," she wrote on her Instagram.
Holly Madison & Rainbow
Madison gave us a peek of what Rainbow could expect for Easter day on her Instagram. And let us just say it's big, round, fluffy and sweet—a Peep-tastic cake! Mom Holly snapped a pic of an Easter cake decked with brightly colored Peeps candy and tons of frosting to go with it. Sounds like one sweet Easter.
Jessie James Decker, Eric Decker & Vivianne Rose
James, who is expecting baby No. 2, celebrated their first Easter with baby Vivianne at an Easter egg hunt at the park! "Family photo!! All 4 of us Easter egg hunting…sun was very bright so we all squinting a tad," James captioned the family on her Instagram. Later on Saturday, the expectant mom shared with her followers she excited to give Vivianne her Easter basket filled yogurt bites.
Reach Staff Reporter Michelle Tak here. Follow her on Twitter here.