Arts+Culture
Living Advantage, Inc.: Giving A Face To The Foster Youth Of L.A. County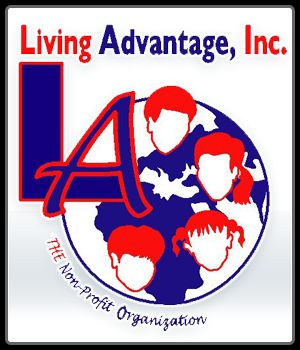 The foster care system in California is a prominent, but largely unacknowledged, topic for reform. California has the
highest population of foster children
of any state, with 60,000 children living in the foster system and
20,000 of them living in Los Angeles County
alone. The majority of foster children stay in the system throughout their entire childhood, living in up to 10 or even 15 different homes.
According to national statistics, out of all the children that age out of the foster care system, 25% become homeless, 56% are unemployed and 27% of male former foster children end up in jail. In a recent study in Texas, it was discovered that 80% of state penitentiary inmates grew up in the foster care system.
What causes this? A local nonprofit, Living Advantage, Inc., is attempting to address these issues head-on by providing the foster youth of Los Angeles County with educational and career opportunities that will guide them toward a path for a brighter future. Executive directlr Pamela Clay sat down with me to talk about their goals, their purpose their upcoming event and their future.
SEE ALSO: Broken Foster System Leaves L.A. Youth Unprepared For Adulthood
Julia Imperatore: So, what's Living Advantage all about?
Pamela Clay: Living Advantage's mission is to utilize innovative technology, social media and e-communications to provide a better quality of life for foster youth. We're able to maintain vital life records in order for them to have an identity, and we also ensure that they have medical records, transitional housing and employment opportunities.
JI: How did Living Advantage get started?
PC: Well my mom, back in 1996 she was a speech pathologist; she worked in the Los Angeles Unified School District for special education kids, and this was going to be her retirement business to continue her mission in assisting underprivileged, at-risk youth who primarily have lower education. So that's how we formed Living Advantage. My background at the time was real estate investment, so we bought a house and started being able to maintain children that were displaced from their homes and didn't have a support system, and we started providing services to them.
JI: What kind of programs do you have for the foster youth?
PC: We have a tutoring and mentoring program that's a partnership with USC Joint Educational Project. We have an after-school Los Angeles Unified School program that is specifically targeting the foster youth and at-risk youth. We have an Earn and Learn Program that acts as economic development; it provides 20 hours of paid, personal employment training and 100 hours of paid worksite experience."
SEE ALSO: LAUSD Board Wonders Whether School Report Cards Truly Measure Success
JI: What is the purpose and motivation behind your upcoming event, Intro to Robo: an Introduction to Robotics?
PC: We found that when we looked at the calendars for robotics, usually it's competitions. As a matter of fact, 99% of robotics demonstrations are competitions. When you look at STEAM, you can see that it's primarily associated with high-level academia and it's usually targeted to families at a higher economic level because of the cost of the robotics projects, robots and the level of engagement that it takes to participate.
When we looked at the calendar of events for the competitions we saw that they were all in Silicon Valley, San Diego, Pasadena, San Luis Obispo and, of course, none in the inner city communities. We feel that foster youth are always the last, if at all, to receive services on a consistent basis. Bottom line: in the inner city, foster youth are not privileged with the same services and resources as other kids, even other people for whatever reason, whether it's because they are very transient, so they move around consistently, etc.
So whether you are a transient or a foster youth, you just don't have an address, nowhere to receive information and just a lot of other reasons why our kids are not as fortunate as others. Therefore, I figure the Introduction to Robotics: Living Advantage's Robotics Carnival for Foster Youth is a way that we can better advocate for our kids by giving them exposure to a positive resource and having them receive the information and services that will let them hopefully be more engaged and inspired to participate in the competitions.
Science, technology, engineering, agriculture, arts and mathematics,= lead to some of the highest-paying careers, and we're hoping that once the kids and families in our community see that these academic concentrations are part of our daily lives, they will be more open to paying attention in school with science, etc. You know, mathematics is one of the toughest subjects there is, and science is usually not picked because it is not as exciting or popular as some of the other subjects, so we're hoping that we can make it fun and exciting.
The carnival is for color, engagement, it's for people to come and just enjoy the atmosphere... so it's not just for people that are interested in S.T.E.A.M., it's for people that might want to partake in carnival activities!"
JI: What kind of activities can we expect at this robotics event?
PC: Well, that's a good question! I've been going to some of the robotics demonstrations, and they vary drastically from one to the other, from science projects with chemicals to big robotic machines with sensory applications with all types of mechanisms that are engaging, and it's interesting to figure out why. You have your aeronautics teams, technology, medical science and environmental engineering; it's just such a wide range of different possibilities that robotics has to offer.
We have some of our sponsors like New York Life who are going to come with animated characters and interactive activities for the kids. We have Verizon that's going to have their electronic demonstration where you can actually walk through and see some of the new technologies that they have. We'll have some juggling, some spirit-dancing, different kinds of acts, and a whole array of activities. Of course we'll also have food and some giveaways.
SEE ALSO: Don't Worry, Not Everyone Thinks Your Liberal Arts Degree Is Useless
JI: What do you expect for the future of Living Advantage?
PC: Well the future that's specific to the Intro to Robotics event, we're hoping to, like the Susan Komen for Breast Cancer who does something like a marathon or walk on probably a weekly basis all over the nation, do something similar for our population of children. Unfortunately, when you look at the statistics, we have close to 1.5 million children across the country that are a part of the foster care system. We are hoping to bring some joy, plus education, plus career opportunities that will give them some positive, enlightening ways to look forward to becoming a productive citizen.
It's just a matter of taking our organization further; we have a niche in the foster care industry that nobody else has, plus the foster care system is untapped. If you think of foster care, who are their heroes? Who are their advocates? No one, besides Living Advantage, comes to mind. Through branding, we want to make sure every household knows Living Advantage is advocating and going to be the face for foster children.
The upcoming event Intro to Robo: Living Advantage's Foster Youth Fundraiser will be held at USC Galen Center on Sunday, May 3rd, 2015. Visit their website for more information about their cause or to RSVP for the event.
Contact Staff Reporter Julia Imperatore here and follow her on Twitter here.