International
Genocide Awareness Heats Up As Armenian Genocide Centennial Approaches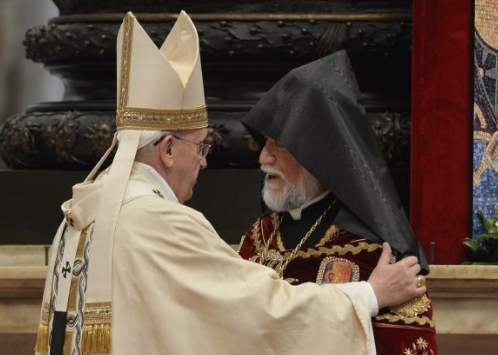 Participation around the world has caused political tension in lieu of commemorating the centennial of the Armenian Genocide. All of the following events will eventually (and not relatedly) lead up to the
LA2DC
bike race, a race to recognize past genocides and to prevent future genocides.
1. Vatican mass
Pope Francis held a mass at the Vatican to honor Armenians. The Turkish government wasn't pleased about the event.
2. The Kardashians
Who can forget about the Kardashians getting in touch with their roots? The family has been posting pictures in front of famous monuments in Armenia along with history-filled captions.
3. E! News
The entertainment site has been keeping close tabs with the Kardashians in Armenia. In honor of their trip, they posted ten facts about Armenians/Armenia. Other celebs like George Clooney have endorsed genocide awareness as well.
4. Burbank glass box strike
A man began a 55-day fast to bring awareness to the Armenian Genocide in a Burbank church. He has nothing but water, clothes and a chair.
5. USC museum agreement in Yerevan, Armenia
Stephen Smith, director of the USC Shoah Foundation, and Hayk Demoyan, director of the Armenian Genocide Museum and Institute in Armenia, signed a memorandum that will collaborate the two organizations. The USC Shoah Foundation's Armenia Genocide Collection can be seen on Friday, April 24.
6. System of a Down
The well-known band (not just with Armenians) began touring for their "Wake Up the Souls" album on April 10 and will end in Yerevan, Armenia. The band is big with promoting recognition for the Armenian Genocide.
Reach TV Editor Tanya Mardirossian here. Follow her on Twitter.