Health
Entertaining The Facts: Hollywood Health And Society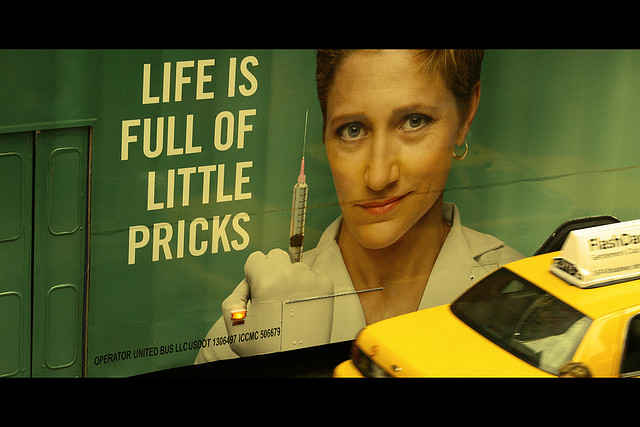 In the pilot episode of
Nurse Jackie
, Jackie is introduced as a heroic emergency room nurse who fights for her patients. When a bicycle accident victim dies after a young resident misses the diagnosis of a brain hemorrhage, Jackie forges the victim's donor card, proclaiming that his death won't be a waste. And, by the way, she is addicted to oxycodone, cheats on her husband with her drug-supplying pharmacist paramour, goes on duty while under the influence and makes a medication error.
As a doctor, I just wanted to scream. I found Jackie to be anything but respectable; a real patient champion doesn't go to work high or forge donor cards. The plot was a mockery of good medicine. So, I never watched Nurse Jackie again, but millions did. It was entertaining.
I get it; Nurse Jackie is a TV show. Accuracy in the storyline is not the goal. But it could be.
Hollywood Health and Society to the rescue.
HH&S is the vaccine for accurate information for Hollywood writers and producers crafting storylines about health from cancer treatment for meth-dealing Walter White on Breaking Bad to the importance of wearing helmets for bike-riding cartoon animals on Doc McStuffins.
Writers can call for help on a complex story or just a quick question. The staff of 12 is armed with expertise in media, communication and public health. They pride themselves on understanding industry deadlines. Faster than a Google search, they can find an expert with the right information from their database of more than 500 volunteer consultants.
"The writers will call with a scenario and we'll have to work backwards," said Kate Folb, director of HH&S. One writer was creating a scene where it appeared that a dead body had been poisoned but the actual cause of death was an infection. HH&S connected him with an infectious diseases specialist who provided facts about bacteria named meningococci that can cause purplish pigmentation of the body due to bleeding in the skin. A similar discoloration can occur with cyanide poisoning. Voila, the writer's plot was plausible.
SEE ALSO: Rash Decisions: Vaccine Refusal Is A Position of Privilege
HH&S was born out of the need to get correct health information in the media, initially about HIV/AIDS. In the 1990's horrific misinformation about HIV was flooding television, such as AIDS could be contracted from a kiss on the cheek. Storylines absurd to us now, but not uncommon in the early days of the epidemic. In 1997, the CDC awarded the Norman Lear Center a 5-year contract for a pilot project to provide expert consultants to the entertainment industry. The resource proved valuable to writers and the public, and in 2001 HH&S was founded.
In the past five years, HH&S has received more than 1000 inquiries, worked with 91 TV series on 35 networks and consulted on shows that have reached nearly 20 million viewers, including Grey's Anatomy, Royal Pains, Mad Men, Switched at Birth and many more. But, entertainment is the driving force for scripts, not education. If Nurse Jackie's character weren't so flawed, viewers wouldn't watch.
But there's a twist, some programming is specifically designed to deliver education in an entertaining manner. This is the entertainment-education, or e-e model, a powerful tool for informing audiences and even changing behaviors. People learn more from a narrative with relatable characters than dry delivery of data. Trigger an emotion with laughter or tears and they remember.
Television era e-e model began fortuitously with a Peruvian telenovela, Simplemente Maria in 1969. Impoverished Maria worked as a seamstress in the daytime. When she enrolled in adult literacy classes at night, she became financially successful. Young women identified with Maria and enrollment in literacy classes soared. Based on that success, Miguel Sabido, a television writer-producer in Mexico developed an e-e method for broadcasting, which is still used worldwide.
In the US, Sesame Street is the gold standard of e-e. Known for its engaging education, it was developed for young children who had limited access to early childhood education. Eighteen months of research preceded Sesame Street's first broadcast in 1969, and 45 years later puppet masters and educators continue to do research to assure that their methods remain effective. Data from University of Wisconsin researchers prove it works; Sesame Street viewers have improvement in literacy abilities compared to non-viewers.
Recently, e-e programming has gone small screen on computers and smartphones, and HH&S is still the go-to resource. They have consulted on East Los High, which was developed for Hulu, whose programs are commonly streamed on handheld devices. This addictive teen drama, called a webnovela, tackles issues relevant to Latino teens in East Los Angeles, including pregnancy, relationships, and depression. The teen characters have a growing fan base among adolescents from all demographics.
HH&S operates at USC Annenberg Norman Lear Center, a research and public policy center that evaluates the impact of media on the world. Monitoring health-related stories on TV has provided insights into media's effect on viewer's health-related choices. Critical data since a CDC study found that 88% of Americans get their health information from TV.
READ MORE: Seasonal Allergies: How To Help
Dr. Zoanna Clack, physician and executive producer of Grey's Anatomy and Christopher Keyser, President of Writer's Guild of America, West are the co-chairs of HH&S' all-volunteer advisory board. Most of the board members are from the entertainment industry and have used HH&S services for creating or overseeing stories.
Recently, HH&S' goals have expanded to include climate change stories. For the first time, staff has created their own media. With help from their Board, they produced a video of children talking about their future on Earth within the context of climate change. The innocent words of the kids provide compelling appeals to adults to fix the planet. The group has also joined the "Cli-Fi" niche, mixing climate change with science fiction, with producing blogs on Tumblr.
"It's very exciting to see storylines that we've helped with get on the air and to see the impact they have," says Folb. She describes the most recent reward came from Francisco Ramirez, who describes himself as a sexuality educator and United Nations consultant in New York. Ramirez tweeted a screen shot of the viewer's text message that he sought HIV testing after watching the February finale of How to Get Away with Murder.
In that episode, HH&S helped with a storyline about a gay couple who went for HIV testing and found a mismatch in their status. Connor, the promiscuous partner tested negative but Oliver, the more selective partner tested positive, a reminder that anyone can be at risk. Francisco tweeted that the viewer went for testing the next morning, and the nurse in the clinic told him that he was the 5th person to mention the storyline. The clinic had only been open for one hour.
That's entertainment with impact.
Reach Contributor ChrisAnna Mink MD here. Follow the Science Desk here.