NBA
NBA Playoffs: Eastern Conference Preview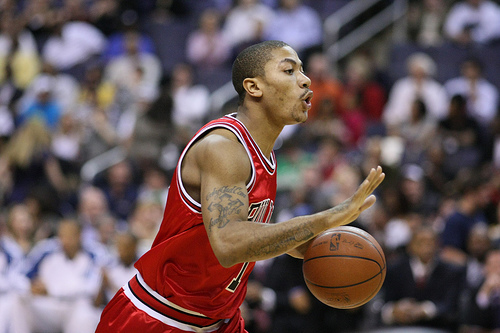 The playoff matchups are set and while the East is without a doubt inferior to the West, you'd be best to stay tuned for what should be an exciting three rounds of action.
No. 1. Atlanta Hawks vs. No. 8 Brooklyn Nets
Joe Johnson Revenge Series anyone? It's amazing to think about how much has changed in Atlanta since Johnson put on a Nets uniform. The 60-win Hawks will be proud of their first place finish, and thankful they're playing Brooklyn instead of Indiana.
Indiana may be out, but Brooklyn is no slouch. Brook Lopez is finally healthy and playing to potential, and suddenly Billy King's trade for Thad Young doesn't look that stupid. Deron Williams is playing at a competent level and Bojan Bogdanovic has turned into a serious weapon off the bench. A team with this much talent should not be taken lightly, even by a 60-win team who plays beautiful basketball.
The Hawks and their beautiful basketball will be heavily favored in this series, but going 7-8 to end the season, even with the conference long tied up, is not an encouraging sign. At the same time, one should trust Coach Mike Budenholzer, it's hard to see the Nets' defense being able to do anything to disrupt the Hawks offense. We can't forget that the Hawks' starting five won player of the month this season.
Jeff Teague will not be able to be contained by any guards on Brooklyn and Atlanta has too much shooting around the wonderful post players, Paul Millsap and Al Horford, who are also tremendous passers. This series could be closer than it should be though, solely down to the Nets having played more meaningful games for a while now.
The X-factor in this series is Millsap. He can post up, cut, pass and shoot threes. Millsap is the perfect matchup nightmare for opponents and is a perfect puzzle piece next to Horford. A Millsap-Teague pick and roll and a Korver-Millsap side screen are two of the Hawks' favorite actions on offense that create so much chaos for opponents.
At the end of the day, while Brooklyn should make this interesting with how talented they are, it's not time to brush off the Hawks. The great defense and ball movement will be too much for an inferior opponent and Coach Bud will win the coaching battle. The Hawks won't completely cruise, but they shouldn't have too many problems with a plethora of depth and shooting.
Prediction: Hawks in 5
Matchup to watch: Joe Johnson v DeMarre Carroll
No. 2 Cleveland Cavaliers vs. No. 7 Boston Celtics
The Boston Celtics have been a fantastic story this season for making the playoffs, and hats off to Brad Stevens for the job he did. Unfortunately for them, they're playing the most talented team in the East with the league's best player.
This series will come down to whether Boston slow down Cleveland enough, and it's hard to see that happening. We're talking about the 4th most efficient offensive team in the league, and even though Boston has a solid defense, they don't have the type of wing players who can hang with LeBron James. Sorry Jae Crowder.
Avery Bradley and Marcus Smart battling J.R. Smith and Kyrie Irving should be really fun, but who can actually stop Kyrie, yet alone LeBron? The Cavs went out and got quality depth and have been flying ever since. The additions in the frontcourt are huge as the Timofey Mozgov-Kendrick Perkins-Tristan Thompson trio will be too much for Boston's bigs to handle.
The X-factor in this series is Irving. James should have a pretty relaxing first round, while expect Kyrie to come out guns blazing with a chip on his shoulder.
This won't be a lost cause for Boston though. For a team rebuilding, this playoff experience will be invaluable as they strive to improve their team. Brad Stevens deserves playoff basketball for the miracle he's made in Beantown.
The biggest storyline in this series will be how the Cavs look with all the pressure and expectations once the playoffs start, notably the performances of Irving and Kevin Love.
Prediction: Cavs in 4
Matchup to watch: Marcus Smart/Avery Bradley vs. Kyrie Irving
No. 3 Chicago Bulls vs. No. 6 Milwaukee Bucks
Derrick Rose returns to the playoffs, but faces one of the trickier first round opponents in the Bucks. Jason Kidd has come in like Stannis Baratheon, righting the ship and turning the deer into a real force. Under Kidd, the Bucks have the league's second best defense, behind only the Golden State Warriors.
Defense is where the Bulls thrived under Tom Thibodeau, but they've taken a step back to 11th in the league this year. Expect this series to be in the high 80's and low 90's scoring wise. The Bucks' length will give the Bulls fits, especially the matchup at point guard with Michael Carter-Williams on Rose.
The Bucks may have the edge defensively, but will struggle themselves to score, being a bottom six offense this season. The loss of Jabari Parker really hurt their team on the offensive end, forcing Kidd to get creative even through the emergence of Khris Middleton.
For the Bulls to win this series, they need two of Rose, Pau Gasol and Jimmy Butler to play to or close to the best of their game. Most likely that's going to be Butler and Gasol. The late-season injury to Butler should end up being beneficial, as the league's leader in minutes played got some much-needed rest.
The X-factor for this series though is the Bulls' rookie forward, Nikola Mirotic. After averaging 20 points per game when Rose and Butler were out, Mirotic will come off the bench with more confidence. His versatility to play the three and the four will help Thibs create matchup issues for the Bucks.
The Bucks are a scary opponent, and this series should go six or seven games based on how difficult the Bucks are to beat on the defensive end. However, I can't see the Bulls getting bounced with how much talent and depth they have. Like the C's, this will be a great experience for the Bucks, a team with a very bright future when Parker returns from injury.
Prediction: Bulls in 7
Matchup to watch: Jimmy Butler vs. Khris Middleton
No. 4 Toronto Raptors vs. No. 5 Washington Wizards
Before the New Year, the Raptors were looking like they might be the best team in the East. Man have things changed. The Drakes have had their ups and downs, but won basketball's worst division and held on to the 4th seed with the league's third best offense, led by All-Star Kyle Lowry.
Lowry's All-Star teammate John Wall will lead the Wiz into battle this weekend, and truly is the key to a Washington team who has been slumping. Weeks ago many wondered if the Bucks could catch Randy Wittman's team. The Wiz remain a team without much shooting, which will make Toronto's job easier on the defensive end.
One edge Washington does have is in experience and big men. The Wizards really should have beaten Indiana last year to make the conference finals, and they'll be well-equipped this year from last season's campaign. Jonas Valančiūnas and Amir Johnson are quality bigs, but are likely to struggle against Nene and Marcin Gortat.
The X-factor in this series has to be Lou Williams of the Raptors, the NBA's Sixth Man of the Year. He's impossible to guard off the dribble, and is brilliant at getting fouled and getting to the line. It's hard to see any guard on D.C. being able to guard him, and that should result in scoring swings when the benches do battle.
Given that, it's important to note how bad this Wiz team is on that end. Wittman has done a great job, but he's taken this team as far as they can go. They will struggle to keep up with the ball movement and penetration of Toronto, coupled with three point shooting.
The Wizards are talented, but their weaker bench and Bradley Beal not recovering from injury should give Toronto a strong chance to advance. I like the Drakes behind Lowry and DeMar DeRozan and that home crown in Toronto. John Wall is phenomenal, but expect the Drakes to make him a jump shooter and limit his touches.
Prediction: Raptors in 5
Matchup to watch: Kyle Lowry vs. John Wall
Reach Staff Writer Max Holm here.