NFL
2015 NFL Draft Profile: Nelson Agholor
As the leading Trojan receiver over the past two seasons, Nelson Agholor has proven himself a reliable player with the athleticism to make defenses account for his presence on every play. He isn't the biggest or fastest guy, but he knows how to get the most out of his catch radius and his quickness is pretty remarkable. He is currently projected to go in the second round by NFL.com.
Anyone who has watched USC football knows about Agholor's prowess in the open field after-the-catch. He's quicker than he is fast, but he has great feet, vision, and patience with the ball in his hands.
On this punt return, he sees a lane right up the middle of the field from the moment he catches the ball. However, he sets himself up better and widens his running lane by taking a false step to his left before booking it upfield. His change of direction out of that fake is excellent as well: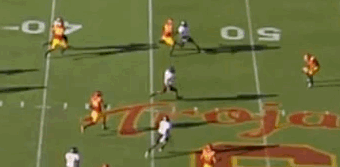 Agholor uses every inch of the field to his advantage. Again, he has the awareness and creativity to cut this following play back inside, but check out his feet: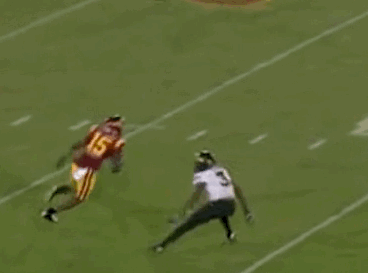 He's so quick and has fantastic footwork when he cuts--his first cut is so sudden that it throws defender #3 off his feet. Also, as you can see on this play, Agholor knows how to use his blockers well, which is a very underrated skill in the NFL.
Agholor's route running is also a strength of his game. The timing of his slant route here--three steps, break--is precise and well done (and also exactly how Andre Johnson would do it). In the NFL, he'll probably want to flatten his slant route a little more to better be able to box out defenders, but the basic footwork and timing is there: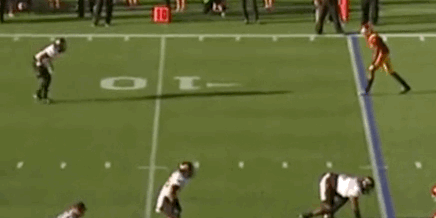 Agholor's out route is also really nice. In the following example, he keeps his break sharp (instead of rounding it off, which makes it easier to defend) and his route flat, directly toward the sideline. In this instance, he also does a great job of making sure he gets past the first down marker:

This following play is a different type of example, but important nonetheless. Agholor lines up as the outside receiver closest to the sideline. Instead of running an isolation route or a pattern simply designed for him to get open, his role here must be examined as part of the larger picture. This play is called against zone defense, and the route combinations are designed specifically for spacing purposes, and to make the zone defenders commit to guarding a certain space in order for a receiver to get open in the defenders' vacancy:

Agholor's route is a 12-yard curl, just past the first down marker. However, he can't simply run straight downfield and run a curl route, because he has the slot receiver (#7 Steven Mitchell, it looks like) running underneath him toward the same area. Agholor therefore adjusts his route to run slightly infield to clear out the area for Mitchell. This adjustment was surely addressed by the coaches, but Agholor still had to go out there and execute it. This kind of subtelty in his route running will make a big difference at the next level, where pure physical talent is no longer enough.
While a few Agholor drops stick out, re-watching his tape gives confidence that those were aberrations. In the plays that I saw, he seemed very comfortable using his hands (as opposed to letting the ball get into his body) and showed a nice catch radius as well: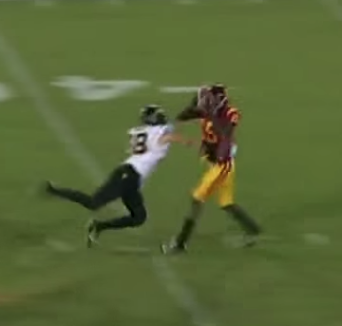 Sorry for the blurriness--it was the best I could do, people: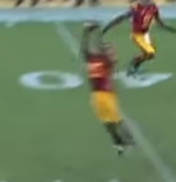 And finally, even though Agholor isn't the biggest or the strongest receiver in the world, he still showed that he's a willing and reasonably effective blocker. He regularly was able to get in defenders' way and wall them off from the play. Agholor's quick feet should enable him to do this at the NFL level too.
He's a little hard to spot here, but he's responsible for blocking the force defender toward the sideline. He knows his assignment and gets the job done: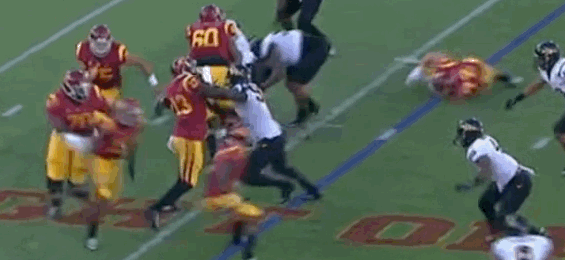 ***
Agholor is a polished receiver who will help an NFL team right away. He isn't the most dynamic athlete as a guy like Marqise Lee might be, but his yards-after-catch abilities as well as his reliability will make him a valuable asset for a team looking to create some instant offense and boost their special teams--and this is why he may even be a better prospect coming out of college than Lee was. Agholor can play in the slot or outside, which also increases his value.
He reminds of a cross between Reggie Wayne and Antonio Brown (to a much lesser extent of course, considering that Agholor has never played an NFL snap). Going to a team like Philadelphia or New Orleans where he would be used often and creatively would definitely give him a shot at winning Offensive Rookie of the Year.
Reach Staff Writer Andrew McKagan here or follow him on Twitter.