Theater and Dance
Dance Camera West Draws Inspiration From L.A. Landmarks
From Downtown Los Angeles to Westwood, over 30 films from around the world will screen across the City of Angels during the 14th annual Dance Camera West event, the only dance media festival of its kind on the West Coast.
If you're having trouble deciding which films to see during this weekend of dance screenings, performances and panels, you might want to take a closer look at the venues where the films will be shown.
Tonia Barber, the executive director of Dance Camera West, and her team took care in selecting theaters that would complement this year's diverse roster of films, which range from feature-length documentaries about death defying aerialists to surreal and animated choreographic fictions, such as the short film "Continuum."
"Los Angeles is a movie town. You've got theaters everywhere, so when we would receive a film we would go, 'This movie is perfect for REDCAT, or this movie is perfect The Crest,'" said Barber of the film and space selection process.
A walk through the Palace Theater in Downtown immediately inspired Barber to frame part of Dance Camera West's program within the former vaudeville theater's historic walls.
"We were blown away," said Barber of the Palace, which is the oldest remaining original Orpheum theatre in the U.S. and was recently restored in 2011. "We need to be here and celebrate the history of this place."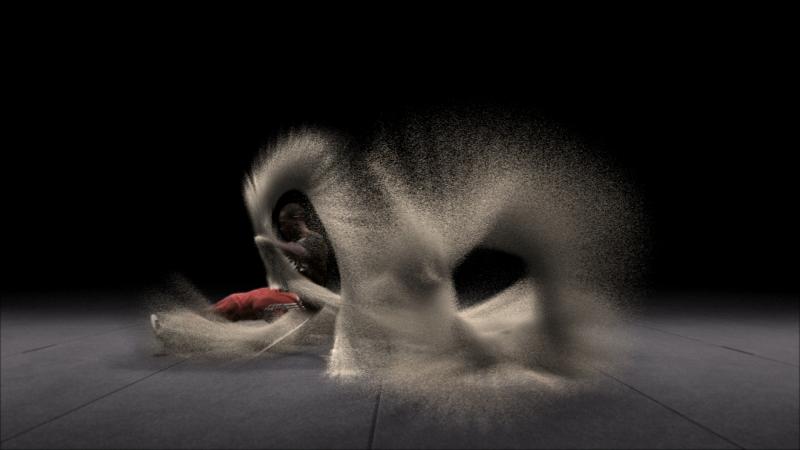 That celebration will coincide with Dance Camera West's honoring of local Los Angeles-based choreographers on opening night. Entitled "Impact L.A.," the evening screening of short films will open with the Jacob Jonas Company performing a "generational piece," says Barber. A combination of improvisation and spoken word will collide with Jonas' signature street-and-stage, mash-up style to honor longtime L.A. choreographers such as Emmy winner Anita Mann, Tremaine Dance Conventions founder Joe Tremaine,and Debbie Allen Academy Dean Hector Mercado.
Another film event especially suited to its setting and reflective of L.A.'s dance history is "The Unfinished Dance," a vibrant 1947 film, which will show at The Crest Theater in Westwood on Saturday. The Henry Koster film, starring the iconic ballerina of the screen Cyd Charisse and 1940s child star Margaret O'Brien in a juicy backstage ballet drama, is a milestone in Technicolor cinematography.
L.A. dance critic and "arts•meme" blog founder Debra Levine cites The Crest's "lush old school interior" as an ideal backdrop for the "equally lush film," whose languid dance sequences, beautiful costumes and "pot boiler plot" will make for a "guilty pleasure" Saturday afternoon. Levine will lead a conversation with Technicolor senior executive Robert Hoffman after the screening, co-sponsored by the Technicolor Corporation on the occasion of its 100th Anniversary.
For Levine, having "The Unfinished Dance" included in Dance Camera West carves out a space for classical ballet and cinema in the festival. "'The Unfinished Dance reflects the evolution of the art form," said Levine in a phone interview. "It is high Hollywood." A product of MGM's studio system at the height of its power, the film, according to Levine, ultimately offers a rare "glimpse into the state of ballet in L.A. in 1947."
A window into L.A.'s current dance scene will open up at Thursday's fundraiser, when French director Louis Wallecan's documentary "Dancing is Living: Benjamin Millepied" makes its West Coast debut in Beverly Hills. The film follows Millepied, the former New York City principal dancer, L.A. Dance Project founder and current director of the Paris Opera Ballet as he travels between Europe, New York and Los Angeles, rehearses with his company, and explores L.A.'s hip hop scene with Jookin dancer Lil Buck.
If you are into even more modern fare, as well as the cutting edge, turn to MOCA on Sunday where animators from the International Animated Film Society (ASIFA), Disney Toon Studios, and Disney Animation will lead a panel discussing the innovative and unexpected intersections between animation and dance in the areas of roto-scoping, stop motion, 3D computer generated imagery, and motion capture.
From Technicolor to 3D, there's much to discover at Dance Camera West this weekend, if you decide to explore.
"The locations are all around the city, so if you don't know Dance Camera West pick the one closest to you," said Barber.
"No matter what you see you're going to have a huge takeaway."
Dance Camera West kicks off Thursday night with a special fundraiser screening of Louis Wallecan's documentary "Dancing is Living:Benjamin Millepied," at the UTA Screening Room (9336 Civic Center Dr. in Beverly Hills). For the full schedule and ticket information visit www.DanceCameraWest.org.
Contact Contributor Christina Campodonico here.
For more Theatre & Dance Coverage click here.