Sports
Caryl Smith Gilbert Leads Track Team With Tough Love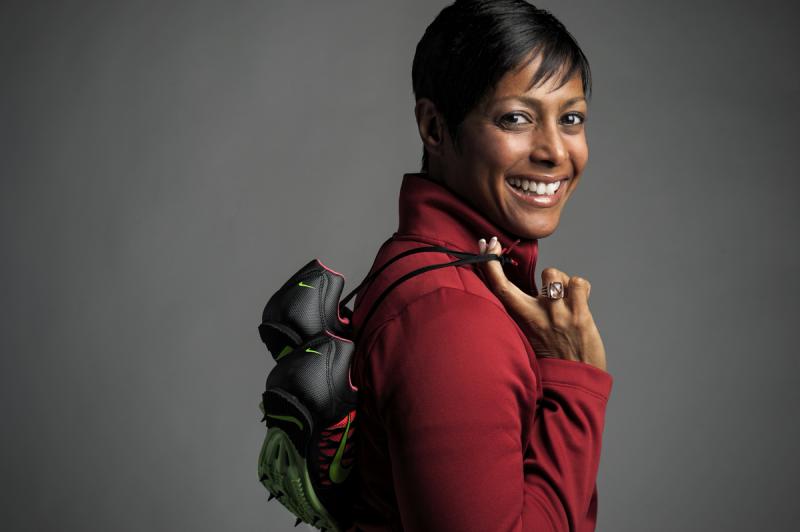 University of Southern California Track and Field Head Coach Caryl Smith Gilbert may be one of the few women in the country—and one of the fewer African-American women—heading up a top level college sports program. But she's had plenty of success so far, having twiced been named the Mountain Pacific Sports Federation's women's coach of the year.

Last weekend, the team had an impressive showing at the Mt. SAC Relays, where the USC men's 4-x-100 meter relay squad won over a professional team that inlcuded various Olympians. Mutliple athletes set school records, and three Trojans were named the Pac-12 track and field athletes of the week.

It's hard to argue that Smith Gilbert doesn't know what she's doing. But it's almost an accident that she ended up coaching at all.

"I never wanted to become a coach," admitted Smith Gilbert.

As a high school runner, Smith Gilbert excelled at George Washington High School in Denver, Colorado. She won seven individual state titles and set a state high school record in the 100 meter-race. After graduating in 1991 with a degree in TV production from UCLA—where she was also a three-time All American track star—Smith Gilbert eventually moved back home to train with her high school club coach, Tony Wells.

On Sports Coach Radio last year, she talked about how she went from being a struggling post-collegiate runner to an award-winning coach. Smith Gilbert said on the show that when she moved back to Colorado it wasn't a happy time for her. She was 24 years old, working at a power plant as a clerk and training in the afternoons. But she just wasn't seeing success on the track. Every day she would hang out at the community center where her old coach coached the youth program, and she'd simply help out.

Eventually, Wells told her to take an open coaching job at her old high school. She wasn't interested, but he said that if she wanted to keep hanging out with his squad then she had to take the job. So she did.

"I think coaching chose me," she said on the show.

She had overwhelming success at George Washington. That first year, there were over 60 kids who came out, and in only her second year, they won the state title. Eventually, she decided maybe this coaching thing was for her after all. That ultimately led to an assistant coaching job at Penn State followed by one at the University of Alabama and then at the University of Tennessee.

But in 2013 she left the University of Central Florida, where she had become the head coach, to come to USC.

"In the coaching world, USC is one of the best jobs in the country," said Smith Gilbert.

And yes, she actually went to UCLA as an undergrad, USC's cross-town rivals.

"When I first put on my cardinal shirt it looked a little different," she joked. "But, in terms of a history of success in academics and athletics, there simply wasn't a comparable school to Southern California."

Since she took over two years ago, Smith Gilbert has changed things up. The team got smaller, as the standards to be a USC track and field athlete were tightened. Quincy Watts, the assistant sprints coach under Smith Gilbert, said they wanted to make sure people were on the team for the right reasons. The rules also got slightly stricter for all the athletes.

For example, the students must make it to all their tutoring and mentoring sessions. If they skip out, the school charges them a $10 fee. Smith Gilbert won't let anyone practice until they pay their fee, said Watts, a 1992 Olympic gold medalist in the 400 meters.

"We won't even let you slide on $10," Watts affirmed.

But Smith Gilbert said that she didn't try to make any big changes and kept a lot of things the same. All she did was what she had always done.

"I just brought me."

Both Watts and Smith Gilbert had nothing but praise for the coaches who have come before. But every school goes through cycles and USC—despite its history of success—was being viewed as a "graveyard," said Watts, who ran for the Trojans in the late 1980s and early 1990s. According to him, Smith Gilbert has "resurrected the community".

The biggest thing Smith Gilbert brought with her is what she calls "a consistent championship mentality."

High expectations for the student-athletes means they know why she's hard on them, and they have trust in her when she believes in them.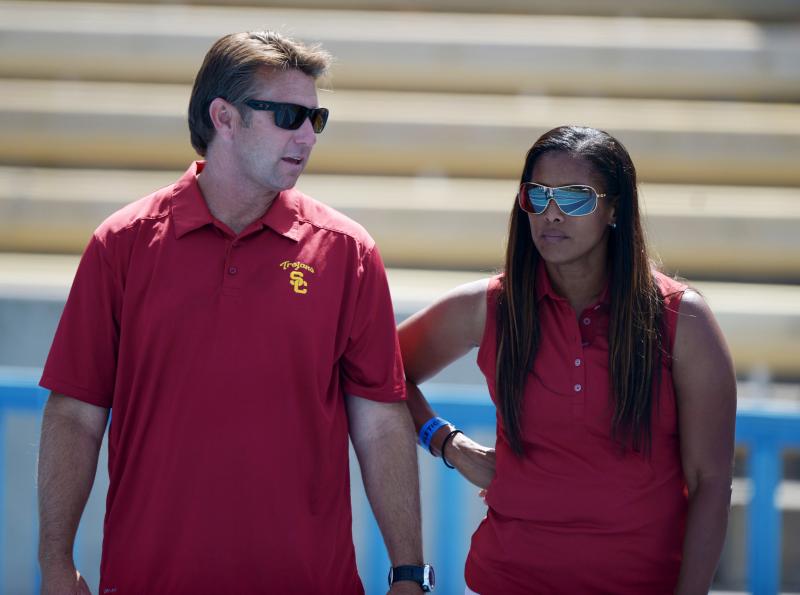 "They will run through a wall ten times for her," declared Watts.

She's also tried to make the team more integrated and cohesive. The staff has meetings every Monday morning, alongside all the coaches and the support staff. The whole team then has meetings on Tuesday mornings to discuss goals, plans and expectations for the week. It keeps everyone on the same page before they go off in different directions.

Dan Lange, the assistant throws coach, has been coaching at USC for 26 years. He's seen a lot of changes. A lot of people believed he would take over as head coach when the last coach retired. But instead, he has highest praise for the job Smith Gilbert is doing.

"Caryl is the perfect person for the job and the time."

The team will try to deliver for their coaches at the USC-UCLA dual meet next weekend and then again at the Pac-12 championships on May 16-17. Everyone believes it's time for another national title. Smith Gilbert has made them believe.

Reach Staff Reporter Kelly O'Mara here.