Entertainment News
Celebrities To Follow On Snapchat
Whether it's Facebook, Twitter or Instagram, we can't get enough of our favorite celebrities on social media. Lucky for us a few daring celebrities have taken to Snapchat to share the intimate details of their lives with photos that range from their breakfasts to international travels and everything in between.
If your tired of seeing pictures of your friends' text books and looking to spice up your feed, check out six of our favorite celebrity Snapchat accounts. You won't be dissapointed.
SEE ALSO: Most Famous Celebrity Instagrams
Gigi Hadid
Snapchat: doublegiforce
Although she walks runway shows in Milan and is featured in Vogue, Gigi still feels like the ultimate girl next door. Following Gigi feels like following a friend. Plus, she's amazing at interacting with her fans on twitter, so if you're lucky she might just snap you back.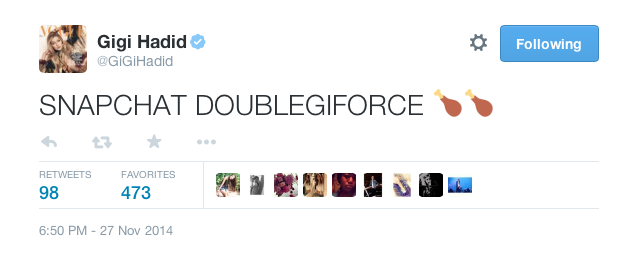 Ryan Seacrest
Snapchat: ryanseacrest
He's the ultimate insider, Ryan takes you backstage at all the events we wish we could be at from awards shows to interviews. Plus he'll get you up close and personal with all your favorite celebs.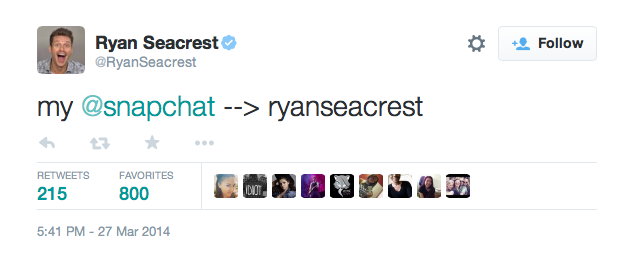 Miley Cyrus
Snapchat: mileycyrus
The pop star has not confirmed the account herself but fans say the account is legit and we hope they are right! Miley is the ultimate entertainer. Her Instagram and Twitter accounts always keep us on our toes. We expect nothing less from her Snapchat.

Nick Jonas
Snapchat: jicknonas
Nick Jonas is the guy to watch. We're hoping that by watching his Snapchats we might learn a thing or two and hopefully get a look at his relationship with Olivia Culpo. Best. Couple. Ever.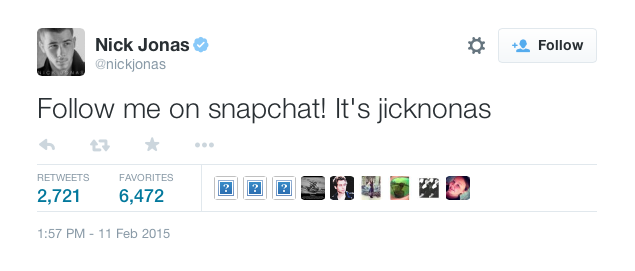 SEE ALSO: Kids' Choice Awards 2015: Nick Jonas, Iggy Azalea & More To Perform
Jared Leto
Snapchat: JaredLeto
One selfie from Jared can brighten anyone's day. His goofy snaps will put a smile on anyones face. Plus he's not afraid to use the paint feature, which we love.

Chris Brown
Snapchat:Bpchrisbrown
Feeling like Chris has fallen off the face of the earth? You're not alone. Fortunately his account can give you a daily reminder he's alive and well. He hasn't given us a sneak peak at any of his new music yet, but we're not giving up hope.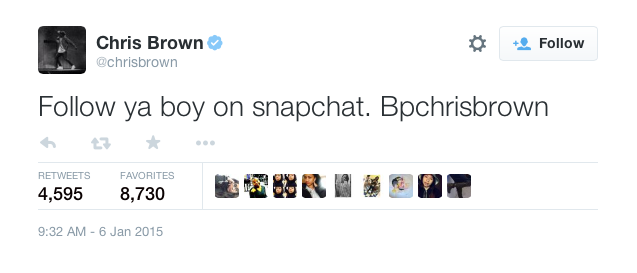 Reach Staff Reporter Brooke Gignac here