Sports
BeeJay Lee's Second Dream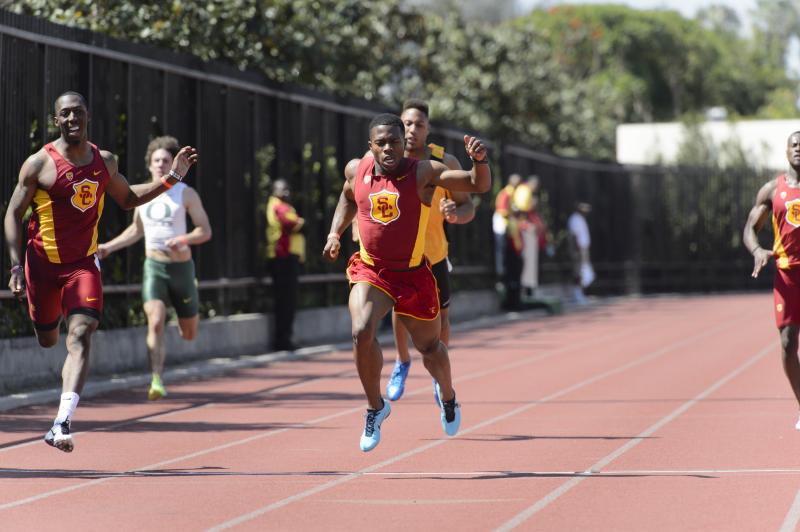 BeeJay Lee didn't always want to be a track star. Sure, the University of Southern California senior won the 2013 Pac-12 title in the 100 meters, was named a Pac-12 student-athlete of the week last week and currently holds the fastest collegiate time in the country for 200 meters (20.51 seconds), but what he originally wanted was to be a football player.

"Before track, my life was basically about football," said Lee.

Lee was a running back and kick returner for the West Covina high school football team in eastern Los Angeles county. The team wasn't bad; they won the California Interscholastic Federation championships in 2010 and 2011, and Lee wasn't bad, either.

He just wasn't as good at football as he was at running.

His sophomore year in high school, he joined the track and field team just to stay in shape during the football off-season.

"I turned out to be pretty good," he said. By his senior year, he took third place in the 200 at the highly competitive California state meet. It was starting to seem like maybe this football player was really a runner.

While Lee was making highlight tapes of his football skills and courting universities, the college track coaches were coming to find him. He could get a full scholarship for track and field, but he'd first have to let football go. And he just couldn't give up on his childhood dream.

Lee actually quit the track team for a few weeks during his senior high school season. He was determined to make it as a football player, even if that meant starting at a community college and trying to transfer to a four-year university. But after a few weeks, he came back to the track.

It wasn't that he didn't like running. It was just that football was his thing; it had always been what he was about. And if determination makes an athlete, then, by God, Lee was determined.

On a college recruiting trip, he took his first flight ever. He'd never been on a plane before. He hadn't even been out of Los Angeles much. But the University of New Mexico, in Albuquerque, gave him a full scholarship and told him he could both run track and play on the football team. So off he went.

His freshman year he was the Mountain West conference champion in the 200 meters, and one of just two freshmen to make it to the semifinals in the 100 at the NCAA championships. But he didn't really get to play football. Maybe he just wasn't a collegiate football player after all. Lee is 5-feet-6-inches tall and he jokes now that the game outgrew him. But then, three years ago, it wasn't a joke. It was time to move on.

Lee left New Mexico. Transferring within the NCAA system can be stressful. He had to give up his full scholarship before knowing that he had another one waiting, specifically one back in California where his family was. But Lee believes that things work out for the best, and it was a risk he had to take.

The L.A. native ended up back home, not too far from where he first realized that maybe he was kind of good at this running thing.

At USC, Lee has embraced being a runner. The Trojan team is not a young team, like UNM's was. It has a history, a well-credentialed coaching staff and lots of competition to run against. Lee isn't even always the fastest on the team (though he usually is). But that's the way he likes it now. Now he has a new dream and it includes racing right with runners he looks up to.

"Your idols become your rivals," he said.

Lee said he struggled mentally during the early 2015 indoor track season, but coach Caryl Smith Gilbert and DeeDee Trotter—an Olympic gold medalist in the 4-x-400 meter relay and a volunteer coach at USC—have helped him focus on himself and what he can control. At the the Trojan Invitational, the first outdoor meet of the year, he showed off those new skills on home turf and ran the fastest 200 in the country. He also ran the first leg on the 4-x-100 meter relay, clocking a 39.74—the third fastest time in the country.

His goal now is to help USC compete for a national title and to pass on to his younger teammates what he's learned to love about track: the competition, the objectiveness of it all, the fun. Oh, and the chance to travel places. After the collegiate season, he'll try to make the U.S. team for the IAAF world championships in Beijing. If he does, it'll be the first time he's ever been out of the country.

The communications major also has one more new dream. He wants to make this sport he's grown to love as popular as the sport he grew up loving.

"I want to turn track into an NFL, basketball, baseball kind of sport," he said.

If at first you don't succeed, re-write the definition of success.

Reach Staff Reporter Kelly O'Mara here.