International
62 Years On, The Battle For Greek War Reparations Continues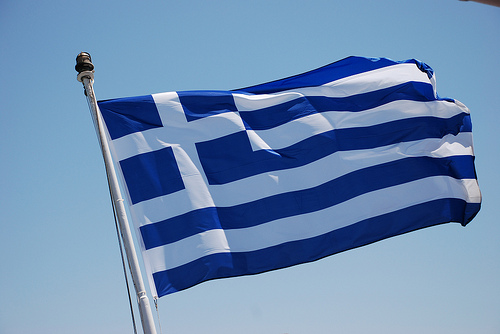 Sixty-two years after the London Debt Agreement, Greece is demanding that war reparations be paid, with accrued interest, amounting to €278.8 billion (US$303 billion).
In 1953, the London Debt Agreement cut the money Germany owed to other nations and individuals after World War II by 50 percent. The deal declared that all other debts owed would be forgiven, and the 15 billion marks left over would be paid over a period of 30 years.
Many argue that the recent discussion of reparations is more about Greece's financial crisis than it is about the scars left by the Nazis during World War II.
Greece is treading a fine line with connections to the Eastern and Western Worlds. On the one end, Prime Minister Alexis Tsipras is negotiating with other European Union nations for additional funds to help the nation out of its economic mire. On the other end, Tsipras is thought to be courting Russian President Vladimir Putin as a potential new ally, as he flew to Moscow this week for diplomatic meetings.
Likely one of the chief motivators for Greece's change of heart is political, as the Germans have refused to address the subject of war reparations, calling the idea "stupid." For those who do believe that further reparations should still be paid, many are uncomfortable with how the issue is being addressed.
READ MORE: What Is Happening In Greece?
"I wish it wasn't tied to the debt, because I think there's a strong international legal ground for the case," said Dr. Jim Dimitriou, a past supreme president of the American Hellenic Educational Progressive Association (AHEPA).
The pain inflicted on the country, economically and emotionally, is unquestionable.
"It was really at the very start of the Holocaust that the Sephardic Jewish community in Salonika were being taken off," said Dimitriou. "It basically extinguished 400 years of Judaism in Salonika and a population of over 50,000. They lived for 400 years in good harmony with everyone until the Nazis came, and everything changed for them."
Only about 1,200 Jews remain in Salonika today.
But now, in addition to those wounds, Greece is also struggling to remain afloat -- and while it successfully paid off its debt to the International Monetary Fund (IMF) on Thursday, it barely escaped defaulting.
Since 2010, Greece has received two international bailouts from the IMF, the European Central Bank and the European Commission that have totaled around €240 billion (US$254 billion), but its overall economy has barely improved. Many argue that the money mainly goes into paying off international loans, leaving no extra funds to boost the nation's current state.
SEE ALSO: Europe Scrambles To Bail Out Greece
In 2012, former President Clinton criticized Greece's lenders for excessive austerity, commenting that the nation needs to manage economic recovery before repayment. "People need something to look forward to when they get up in the morning – young Greeks need something to believe in so they can stake their future out here," he told the Greek Reporter.
The issue of a Greek exit, or "Grexit" as it's come to be known, from the European Union has been discussed for the past few years, and recently, some – notably including investors like Warren Buffett – have spoken out on the move's benefits for the 27 other member states.
"If it turns out the Greeks leave, that may not be a bad thing for the euro," Buffett said in an interview with CNBC last week. "If everybody learns that the rules mean something and if they come to general agreement about fiscal policy among members, or something of the sort, that they mean business, that could be a good thing."
Others think that a "Grexit" could leave a wake of financial damage even bigger than that of the 2008 crisis.
"A 'Grexit' won't be good for anyone, and least of all the people that really deserve some of the reparation payments," Dimitriou said.
Contact Staff Reporter Sarah Collins here. Follow her on Twitter here.