NBA
Why The Thunder Should Trade Kevin Durant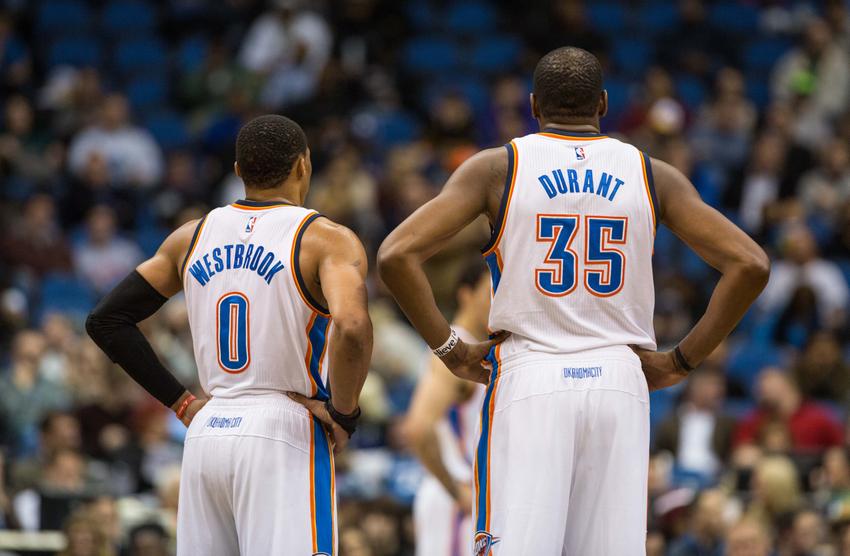 Kevin Durant is the reigning MVP, four-time scoring champion, member of the 40-50-90 club, and is only 26 years old. He's a much-improved defender, and one of the most ruthlessly efficient scorers in league history. Last season, he averaged 32(!) points per game, 7.4 rebounds, and a career-high 5.5 assists, while shooting over 50 percent from the field, just under 40 percent from three, and 87 percent from the line. He's a straight up monster.
But while he has tried to change his image over the past year or two, he's not the psycho-killer, take-over-a-game, animal that Russell Westbrook is or Michael Jordan was. Because of Durant and Westbrook's unique skillsets and personalities, there have been questions their entire careers about who the team belongs to, who should be giving up shots to who, so on and so forth. Maybe it's time to end those questions once and for all.
Russell Westbrook has been an absolute maniac this season. Over the entire season, he's averaging 27.6 points, 8.6 assists, and 7.2 rebounds, all career-highs. This is the first season in which Westbrook has had to play a significant amount of games without Durant, and while Durant's injuries have opened the door for this to become Westbrook's team, he has exploded through that door with the reckless abandon that only he has.
Kevin Durant re-injured his foot during the middle of the Thunder's first game after the All-Star Break. Looking at Westbrook's post-break numbers is pretty startling: 31.0 points per game, 10.6 assists per game, and 8.9 rebounds per game. The Thunder are also 13-5 over that span.
While no one expects Westbrook to keep posting these ridiculous stat lines over the course of a season, he has been the best player in the league since the All-Star Break by a wide margin, and is leading the Thunder to victories as well—the most important stat of all.
So this once again begs the question, whose team is it? The answer this season has been Russell Westbrook. With Westbrook playing basketball at this absurd level, a new question has been asked this season, with extreme caution; should the Thunder trade Kevin Durant? It's difficult to argue that a team should trade the reigning MVP, youngest scoring champion, etc., but if Westbrook can lead the Thunder to a 9-4 record with this team, it's interesting to ponder what he could do with a few more pieces.
Just imagine for a moment a world in which these trades are not laughed right out of Thunder GM, Sam Presti's office.
SEE MORE: Trading Kevin Durant Would Be Insane
Trade #1
Thunder get: Bradley Beal, Otto Porter, 2 future first round picks and 2 future second round picks
Wizards get: Kevin Durant
Who says no?
Okay, the Thunder probably say no. But this trade is interesting on several levels. Durant would get to go to his hometown Washington Wizards, while the Thunder would pair sharpshooting Bradley Beal— a rising star in his own right—with Westbrook. They would also get to bring in the promising Otto Porter to fill in the massive void left at small forward. The Thunder would get a boost now and help in the future with the picks. They would also ship Durant out of the Western Conference.
Trade #2
Thunder get: Jimmy Butler and Joakim Noah
Bulls get: Kevin Durant and Steven Adams
Block. Buster. The shockwaves this trade would make around the league are difficult to fathom. But what it would do for sure is give the Bulls a young rim protector to pair alongside Pau Gasol. Oh, and the best scorer in the league. The Bulls new starting five would be Aaron Brooks (Rose when he returns), Tony Snell, Kevin Durant, Pau Gasol, and Steven Adams. That team could win the Eastern Conference right now. The Thunder's new starting five would be Russell Westbrook, Jimmy Butler, Kyle Singler, Serge Ibaka, and Joakim Noah. Not only would the Thunder have the most imposing defensive frontcourt in the league, they would have a shutdown wing defender in Butler, a sharpshooter in Singler, and the one-man-wrecking-crew that is Russell Westbrook. Who says no?
In all likelihood, the Thunder will not trade Kevin Durant. The risk of trading away a player of that caliber is astounding. But with the way Westbrook is playing and potential return on investment, the move is not only defensible, but also arguable.
Reach Staff Reporter Jackson Safon here.