USC Sports
Who Will Step Up As USC's New Top Wide Receivers?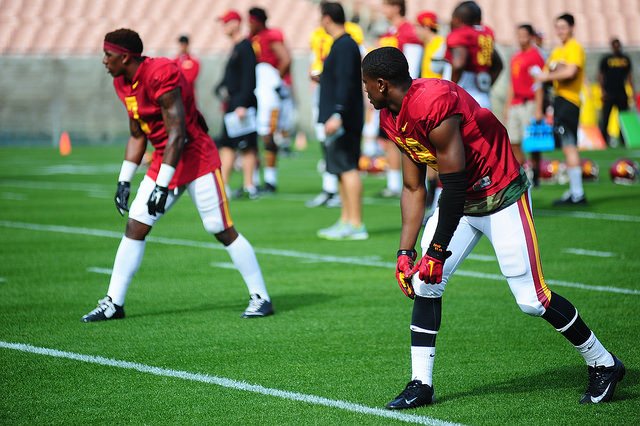 After Nelson Agholor and George Farmer left for the NFL following this past season, there were suddenly a few question marks surrounding USC's wide receiving corps. USC's four top returning wideouts have combined for only 10 more catches in their careers (114) than the number of receptions that Agholor had last season (104).
But while the wide receivers don't have a lot of experience under their belts, there is plenty of talent among them and they could make wide receiver a position of strength for the upcoming season.
Let's look at how some of the guys have performed so far in spring practice.
Steven Mitchell has been one of the most impressive Trojans throughout the entire spring. He showed flashes of promise last season as a redshirt freshman. This spring, he has wowed people with his cutting ability and quickness. While Mitchell's size makes him an ideal player in the slot, he has learned how to play on the outside as well. His capability to line up in multiple spots on the field could make him an extremely valuable weapon.
"I think Steven just knows that it's his time," USC wide receivers coach Tee Martin said. "He's been around and he knows the system. He's been consistently making explosive plays. With Nelson and George Farmer leaving, we need that explosive play guy."
JuJu Smith is the player many think will emerge as the top threat in USC's passing attack this season. As a true freshman last year, he finished second on the team with 54 catches and five touchdown receptions.
Currently, he has a cast on his left thumb following a procedure he had before spring practice began. There have been a few rough patches adjusting to the cast but, overall, he looks ready to fill the role as the lead option.
"JuJu is having a great spring so far," USC quarterback Cody Kessler said. "He's been playing really well. Me and him have been on the same page pretty much every day."
"He's maturing," Martin said. "He's learning to be consistent and to play consistently at a high level to be that [top] guy. He has signs that he can be really, really special."
USC fans were drooling over the possibilities of Adoree' Jackson getting more time on offense after a Holiday Bowl that included 73 receiving yards, two touchdowns (one receiving, one kickoff) and tons of excitement.
Jackson has had to balance track and football this spring. Sarkisian also has him on the offensive side of the ball one practice, and on the defensive side of the ball the next. Jackson has been practicing a lot more on offense compared to the fall, which has helped him develop into more of an offensive weapon.
"He's learning all of the mechanisms," Martin said. "Looking to the sideline, getting signals, getting lined up. He's really learning how to play the position as opposed to just getting in on plays where we're scheming to give him the ball or do something special with him."
Two other players who will be battling for starting spots along the outside are Darreus Rogers and Isaac Whitney. Rogers is the veteran of the group, with two seasons already under his belt. Whitney is one of the two junior college additions to join the group for the upcoming season, as DeQuan Hampton will start practicing in the fall.
Both are bigger bodies, and a key for the season would be if at least one of them develops as a strong red zone option for Kessler. Whitney in particular is interesting because he has all of the physical tools, and showed them off on an 85-yard touchdown reception in this past Saturday's practice. He, however, still needs to catch up to the rest of the group.
"Obviously, Isaac is a little bit behind just because of lack of knowledge of the system," USC coach Steve Sarkisian said. "We do see flashes out of Isaac when he gets the ball in his hands of what he can do."
"He's blocking his butt off on the perimeter, doing a great job," Martin said. "You see the speed, you see the size, you see the hands, he has all of the tools. He just has to put it all together as spring finishes and going into training camp."
But don't sleep on Rogers either. He battled hamstring issues and some bad drops last season, but the wide receiver usually does have strong hands and has been a starter before.
"Darreus has been healthy," Sarkisian said. "He's had a good offseason, so he's stronger. And he's been in the system, so he knows what to do. He's getting on his opportunities and he's making his plays."
Barring injuries, I'd think that Smith and Mitchell have two of the starting positions locked up. Rogers and Whitney will get the first cracks to become the other outside receiver. Jackson will definitely get more time on offense this season, but make no mistake; he's a cornerback first and foremost.
You can follow Senior Sports Editor Max Meyer @TheMaxMeyer.