Entertainment News
What We Learned From Karrueche Tran's Interview With Iyanla Vanzant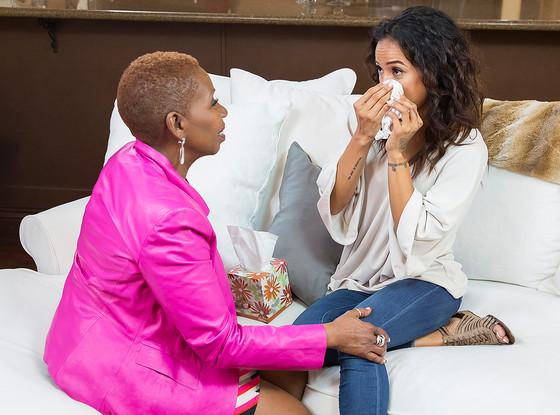 Fresh from her breakup with music artist Chris Brown, Karrueche Tran sat down with OWN network's Iyanla Vanzant to clear up misconceptions she felt the public had about her.
The two split several weeks ago when Karrueche, 26, found out through social media that Chris, 25, fathered a child with another woman named Nia Amey. Crushed, she vowed she was done with the singer - once and for all.
But does she mean it? Here's what we found out from her emotional interview on March 28.
She isn't (completely) delusional about her stardom.
"Are you clear that you are famous by association?" Iyanla asked. After pondering the question for a second, Karrueche said yes.
She said she wanted to do this interview because she wants to stay in the limelight. She goes to modeling and acting auditions and does not want potential employers to have a negative perception of her. Iyanla hammered the point several more times, telling Karrueche her story is being told solely because of the man she was in the relationship with. Reality check heard loud and clear.
The two met during a styling job.
It was about five years ago, when Karrueche worked as a personal assistant in Los Angeles and did styling gigs on the side. She gave one of Chris' dancers her phone number to give to him. He ended up calling her. She told Iyanla she wasn't overly excited about him calling - if you can believe that. Iyanla laughed when she recalled their first date - Norms at 2:30 A.M.
"At the end of the day, he's just a regular person… That's the way I see it," Karrueche said.
"No. If he was, you would not be sitting here with me," Iyanla retorts.
Karrueche didn't look too happy about that response (and about most of everything else in the interview Iyanla counters her with). Iyanla then went on to tell her that maybe that was what got Karrueche into trouble: she didn't know what she was getting herself into. Ouch.
She isn't dead-set on leaving him in the past.
"Is there a part of you that still wants him?" Iyanla asked.
After some contemplation, Karrueche said, "I still love him." Uh, oh.
"If things could change… I've tried to help him. If he could change, we'd be in a better place. But that's the problem," Karrueche said, implying his inability to change. Her reply doesn't sound too certain.
Just as things started getting juicy, Karrueche's manager jumped in and threatened to nix the rest of the interview. Apparently, he didn't expect Iyanla to ask the most obvious questions. Rookie mistake. After a short break, Karrueche and Iyanla are back onboard.
She found out through social media that Chris was cheating on her with Rihanna.
It was on Christmas Day, in 2012. Karrueche was staying at Chris' Los Angeles condo. He told her he had to step out for a moment. What she didn't know was that he had gone to a Lakers game with his ex, Rihanna. She found out when photos of the two of them cuddling court side ended up online.
In Chris' defense - and to Iyala's shock - he told Karrueche that he was still "dealing with" Rihanna. She was okay with it, but she said she was under the impression that Chris and RiRi were sort of-kind of friends. Simply put, she didn't think what Chris and Rihanna had was as serious as it was. Karrueche knew, she said, but she didn't want to believe it. Why? "Because I loved him," she said. Classic.
"Huge mistake. Huge," Iyanla said.
She won't be expressing her feelings over social media anymore.
Karrueche learned that doing so only invites negative attention in. Her privacy has been revoked since dating a celebrity. Nowadays, she won't allow anyone to have an opinion of her life.
Her "best, good girlfriend" (in Iyanla's terms) Christina Milian didn't know what was going on between Karrueche and Chris.
Iyanla also did a mini interview with singer and actress Christina Milian, Karrueche's best friend. Iyanla wanted to know why Christina didn't sit Karrueche down and tell her to stay away from Chris. After all, as Iyanla would say, what are "good, good girlfriends" for? Christina said she spoke up when it felt necessary to, but that Karrueche didn't express her feelings to anyone. She kept the hurt inside. This seems contradictory with her old habit of spilling her thoughts on Twitter and Instagram.
She wanted to get married and have children… Chris didn't.
The two have talked about their potential future. They've discussed having kids, though Karrueche said she wants to get married first. The idea of long-term commitment is what's most important to her, not necessarily a ring. Chris wasn't ready for a settled down lifestyle. He didn't want kids at the time.
"I think marriage scares a lot of men," she said.
"And what were you hoping for?" Iyanla asked.
"For us to grow together and maybe one day, we'll… we were going to get married and have kids. We talked about starting a family," Karrueche responded. Freudian slip, much? She then started crying.
She made Chris wait "a few months" before sleeping with him.
"100 days?" Iyanla asked.
"No, I didn't do that rule. Maybe a month and a half, two months. Compared to what he's used to, let's be honest…" Karrueche said, implying she made him wait much longer than he's used to. She then told Iyanla she can count on one hand how many men she's slept with.
She found out about the secret baby through - Where else? - social media.
Chris wanted to talk in person as soon as he realized the story had leaked, she said. Unfortunately, she went online and discovered the news for herself.
She has no intention of confronting Nia about the betrayal.
"I'm not that girl. I'm not trying to call her, trying to cuss her out. My issue is with myself and with Chris, not the baby, not the mother, not Rihanna. Nobody. It's me and him," Karrueche said. We can applaud her maturity here. She's carrying herself the best way she can.
He tried to apologize with flowers when the news broke.
"It ain't no making up right now," Karrueche laughed.
He tried to apologize by dropping off flowers, but she said she's not forgiving him any time soon. She's fed up, she said.
For now, she won't go back to him.
Which means she might go back to him in the future. Which means, once again, she isn't dead-set on leaving him in the past.
"Do you really ever think you'll go back to him?" Iyanla asked.
"No… Right now, I'm saying no," Karrueche said.
Disappointing, sure, but at least she's being honest. This isn't shocking news to anyone.
"BITCH" stands for a "Broad In Total Control of Herself."
According to Iyanla Vanzant, anyway.
She wants Karrueche to have a "strong no" when it comes to managing her public image, especially with nosy paparazzi. Karrueche's working on it.
She, like Chris, had an on again-off again relationship with her father.
Iyanla called Karrueche a "daddyless daughter." Karrueche said she didn't discuss relationships with her mother while growing up, and her father was in and out of her life. Chris' father was the same way with him.
"A little girl's first love is her dad," Iyanla said. Karrueche was deprived of that love, so "broken men" are able to walk into her life and fill that void.
She's open to dating another celebrity.
"Maybe," she said when Iyanla asked. "I'm not going to lie."
One bad apple doesn't poison the whole barrel, after all.
Reach Senior Entertainment Editor Kathy Zerbib here. Follow her on Twitter here.