USC Sports
USC Spring Practice Take Two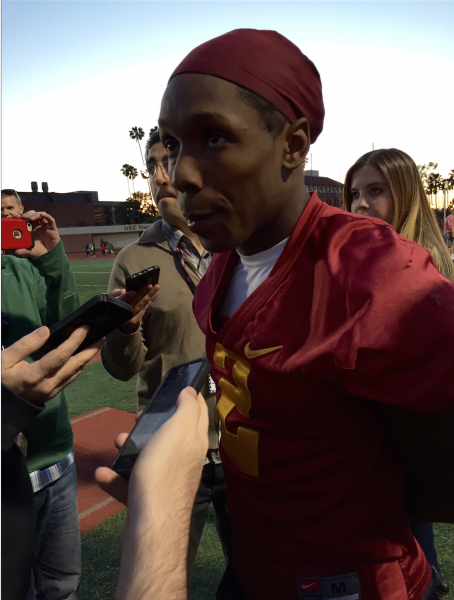 Thursday's USC practice session was a similar sequel to Tuesday's first installment, and as the focus fell on the defense and their impressive efforts, the offensive rhythm was not exactly tuned to Coach Steve Sarkisian's preferred beat.
"Little too slow for our liking," admitted Sark afterward. "We got a lot of people doing some new things. We need to improve upon the efficiency."
Though Sark slighted the offense a bit, he reiterated that he has been impressed so far, praising the team for their competitiveness.
"Two really good, competitive, kind of hard-fought practices even though we're only in helmets," said Sark. "It was intense."
Sarkisian also offered a few updates, headlined by the announcement that LB Anthony Sarao will be out for the remainer of spring camp due to a foot injury that will require 6-8 weeks of recovery for cautionary purposes.
"He probably could play. I know he could play," Sark said. "We want to make sure that it heals properly, so that when August rolls around he's just 100% and we're not dealing with anything."
August remains up in the air and in question for another essential Trojan, as Sark offered no official update regarding Bryce Dixon's situation and did not say whether he has been indeed dismissed from the team.
Best of Five
The peak of intensity once again came at the end of practice when the defense and offense faced each other in a best-of-five format Sark said the team will conduct at the end of every practice session.
Like Tuesday's opener, the defense emerged victorious, winning the 5-play battle 3-2 and further adding to their successful day in the coaches' eyes.
"All those guys are doing well," said DC Justin Wilcox before singling out ILBs Michael Hutchinson and newcomer OL Cameron Hemsley for their respective play.
Adoree's Offensive Day
Missing from the defensive side of the ball today however, was CB Adoree Jackson, as he took his turn at the wideout spot, catching balls from the Trojan QBs instead.
Like previously noted, this will be the routine for Jackson: Tuesdays on defense, Thursdays on offense, where the now-sophomore has been trying to hone his skills in more ways than one.
"I want to focus on just getting ready and more polished in my blocking, so defenses don't just think I'm in for a pass," he admitted.
Jackson's versatility and explosiveness will remain, but the two-way star is making deception an important part of his game, hoping to force defenses to pay much more attention than they did last season.
"I wanna be out there to switch it up," he elaborated. "I might be in there to block, I might be in there to run a route or anything that Coach wants me to do, I'll be able to do it."
Above all, as spring practices are the furthest dates from the season's kickoff, Jackson is both enjoying and embracing his abilities on both sides of the ball to the fullest, while also balancing it all during track season.
"I'm just having fun and when you're having fun, you can handle as much as you want." he said with a clear smile on his face.
No Defense For JuJu
One guy who won't be seeing time on both sides of the ball is the proverbial No.1 receiver for the Trojans, JuJu Smith. The second-year wide out's athelticism and capability to replicate it on the defensive side of the ball are certainly not in question, but Coach Sark said Smith is simply too good to divide his talent.
"He's our most veteran guy," Sark said of the sophomore. "Cody needs players around him that have played at a quality level and he [Smith] gives us that."
Getting Back to 100%
For players returning from injury like DT Kenny Bigelow and OLB Jabari Ruffin spring has become extremely important, as they can finally lace the cleats back up and see field actin once again.
"I've been studying a lot of film this off-season," said Ruffin, who missed 2014 with a knee injury. "It feels great to get back out here and knock the rust off."
Bigelow echoed that sentiment citing his knee injury as a big setback and his return as long overdue.
"I've came back in major ways, lost a lot of weight," he pointed out. "I feel like a lost maybe a step, but I'm getting it back just as fast."
The lineman went on to say he believes he is 80% and will see full contact once summer arrives.
Both key defensive pieces to the squad, they each felt like the outlook of the defense was a bright one, despite the loss of Leonard Williams, because of both their "hunger" and all the work they feel like they've been putting in.
Other Notes
Add incoming freshman DE Christian Rector to the list of possible tight end options in the fall. Sark said they will also be looking at TE Chris Wilson possibly coming back for a sixth year to add depth to the increasingly-depleted position.
The tight end situation sparked Sark to allude to the possibility of using a 3-WR, 2-RB set more frequently. One that he said he used at Washington for a year.
With Jackson on offense, the defensive backfield saw both Chris Hawkins and Jonathan Lockett taking turns at safety and corner.
Sark also announced OLB Charles Burks, who graduated, will transfer.
The Trojans will practice in pads for the first time this Saturday, their third spring practice.
And finally...
The Guest List: At practice today were former Trojan WRs Nelson Agholor, Marquise Lee, Robert Woods and Damian Williams. Incoming fall recruits DE Rasheem Green and TE Tyler Pettite were also in attendance.
Reach Associate Sports Editor Paolo Uggetti here, or follow him on Twitter at @PaoloUggetti.