USC Sports
USC Spring Practice: Physical Saturday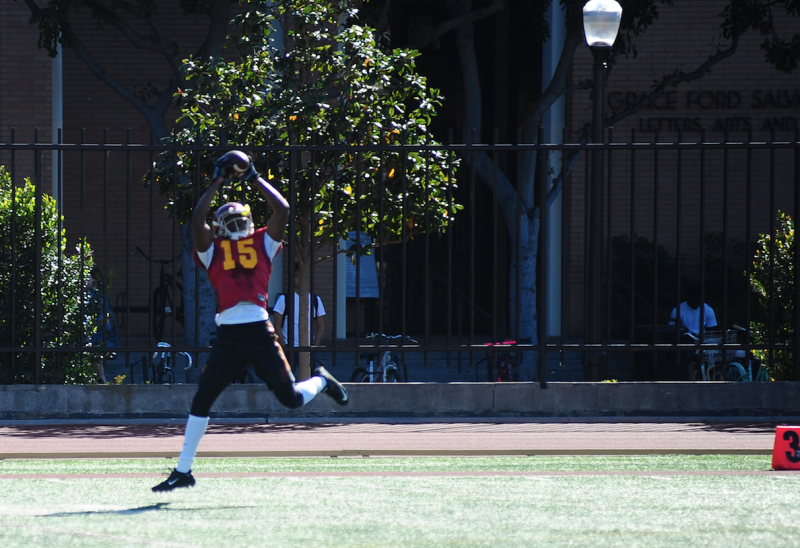 It was an early morning session for USC Football, as they ventured out to Cromwell Field on Saturday morning to finish off their week of practice.
Donning the full set of pads, the Trojans displayed a very competitive level of play, especially on the defensive side of the ball and a physicality that Coach Sarkisian took affinity to.
"It wasn't all completely live," Sarkisian admitted. "But the guys were really physical."
The session ended on a high note, as LB Lamar Dawson picked off QB Cody Kessler en route to an emphatic Pick-6.
"That was really cool...we've been praising Lamar the last couple times" he said. "He's really come on strong."
Sark said he loved the dynamic between the defense's pace and how it is coaxing the offense into meeting that pace with success.
"I think the defense is really making the offense better...It all works hand in hand," he said. "It makes Cody have to anticipate those throws ... It makes guys like Steven Mitchell have to make those competitive catches."
The Deal With Jackson
With USC track & field season ongoing, two-way star Adoree' Jackson is seemingly conducting a juggling act, trying to balance offense, defense and track all in one fell swing.
"I feel like multitasking is not be a problem because I'm having fun and I love both sports," Jackson said.
The sophomore saw time at wide receiver today for the second spring practice in a row and expressed his desire to devote more time to his track endeavors, highlighting an upcoming meet he will have to miss for football duties.
"I wanted to go out there and compete," he admitted. "I guess I gotta take that competition I wanted to do on the track and do it out here on the football field."
Jackson admitted he was a bit upset, reiterating that his dedication to getting better at each thing he does allows him to thrive in multiple roles.
"I know what I can do on the football side," he said proudly. "But of course I'm going to get my work in...keep trying to get better and improve my game."
Sarkisian praised the wide receiver's play as a big positive in today's practice and said Jackson's desire to do all things is simply signs of an ambitious athlete.
"It's a tall task, especially for a young person," he said. "But it was a tall task for him to play three ways in the fall and he did that so we'll see how far we can push him just like any other guy in our program."
Jackson, who expressed his desire to win a Heisman trophy earlier this spring, also said he assumes he will play both offense and defense in the upcoming April 11 spring game.
Early Enrollee Assessment
Nine practices into spring, Sark was asked how he thought the first-timers were developing and faring.
Of LB Cameron Smith, Sark cited seeing "flashes of playmaking ability".
Of QB Ricky Town, who showed some good pocket awareness during his allotted reps, Sark said afterward he thought Town has understandably been "up and down" as a true freshman.
Of OL Chuma Edoga, who missed Saturday's practice with an ankle injury, he said he had been doing really well up until his short, ongoing setback.
Of Roy Hemsley, he said he thought the game was a bit new to him but that the future is bright, as he has been displaying flashes showing "exactly why we wanted him here."
And of transfer WR Isaac Whitney, Sark said his improvement has been steady throughout spring and that when he has the ball in his hand they have been able to se his potential, despite him not knowing the system as well as the other wideouts.
Ajene's Day
Nursing a continuing hamstring injury, the sophomore wide receiver is getting back out on the practice field and showing how much he has improved since last fall.
"I'm just taking it day by day," he said. "I'm getting treatment every day but I'm feeling good."
With clear number one receiver Nelson Agholor now gone, the slew of possible "replacements" are each finding their roles in the offense, but Harris simply wants to perform regardless of his role.
"Wherever I lie, I lie," he admitted. "I'm just going to working hard every day and keep competing."
Harris had one of his best practices, making both an impressive one-handed grab and breaking tackles for a 40-yard reception, showing his ability to accrue yards after the catch.
"Make every catch," he said of his goal, before elaborating on the specific one. "I caught that and just tried to make a move on the defender in front of me and just got upfield."
Sark spoke both highly and regretfully of Harris citing the hamstring injury as his biggest setback, but acknowledging the wideout's high potential as well.
"I don't think we've gotten the full Ajene Harris yet," he explained. "Hopefully by camp that's what we get out of him because he is a really good football player.
QUICK HITS
Tight end Jalen Cope-Fitzpatrick saw a good amount of first-team reps during the scrimmaging portion of practice, which Sark chalked up to "the rotation."
FB James Toland showed a few flashes of agility by producing two impressive plays--one via a screen and one via a draw play.
Sarkisian went out his way to say he has found QB Jalen Greene's improvement and progression this spring impressive.
Kessler praised LB Su'a Cravens for his play on the defensive side of the ball and cited his leadership.
There was a lot of scrambling done by the quarterbacks in the backfield as the defense did well to apply pressure.
Bryce Dixon remains out and no update has been provided.
Sarkisian said they will take it easy the next two practices and come back for a strong, physical one next Saturday.
Reach Associate Sports Editor Paolo Uggetti here, or follow him on Twitter at @PaoloUggetti.