USC Sports
USC Spring Practice: Add The Heisman To The Hype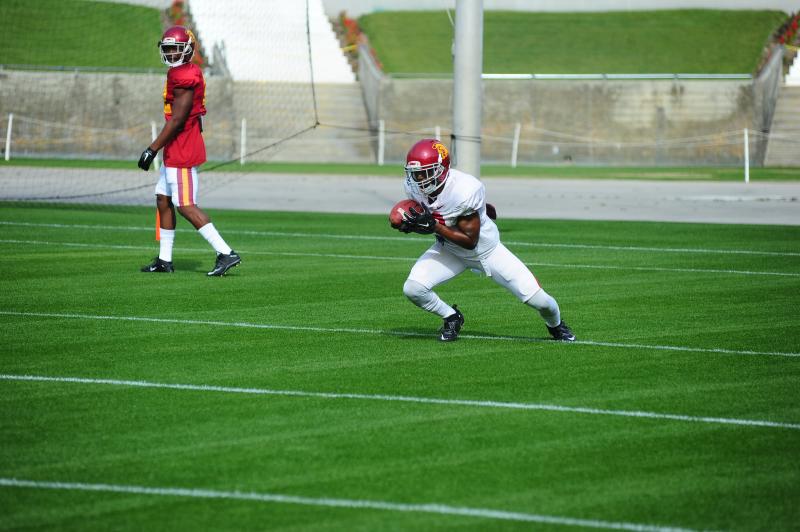 "I want to win the Heisman."
They say fortune favors the bold, and after Thursday's spring practice CB Adoree Jackson was being bolder than the coffee I had this morning.
The young star took his allotted snaps on the offensive side of the ball, as he is doing on Thursday sessions, where he shined once again, making multiple great catches including a long one from QB Max Browne.
"He's got such good leaping ability that he can contort his body even mid-flight, which is unique," head coach Steve Sarkisian admired, "And then he has the athleticism and the hand-eye coordination to make those types of catches."
"It's almost becoming commonplace," Sark said of the catch.
Afterward, the focus—like it usually is—was on the sophomore's versatility, leading to him making his lofty wishes known.
"If it's this year, or my junior year or senior year, however it may go, I'm just going to be patient," he said when asked when he wanted to win the award. "That's basically my mindset, just be patient and wait my turn."
Though the extent of his usage on all those sides of the ball remains unknown, Jackson feels he has a great chance to win not just the Heisman, but various awards given his style of play.
"I don't think it would be hard for me," Jackson said of winning an award typically given to offense-only players. "Since I play offense, special teams and I play DB."
In fact, he expressed his desire to do more, on special teams, on offense and even said he would be willing to play the Wildcat if coaches let him.
"I played it during Pop Warner and in high school," he elaborated.
Furthermore, he says that has been his plan all along and a big part of his decision to become a Trojan.
"That's how my mindset was set up when I came here, I told the coaches I want to play both sides of the ball" he admitted and then reiterated: "I want to win the Thorpe and I want to win the Heisman."
No.2 is wasting no time starting his campaign.
Dealing with the Heat
As far as the rest of practice, Coach Steve Sarkisian said the offense once again struggled toward the end, and he attributed some of the issues to the hot weather they are beginning to deal with.
"We ran into a little bit of a wall today of just slowing down, guys thinking a lot," Sark said. "We need to clean it up for Saturday."
Saturday will be a full-padded practice at the Coliseum that will involve a scrimmage-type format, according to Sarkisian.
Life Without Leonard
The process of "replacing" the huge impact of Leonard Williams on the defensive side of the ball continues throughout these spring sessions, and though the tall task seems almost impossible from the outside, the players still wearing the Cardinal and Gold don't think it's unreachable.
"Absolutely" DL Delvon Simmons said when asked if this defense could be better than the Leonard-led unit last year. "It starts by coming out here every day and working just as hard as it was last year, holding ourselves accountable."
During Thursday's practice, DE Claude Pelon showed flashes of great all-around play by producing a sack, breaking up a pass and adding some tackling for loss, while Simmons' play also caught the eye of those in attendance.
"We need them to be really good players if we want to be the type of defense we think we can be," Sark declared. "It's important for those guys to play really physical and really disciplined."
But everyone knows replacing Williams will require much more in the coming months, and Sarkisian emphasized the necessity for a collective effort.
"You have to do it as a team, you have to be consistent," he said. "Guys have to be disciplined in their alignment, their assignment, their fundamentals."
Simmons echoed that by saying they had to get better as a collective group, especially on explosion, something Williams is highly-touted for.
Above all, Sark made it known that there's a need for the replacement process to start now, early on in the spring, noting that when fall arrives it will be far too late to try and plug in the holes and make up for lost ground.
Safety Switchboard
The depth at the safety position remains relatively thin, and the coaching staff has used these sessions to try various cornerbacks at that position. Sark explained the motivation behind that move was born out of the desire to play more man-to-man coverage.
"Because of the amount of spread offenses that we see, we really have to rely on our safeties to cover so we can play more man-to-man coverage," he said. "We don't want to just sit in zone."
It also looks like safety will be a position the incoming recruits can come in and find playing time right away, as Sark admitted that there way of recruiting was built around the fact that the guys they are bringing in can be versatile and talented enough to play man-to-man.
"When you look at a Marvell Tell and Ykilli Ross, those types of guys that could potentially do that," he explained. "Play in the slot, cover man-to-man, but also play deep."
Versatility remains a constant theme to both recruiting and play in practice, but Sark also wants it to turn into something the team can thrive on and use constantly.
"I want to be more aggressive," Sark admitted regarding the man-to-man scheme. "But I won't do it if we are not good at it."
Other Notes
Again, there was no update on TE Bryce Dixon, but walk-on Connor Spears continues to impress at the position.
OL Jordan Simmons saw a spike in reps today, but Sarkisian said it was due to him missing a day of practice last week.
Speaking of Leonard Williams: After a very good Pro Day showing on Wednesday, he was once again in attendance at today's practice.
Reach Associate Sports Editor Paolo Uggetti here, or follow him on Twitter at @PaoloUggetti.