Sports
USC Spring Football: Offense Lights Up The Coliseum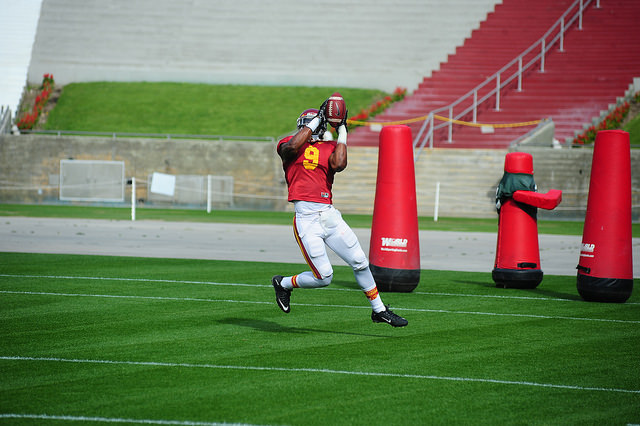 For the first time in 2015, USC headed to the Coliseum. The Trojans' kicked their second week of spring practice into gear on Tuesday, running in full pads in a breezy two-hour session. Wide receiver JuJu Smith noticed that a lot more players knew their players on Tuesday, and the Trojans' offense showed noticeable improvement as the Trojans begin to hit their stride in spring.
Good Juju
With Nelson Agholor gone, JuJu Smith is more than willing to step up as the vocal leader of the wide receiving corps. The Trojans' second-leading receiver in 2014 with 54 receptions with 725 yards and five touchdowns, Smith wants to be all across the field for his quarterback this fall. "I told Cody (Kessler) that if anything happens in a bad situation, just throw me the ball. If I'm in triple coverage, just throw it up. If I'm not going to catch it, nobody's going to catch it," Smith said. He's not lacking on confidence, especially for a 18-year-old who will be younger than a good portion of USC's incoming fall class.
He's also embracing the leader role with Agholor gone. "I don't shy away from it," Smith said on being proclaimed the Trojans' No. 1 wideout. "I embrace it. Nobody asked me to be a leader. It just came to me as a young adult to step up for the team. I'm proud to be that guy and the voice of my team."
Turning It Up
The Trojans' defense had five turnovers on Tuesday, including a pair of interceptions by cornerback Adoree' Jackson. While the offense ended the scrimmage with a long fade from Kessler to fullback Soma Vainuku for a touchdown, Sarkisian was excited about the defensive effort. "It's been a point of emphasis for our guys for creating turnovers, and that showed up today," he said.
Running Downhill
Sarkisian mentioned how junior Justin Davis could see 2015 be his time to take over as the Trojans' lead running back. Sarkisian noted how it was sometimes tough in Davis in 2014 with the NFL-bound Buck Allen receiving the lion's share of the carries. "I don't know how many games he actually was able to get into a rhythm last year," Sarkisian said.
Davis received significantly more carries in 2014 vs. 2013 (129 to 53), but his yards per carry went down from 6.8 to 4.6 yards. "At the end of the day, we're a downhill running team," Sarkisian said. Sarkisian mentioned how it's always tougher to get offensive linemen to run downfield in run blocking, but thinks a much more experience offensive line could mean big things for Davis.
Davis also had a pair of nifty receptions against Lamar Dawson, shaking off the linebacker at the line of scrimmage to get open for an easy catch early in practice.
Pace-Makers
The big focus on offense for USC was third downs, but we also got to see Kessler go deep on multiple occasions. Kessler hit wideout Steven Mitchell on a nifty deep ball right over cornerback John Plattenburg, while transfer wideout Isaac Whitney had a nice sequence he turned around, teetered on the back of his feet, and snagged an arcing pass to the sideline. Kessler also had more quick-release passes in drills, with mixed results.
Getting Their Chance
With Tre Madden being used lightly and USC's running back depth low in the spring, there's been more carries for Vainuku and fellow fullback Jahleel Pinner. "When he gets going, there's not a lot of jukes going on. He's going to run straight ahead like a freight train. He's hard to bring down," Sarkisian said on Vainuku.
Reach Senior Sports Editor Jacob Freedman here or follow him on Twitter.