USC Sports
USC Pro Day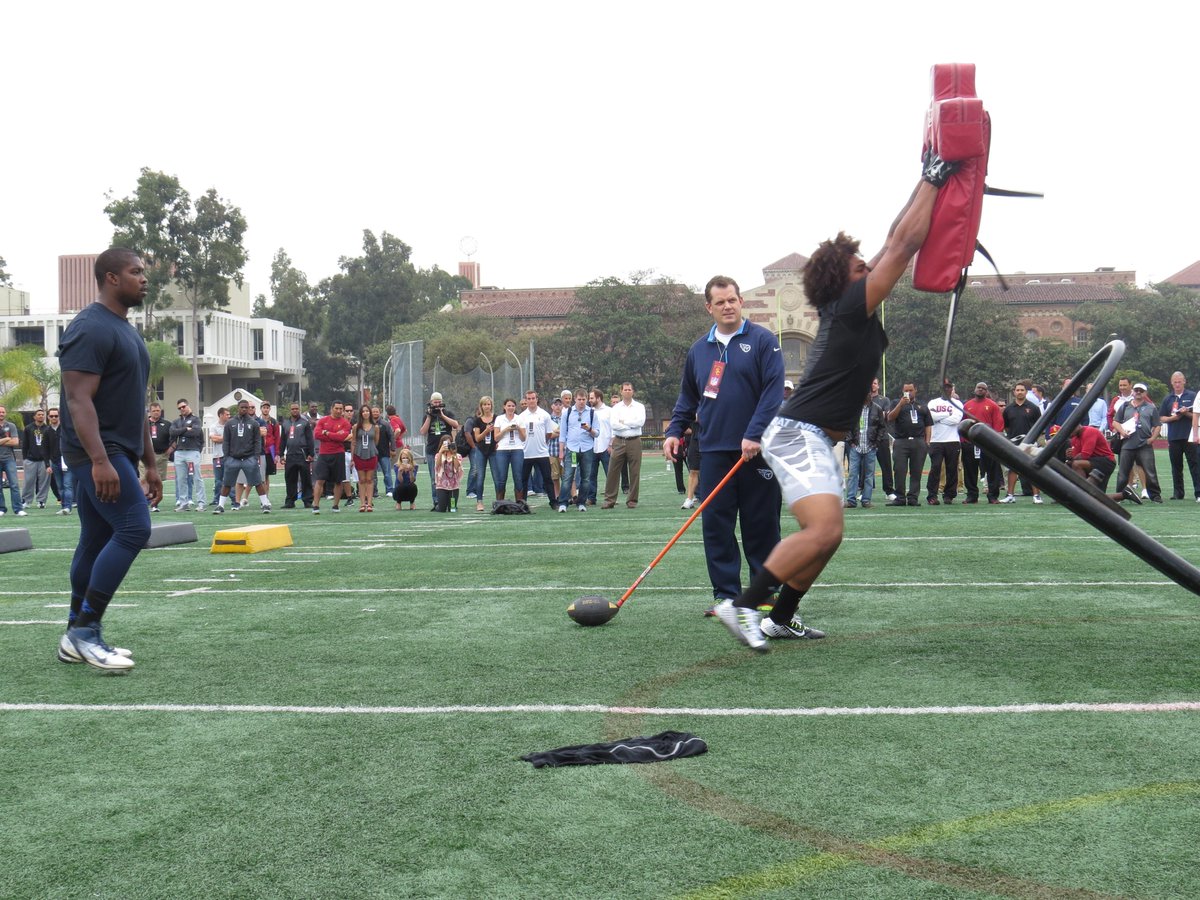 It was a gloomy, overcast afternoon on campus, as former Trojans and hopeful NFL draftees lined up at Cromwell field attempting to raise their stocks ahead of the NFL Draft on April 30.
"A lot of our guys came out and helped themselves." said Coach Steve Sarkisian.
Headlined by projected Top-5 draft pick DL Leonard Williams, the prospective former Trojans partcipated in 40-yard dashes, agility drills and respective position drills on Wednesday in front of a myriad of media and NFL Scouts.
DL Leonard Williams
The "Big Cat" had very little to prove out there today, as his skill set is all but a known quantity to all prospective teams. Nevertheless, Williams did go through a few defensive drills led by a Tennessee Titans scout, where he showed his speed, strength and agility once again.
"Obviously there's a great deal of interest in Leonard," Sarkisian said. "Everyone wants to talk about the size, speed, but Leonard loves football. That was one of the cooler things that I got to be around him this past year."
Williams knows he will be a top pick, but he wants to be the top pick and says if teams take a QB over him, he wants them to know he's going to hurt that QB when he gets the chance.
"I'm just looking forward to being a first-rounder," he said. "I want to show them I'm worth picking."
For the Titans, that seems to be the case, as the lineman said they had been the team he has had the most contact with and they had one of the largest contingents of personnel at Pro Day as well.
CB Josh Shaw
Shaw, on the other hand, continues his tour of mending his perceived character issues after his balcony incident. The cornerback participated in positional drills where he showcased his athleticism and ability profusely by standing out among the group of DBs.
As far as the perception of his character, however, Shaw remains adamant about it being something that should not be considered a trend, especially now that he has learned a lesson about telling the truth.
"I just look teams straight in the eye and tell them the truth," he said when asked what his response had been to teams asking him about the incident. "The mistake I made was out of character."
Shaw says he continued to work out throughout his suspension and he is more than ready in the face of his upcoming schedule, which he called "busy". The defensive back is set to workout for the Houston Texans this coming Friday.
WR George Farmer
Farmer was also in need of a good showing as Pro Day, especially given his inability to secure an NFL Combine invitation. The wideout elicited much surprise when he announced he would declare for the draft, as he had a subpar year marred by injury.
"I'm 99% done with my degree so that was the main factor," said Farmer of his decision. "It was a great opportunity for me to move on being that I'm healthy and I'm feeling strong."
Farmer certainly knew the importance of the day and seized it from the start by running 4.40 and 4.35 40-yard dashes. Though Farmer called time "satisfactory" it certainly left a stellar impression to all in attendance. He then continued to do well in the agility drills and proceeded to catch various passes to cap off the day.
"I was prepared for this day," he reiterated. "I have no issues and have great character. I work hard."
A confident Farmer coupled with his great measurements and times at Pro Day may go a long way to improving his draft stock, even after initial critics thought his decision to declare was a premature one.
WR Nelson Agholor
The Trojans' leading wide receiver and Cody Kessler's main offensive weapon enters the league coming off a breakout season. He has been projected as a 2nd to 3rd round pick, with the potential speed and route-running of a successful pro wideout.
"I think a good job getting open," Agholor said of his skill set. "I think I have a good feel to find separation and find the football."
Unlike Farmer, Agholor opted not to run the 40-yard dash during the session, as he had posted a respectable 4.42 time during the combine. Agholor did participate in the agility drills and joined Buck Allen in a few pass-catching drills.
"This is a wonderful day, because it gave me something to prepare for," Agholor reiterated. "[Now] I get home and I'll get back to work."
The wideout did nothing to hurt or substantially help his chances of rising in the draft, but despite a deep and seemingly great wide receiver class this year in which the order remains mostly unknown, Agholor could certainly have a team out there looking for a player just like him.
RB Buck Allen
Allen had one of the best running-back campaigns in the country, so declaring for the draft at his peak of collegiate performance seemed inevitable. Buck is projected to go in the late-2nd, more likely 3rd round of the draft, though many can project him as a more-than-respectable starter in the league.
With the seemingly declining value of the running back position at the pro level, Allen was keen on displaying what he can do on the receiving end as well and did some route-running alongside Agholor.
"A 9.8 cause I dropped one ball," the tailback said when he was asked to rate his performance.
Allen also expressed how much he has enjoyed the experience and process, joking even that his family back in Florida thought he was speaking of the military draft when he said he was "going to the draft."
The star tailback spoke highly of his time both at the university and the team saying he and the rest of the guys just enjoyed playing for one another and enjoyed their overall success.
"I never thought I would go to USC and get my degree," he admitted. "Dreams come true."
The next dream for Allen is the NFL and on Friday he is set to have a workout with the Carolina Panthers.
LB Hayes Pullard
One of the captains of last year's squad, Pullard heads into the draft as a projected 5th or 6th round pick. The linebacker has great range and athleticism, but there are questions about his contact skills in finishing blocks.
Pullard ran a 4.74 40-time, but slipped more than a few times during the agility drills, not being able to record a time for one of them.
Other Notes
TE Randall Teller sat out Pro day with an injury.
LBs Gerald Bowman and JR Tavai, OL Aundrey Walker were among the participants and Bowman posted a 4.70 40-yard time.
Many of the current USC players, including Bryce Dixon, watched practice from the stands.
Reach Associate Sports Editor Paolo Uggetti here, or follow him on Twitter at @PaoloUggetti.