USC Sports
USC Football Returns From Spring Break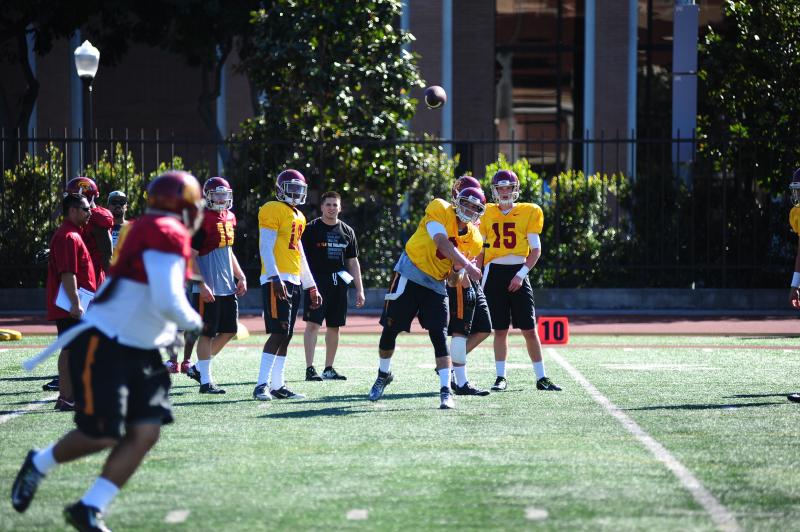 The Trojans were back at Cromwell Field today for their post-spring break practice and though one would expect a lackadaisical session to get back into the swing of things, Coach Steve Sarkisian proudly said it was anything but.
"This group of guys has really responded to the things we're asking of them from an accountability standpoint," he said. "It showed today, they came ready to go."
Now, all he is hoping for is continuity.
"There was a lot of energy. I was impressed," he exclaimed. "The challenge now is to recreate that Thursday and again on Saturday and continue to do it over and over again because that's how we get better."
Offensive Improvement
As is the customary theme on Tuesdays, Sark focused on the offense's performance and lauded their improvement at limiting turnovers from the first set of practices.
"We need to take care of [the ball] it better and I thought the offense did a good job of doing that," he said proudly.
The improvement was preceded by Sark admitting how he was torn because when the offense turned it over, it meant the defense was doing well to force those turnovers.
"It's hard because you look at one side and you see the other," he admitted. "We've turned over the ball over moreso offensively the first half of spring than I would have liked, but I have to flip to other side and say 'gosh, it's been such a big point of emphasis for our defense to get after the football.'"
"Part of me is happy that's happening, but we need to take care of it better and I thought the offense did a better job of that today."
Speaking of doing a better job, although Cody Kessler is the surefire starter under center and the lynchpin of this offense, Sark also talked about what he wants his quarterback to improve upon before the season begins.
"The big thing for me with Cody right now is anticipation," he explained. "He vastly improved last season, but I want to see him go to another level."
Sark also talked about the balance Cody is trying to deal with, as he pushes the ball to limit sacks, but also attempts to refrain from throwing interceptions.
"He's just got to have the fine line in there of where that is," he said.
Cody echoed Sark's sentiments saying he wanted to limit his turnovers and sacks as well and is making those his goals and checkpoints for improvement headed into his senior season.
Sark's Standouts
More so than usual, it appeared Sark went out of his way to highlight single-player performances. And he was most impressed with the play of WR Steven Mitchell.
"It wasn't that he had a lot of catches," Sark clarified. "It was the types of catches, there were competitive catches with people around him and in tight quarters."
Mitchell is a redshirt sophomore who had a relatively quiet freshman year (7 RECs, 82 YDS, 2TDs) after recovering from a knee injury in 2013.
"I feel real physical right now," the wideout explained. "I don't feel any hesitation, my confidence is here and my body is feeling really good."
The wideout has has a good spring thus far, but today he stood above the rest with a couple great athletic grabs—a one-handed one included—to impress everyone and especially Sark.
"We really think he has a chance to become a really special player," Sark admitted. "That's the part of his game we want him to step up and that really showed today."
Mitchell himself says he feels back and his confidence has fully returned, and that whether it be in the slot or elsewhere, he hopes his role will increase this coming season.
"That was one of my goals coming into this spring, trying to learn as much as I can," he said. "That makes your game that much harder to crack."
While Sark compared Mitchell to Trojans past like Damian Williams, Mitchell himself said he modeled his game after Steelers receiver Antonio Brown, citing his great stiff arm and speed.
USC's head honcho was doling out compliments in abundance, as he also commended RB Justin Davis and S/CB John Plattenburg as well as safety Su'a Cravens for their athletic and physical play.
"His energy is contagious," he said of Cravens.
Other Updates
Once again, TE Bryce Dixon was not at spring practice and walk-on Connor Spears continued to take first team reps ahead of redshirt junior Jalen Cope-Fitzpatrick.
Speaking of TE's, USC said there would be no comment on the reports that Oklahoma tight end Taylor McNamara was transferring to the school.
WR Arjene Harris did not participate in practice continuing to nourish a hamstring injury, but he did work out on a stationary exercise bike alongside linebacker Anthony Sarao who is out for all of spring.
Saturday's practice has been moved to 9AM at Cromwell Field.
Reach Associate Sports Editor Paolo Uggetti here, or follow him on Twitter at @PaoloUggetti.