Sports
USC Football Kicks Off Spring Practice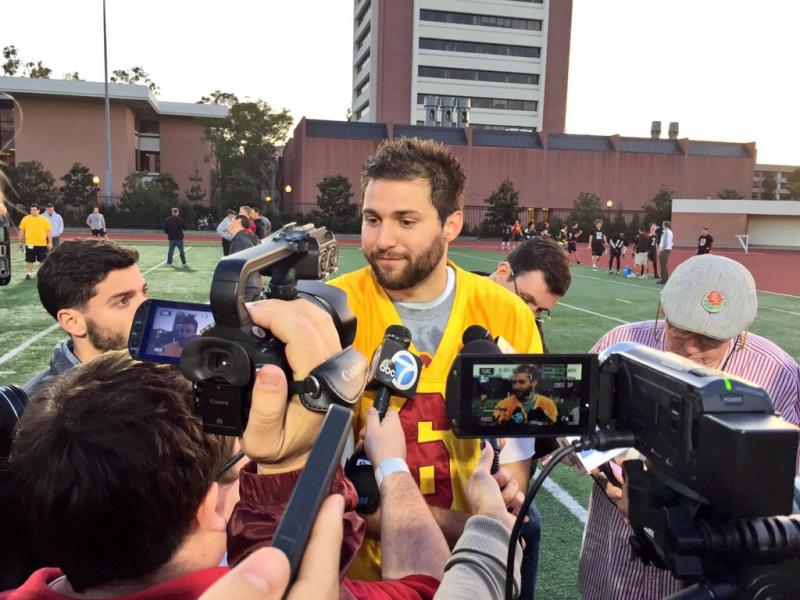 Winter is finally over. USC Football began spring practice on Tuesday at Cromwell Field, kicking off the second season of the Steve Sarkisian era on a cool, windy afternoon. The Trojans practiced the entire two hours, running drills, conditioning and scrimmaging. "We've been working out so hard off the field, so getting out here and throwing the football and play against the defense and have some fun and get some competition going in an organization," said senior quarterback Cody Kessler on the takeaways from today's practice. "I had a blast."
Dixon In Doubt
The biggest news of the day wasn't positive, however. Sophomore tight end Bryce Dixon was not in attendance, and some reports have the Trojans' projected starter at the position being kicked off the team. When asked about the issue, Sarkisian said Dixon didn't attend because of a student conduct issue and had no further comment. Dixon was suspended for USC's game against Cal last November for a student conduct issue. He caught 14 passes for 198 yards and four touchdowns as a freshman in 2014.
The New Guys
Eyes were also on USC's five early enrollees as they hit the practice field for the first time. The group of five features freshman offensive lineman Chuma Edoga and community college transfer wide receiver Isaac Whitney. Whitney has a legit chance to get into the Trojans' rotation, with his 6-foot-4 frame, while Edoga is hoping to follow in the footsteps of Toa Lobendahn, Damien Mama and Viane Talamaivao after the trio started on the offensive line as true freshmen in 2014. "I thought those five guys got into the flow of practice, while is all you can really expect of them on Day 1," Sarkisian said.
A New Coach
Another new face on the field was new offensive line coach Bob Connelly, who joins the Trojans after stints at UCLA, Alabama, Washington State and Oklahoma State. In his first interview, Connelly definitely gave off an old-school impression. He acknowledged the talented freshmen trio, but iterated that his ideal system would be redshirting every freshman, playing only "great" redshirt freshmen and essentially keeping his offensive linemen on a three-year plan in terms of playing as sophomores, juniors and seniors.
READ MORE: USC Spring Football: Day 1
One could also say USC's only new coach has the right approach to results. "We're going to win the football field, we're going to win in the classroom, and we're going to win in life," he said. It's certainly not the wrong attitude. Connelly also mentioned the leadership of senior Max Tuerk and redshirt junior Chad Wheeler as integral to his adjustment as a first-year coach. "Those are guys that can help me along with this process," he mentioned.
Adoring Adoree'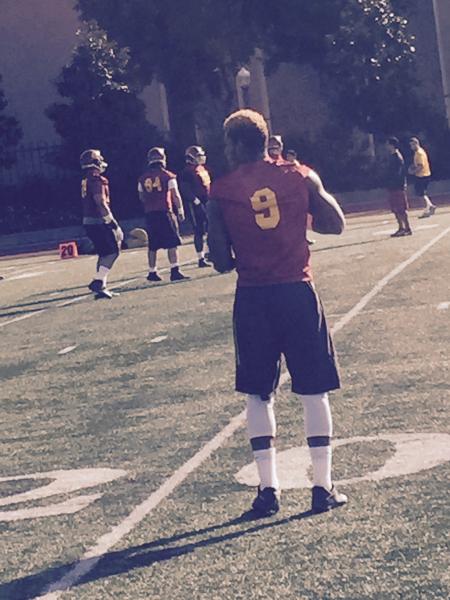 Meanwhile, the Adoree' Jackson show continues to entertain. The sophomore wideout/cornerback practiced on defense today, but Sarkisian said Jackson will be with the offense at the next practice on Thursday. Redshirt sophomore quarterback Max Browne sailed a pass mid-scrimmage that looked like it would be intercepted, but Jackson dropped it and then proceeded to shout while flinging the ball 20 yards down the field. The passion is certainly there for the two-way star.
Cody Into The Spotlight
He's never been about the spotlight, but the vibe seems to be that this is Kessler's year to make his Trojan legacy. Kessler has always been a team player, and Sarkisian picked up right where he left off in 2014 in praising the quarterback. "From where our offense was a year ago to what it is today, I really couldn't be more pleased," Sarkisian said. "He (Kessler) has got a real sense of confidence about him, yet there's a chip on his shoulder. He's really hungry to get better. He wants to play at such a high level, and it rubs off on his teammates."
Sarkisian also commented on USC's running back situation, as the Trojans' have only one fully healthy scholarship back for spring practice. Junior Justin Davis is a full go, while Tre Madden is still not 100 percent after missing all of last season with a toe injury. I think he (Madden) and Justin really complement each other because Justin has got such great speed and cutting ability, and Tre has such a 'Hammer' mentality," Sarkisian said.
The Trojans' next practice will be at 3:30 pm on Thursday, March 5.
Reach Senior Sports Editor Jacob Freedman here or follow him on Twitter.