Sports
USC Basketball Gives Glimpse Of Brighter Future In Vegas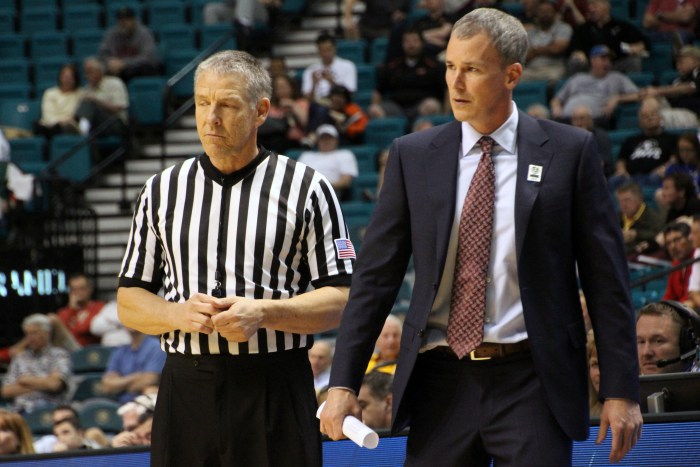 It's not often that a season that ends with a 26-point blowout to a team's biggest rival opens the door for optimism. Yet, that's where the USC Men's Basketball program stands after Thursday. The Trojans lost 96-70 to UCLA in a game where the closest USC got in the second half was 13 points. It's a rough end for a rough season, yet it feels like there's a light at the end of the tunnel.
Why? Look no further than a day earlier when the Trojans ended their game against Arizona State on a 21-4 run to stun the fifth-seeded Sun Devils. The Trojans, infamous for giving away Pac-12 games in the final minutes, turned the tables in Vegas. They not just closed a game; they took a game by the horns and straight-out won it.
The win isn't a program-changer, but it's the biggest win for Andy Enfield since his magical run with Florida Gulf Coast two long, long Marches ago. Arizona State isn't Georgetown or San Diego State, the two teams Enfield upset with FGCU. The Sun Devils are 17-15, and a mediocre team in a mediocre year for the Pac-12. The Trojans being the first No. 12 seed in Pac-12 history to win a tourney game, however, has a nice sell to it. That the Trojans did it in comeback fashion adds to the flair. "We've never felt better about the program that right now," Enfield said on Wednesday.
No one would have blinked if the Trojans fell by double digits and faded quietly into the offseason. Instead, Enfield coaxed his team into becoming the story of the first day of the tournament. It didn't hurt that USC athletic director Pat Haden chose the game over USC Pro Day. It's a rare sight to see someone choose basketball over football and see their choice pay off.
READ MORE: USC Runs Out Of Luck In Loss To UCLA
One win does not a program make, however. The Trojans are still 6-33 in Pac-12 games in Enfield's two seasons. They're 0-5 against UCLA, losing by an average of 19 points. In their five games against ranked teams under Enfield, the Trojans are also 0-5, this time losing by an average of 24.6 points. USC can slide by similarly talented programs, but there's been little indication that USC can suddenly develop an ability to notch off NCAA Tournament-level tournament teams and build their own tournament resume.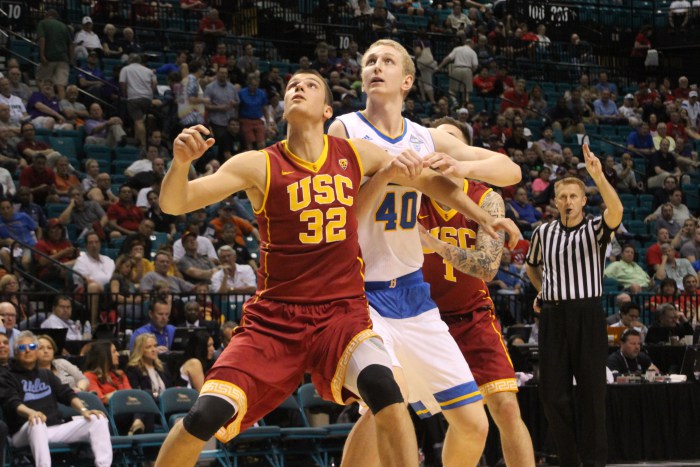 This all begs the question of how USC plans to take skip straight from Pac-12 bottom-feeder to NCAA contender. Enfield isn't setting any concrete goals for next year, but guard Katin Reinhardt said he thinks the team's objective for next year is "to be in tournament contention, for sure."
The Trojans gain 6-foot-10 recruits Bennie Boatwright and Chimezie Metu. Yet, the biggest factor is who USC loses from this year's squad. That's right: Nobody. A team full of freshmen and sophomores will be one powered by sophomores and juniors once next November rolls around. For Enfield, the hope lies in the improvement from the Trojans' five sophomores: Nikola Jovanovic, Katin Reinhardt, Julian Jacobs, Darion Clark and Kahlil Dukes. "Some of our sophomores will make an even bigger jump when they become juniors than they did last summer," Enfield said following the UCLA loss.
READ MORE: USC Shocks ASU, Pac-12 With Unbelievable Comeback
The sophomores will need to make a leap, since 2014-15 wasn't pretty. For all the bad luck the Trojans had, it still doesn't erase their 3-15 conference record and second season in a row of reaching 20 losses. In Pac-12 play, it was a rare occasion when the Trojans performed like the better team on the floor for the entire 40 minutes. The talent is there, and the coaches and players certainly don't want another long season of losing, but it's hard to be a salesman when you have little evidence to prove the future will be much better than the present. Winning breeds winning, which forces Enfield to play consistently reemphasize why this team will be greatly improved.
Someone has to take a leap and star for this team. It could be McLaughlin, who was the team's floor leader but shot just 35 percent from the field. Maybe it's Jovanovic, who improved his statistics this year but still needs to become more comfortable in the post. It could be Reinhardt, the UNLV transfer whose sharpshooting is unrivaled on USC, yet struggled with inconsistency to the point that Enfield demoted him to a sixth man role. A wild card is Elijah Stewart, who averaged 16.8 points in the final four games to go with his defensive acumen that emerged as the season went on.
Enfield helped ease the anxiety over getting a third year (he was getting a third year no matter what), but the Trojans need to be in tournament contention next year to avoid the inevitable whispers and rumors of his job status. The USC Basketball program isn't in the spotlight, but it's still in Los Angeles. Pat Haden hired Enfield to close the gap between basketball and football. 2015-16 is the time to do it.
Reach Senior Sports Editor Jacob Freedman here or follow him on Twitter.