Arts+Culture
From Supermodels to Snapchat: Social Media's Fashion Week Takeover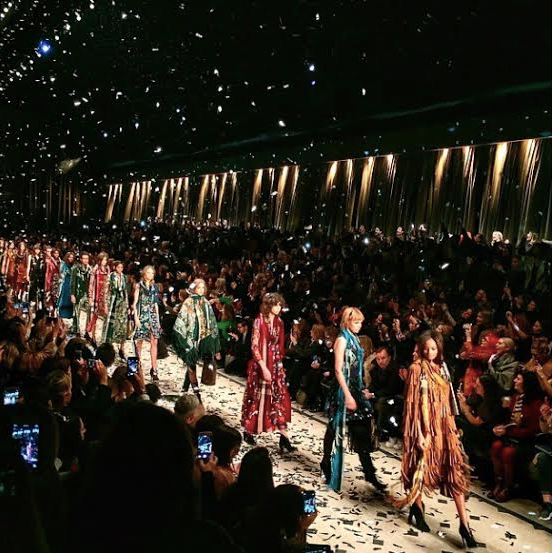 Once a bastion of privilege and mystique, even the fashion industry cannot remain untouched by the onslaught of social media transforming our world. As fashion week drew to a close in New York, London, Milan then Paris, fashion enthusiasts who without the industry connections to score no longer had to rely on magazines to highlight this season's most exciting runway moments. To keep up with autumn/winter 2015 trends, fashion aficionados had only to consult their smartphone for instant updates from Instagram or Snapchat. With video footage straight from the runway, not to mention countless behind-the-scenes moments accessible literally at our fingertips, the fashion industry's carefully cultivated image of exclusivity and unattainable chic may be eroding.

Though I have no shame in admitting that I studied Vogue's (American and British) online articles highlighting emerging runway trends more than I did for midterms, my main source of updates about the spring 2015's fashion month came via social media. Not only did the likes of Cara Delevingne, Alexa Chung and Lauren Santo Domingo post stunning runway shots and videos on their Instagram accounts, they made sure to keep me informed about the fashion week antics of their glamorous coterie. Just by checking my Instagram feed, I knew which rapper Kendall Jenner caught in Paris (Kanye West), when Alexa's collapsed mid-day, covered in furs, in a hotel bed in a fashion-week induced coma of exhaustion, and how Karl Lagerfeld decorated Cara's room to celebrate her hitting 10 million followers.

Though perhaps it goes too far to say that these glimpses into such a fetishized industry strips away the supermodels' celebrity allure and brings them down to girl-next-door status, seeing their hastily-snapped posts and un-retouched selfies serves as a healthy reminder that these are real people that also exist in a realm separate from the manufactured images presented on magazine covers and couture ads. Cindy Crawford claims to always say, "Even I don't wake up looking like Cindy Crawford!" but now some supermodels are willingly giving us photo insight into the humans behind their flawless alter-egos.

But even those too lazy or apathetic to follow models' and fashion personalities' Instagram accounts could not totally escape social media's broadcasting of fashion week. Fashion houses including Valentino, Stella McCartney and Michael Kors used Snapchat to give the masses a glimpse into their exclusive shows, both onstage and behind the curtains using the app's "Our Story" feature. Vanishing after a day, the stream of photo and video footage offered viewers a fleeting peek into each fashion week: first New York, then London, Milan and Paris. With no chance to retouch or refine, the low-quality photos and videos instantaneously conveyed the energy of fashion week to the app's users all over the world. The New York "Our Story" alone amassed more than 23 million unique views.

This initiative to broaden fashion week's audience, stemming from the designers themselves, reveals a shift away from the tradition of secrecy to maintain allure in the fashion world. Explaining Michael Kors' decision to use Snapchat to capture the label's show as "a new approach, a different, more immediate sensibility," Lisa Pomerantz, the label's senior vice president of global communications and marketing, revealed that the Michael Kors "Our Story" gathered a "sustainably larger global engagement" with its 14.6 million views than the label had achieved with other platforms in the past. No longer is the goal to make customers covet what they can't have. Designers now see value in engaging with the commoners, a goal that fifty years ago would have seemed the equivalent of Marie Antoinette inviting the sans-culottes to Versailles for tea and petit fours. And yet, Valentino spokeswoman echoed support for this new approach: "We wanted to capitalize on the zeitgeist that is Snapchat while celebrating the elegance, coolness and beauty that Valentino stands for today."

Fashion is democratizing and the world is taking note; both the industry and the outside world is talking about social media's colonization of fashion week. On March 14, model Karlie Kloss presented at the SXSW panel "How Technology Colonized Fashion Week." The event description proclaims, "Not so long ago, Fashion Week was an industry-only affair open only to a select group of top-tier editors and buyers. Technology changed all of that."

With 31 Vogue covers and 2.2 million Instagram followers, 22-year-old Kloss is an authority on both fashion and social media. But while she lauded the way technology has extended access to a once exclusive sphere – "The sharing aspect is really powerful because it brings so many more eyeballs to the event… One of the things about bringing people to the conversation is it also democratizes what is popular and who is powerful" – she also pointed out that "something special… has been lost a little bit." In the frenzy to share each minute detail of the show, both models and audience members lose the sensation of "just being there in the moment," she said.

In this observation, Kloss connected fashion's embracing of social media to the wider social trend of constant, immediate sharing via technology, arguably often to the point of excess. Perhaps, in the wise words of everyone's grandmothers, some things are better kept a mystery. "I think somebody like Kate Moss doesn't need to have an Instagram," Kloss said, citing one of fashion's untouchables to make her point. "There's something about that mystery, not knowing what she had for breakfast."

Will audiences still salivate over Chanel's inspired autumn/winter 2015 collection after seeing it from every possible angle in grainy, shaky iPhone videos before it even appears in the hallowed pages of Vogue? The long-term effects of this phenomenon will reveal themselves in time, and in the meantime, I'll be studying Cara Delevingne's Instagram selfies in an effort to unravel the mystery of her flawless eyebrows.

Reach Contributor Katya Lopatko here.