Sports
Ranking The Sweet 16 Games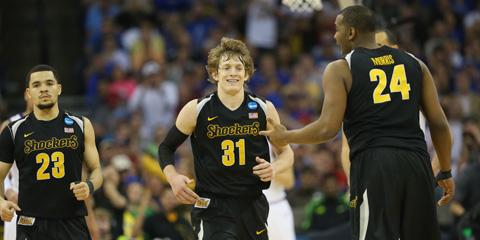 With only 16 teams remaining, we have a little bit of everything left in the final 16 games of the college basketball season. There are heavyweights, Cinderellas, and plenty of intrigue to go around. With some of the games conflicting, however, here are which matchups you should prioritize.
(Note: All times Pacific)
1. Notre Dame vs. Wichita State (Thurs. 4:15)
This game features two outstanding backcourts, as Notre Dame has the super quick Demetrius Jackson alongside All-American Jerian Grant. The Shockers, on the other hand, boast Final Four experience in the savvy Fred VanVleet and efficient scorer Ron Baker. Both of these teams are athletic and very good offensively, making for a fun game to watch. And the winner potentially gets a shot at taking down Kentucky.
2. Wisconsin vs. North Carolina (Thurs. 4:47)
The second best game of the weekend unfortunately airs about 30 minutes into the first. Wisconsin is outstanding this year and is one of the few teams who experts give a chance to beat Kentucky. With pro prospects Frank Kaminsky and Sam Dekker, the Badgers bring one of the most complete lineups in all of college basketball. Meanwhile, perennial powerhouse UNC is back again, led by juniors Marcus Paige and Brice Johnson, the Tar Heels love to get out in transition and attack the offensive glass. When they're on, UNC is one of the most dangerous teams in the country and a couple great shooting nights could give this team a chance to make the Final Four.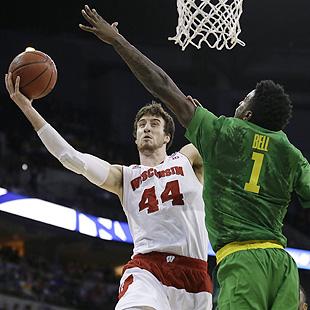 3. Duke vs. Utah (Fri. 6:45)
Led by potential number one pick Jahlil Okafor, Duke is arguably the best offensive team in the nation. They also have one of the best backcourts in the country in Tyus Jones and Quinn Cook, along with future lottery pick Justise Winslow. While their defense has been suspect at times, their offensive firepower more than makes up for it. Utah is the opposite, as they have one of the best defenses in the country. Jakob Poeltl is a monster on the inside and will be tasked with the tough assignment of Okafor, but at seven feet tall and 235 pounds, he has a chance to make a statement by slowing the Duke star down. Delon Wright is a senior point guard who gets the offense going for Utah, and when the Utes are making their threes, they are as good as any team in the nation.
4. Kentucky vs. West Virginia (Thurs. 6:45)
Kentucky is the best team in the country. They are long, athletic, and skilled at every position. West Virginia has a chance to spoil the Cats' hopes, however, as the Mountaineers use a terrifying full-court press to generate the seventh most turnovers per game in the nation. Considering Andrew Harrison is turning it over at one of the worst rates in the country, West Virginia's press could be an issue. It could be an upset special in Cleveland with Wichita State and West Virginia hoping to play spoiler to the favorites.
5. Oklahoma vs. Michigan State (Fri. 7:07)
Both of these teams were wildly inconsistent throughout this season, but they seem to be playing some of their best basketball at the right time. Michigan State will be riding high after their great win against Virginia, but a pair of great guards in Buddy Hield and Isaiah Cousins leads Oklahoma in hopes of taking down Tom Izzo's team. Both teams play similar styles so it should be a fun game to watch.
6. Louisville vs. NC State (Fri. 4:37)
NC State just had an outstanding win against one-seed Villanova to get to the Sweet 16, and they look to ride that momentum against Louisville. The Wolfpack have three guards all averaging over 12 points per game, and their recent play from their big men is much improved. They don't have anyone athletic enough to go up against Montrezl Harrell, but this game will be decided by which guards come out on top, as Louisville also has a strong backcourt with Terry Rozier and Wayne Blackshear.
7. Gonzaga vs. UCLA (Fri. 4:15)
UCLA is the only double-digit seed in the Sweet 16, and although they did not deserve to even be in the tournament, they have a very real chance to beat two-seed Gonzaga. Bryce Alford is shooting the lights out for the Bruins and they are getting consistent contributions on the inside from Tony Parker. If Kevon Looney can slow down Gonzaga's Kyle Wiltjer, the Bruins have a real chance. Gary Bell Jr. is a defensive ace for the Zags, so likewise if he slows down Norman Powell the Bruins will be forced to lean on Alford even more so than they have recently. The Zags are the superior team, but UCLA is playing very well right now and could pull off the upset special.
8. Arizona vs. Xavier (Thurs. 7:17)
The Xavier Musketeers are perennially a boring basketball team by reputation who everyone in America usually tends to ignore come tournament time. This year is no exception, but so far in the tournament they are shooting the lights out. They've also had contributions from all sorts of guys, as their two leading scorers combined for only 12 points in their win over Georgia State. While Arizona is big, talented, and very strong defensively, if the Musketeers keep getting big contributions from their role players and continue to shoot absurdly well, this could be a tough game for the Wildcats.
Reach Staff Reporter Jackson Safon here.