NFL
NFL Free Agency: A Wild, Wild Ride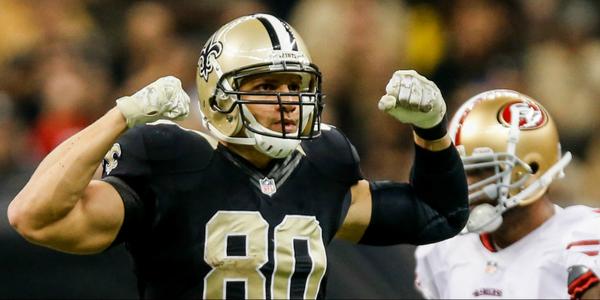 Has your head exploded yet? The first day of NFL Free Agency isn't even over, but the league's foundation has already been shaken. We've known about most free agent signings for a few days now, but Tuesday was still a wild one. Here's the skinny:
Jimmy Graham is a Seahawk
The league's second-best tight end is heading to the Northwest. The Seahawks are sending C Max Unger and the No. 31 overall pick in the 2015 draft for Graham and a 4th-rounder from the Saints.
If it wasn't clear, the Seahawks are still in win-now mode. Unger is a Pro-Bowler who won't be easily replaced, but Graham instantly becomes a red-zone threat unlike Russell Wilson has ever had. We all know how the Percy Harvin trade went, but the Seahawks have been about taking chances with Pete Carroll. Here's another case.
Haloti Ngata is a Lion
The Lions lost Ndamukong Suh to a mega-deal in Detroit, but quickly found a new franchise defensive tackle by trading a pair of mid-round picks to Baltimore for Ngata. Ngata got suspended for four games last season in the Ravens' playoff push, but will try be reunited for with former Ravens' secondary coach Teryl Austin, who is now the Lions' star defensive coordinator.
QB Swap!
Could Nick Foles be the face of the NFL in Los Angeles? The Eagles traded Foles to the Rams for Sam Bradford. While there's no guarantees the Rams will move to Los Angeles, Foles is now the Rams' guy going forward. What's ironic is that while Bradford has been riddled with injuries, Foles only played eight games in 2014 with a broken collarbone. Guess eight games is better than none? The Trojans' own Mark Sanchez is already in Philly for another two years, but Bradford should be the frontrunner in training camp.
Tight Ends Moving
Graham is the big news of the day, but Julius Thomas going to the Jaguars and Owen Daniels heading to the Broncos with Gary Kubiak. Thomas is a red-zone target for Blake Bortles, but it'll be a steep drop-off for Thomas from Peyton Manning to Bortles. $24 million guaranteed should soften the blow, though.
Gore Pulls A 180
We all thought Frank Gore was headed to Philadelphia after reports of him signing with the Eagles last week. Psyche! The former 49ers running back is headed to the AFC now after signing with the Colts. The Colts have been a revolving door of running backs for most of Andrew Luck's time there, so getting him a veteran back with proven prodution could help him avoid setting an NFL record for passing attempts in 2015.
Locker Out
After four injury-riddle seasons, former No. 8 overall pick Jake Locker is retiring. He was drafted by the Angels in the 2006 MLB Draft and was a top-echelon outfielder in high school. Could he find a fairytale ending on the baseball diamond?
Quick Hits
-Torrey Smith is a 49er. He's reunited with former teammate Anquan Boldin to help keep the 49ers' sinking ship afloat.
-Byron Maxwell is now making $10 million a year with the Eagles. $25 million guaranteed for a player with 17 career starts seems questionable, but it's a players' market with a lack of great cornerbacks on the market this offseason.
Reach Senior Sports Editor Jacob Freedman here or follow him on Twitter.