Politics
Meet Pichid, A Thai Immigrant Who Actually Cares About L.A. Politics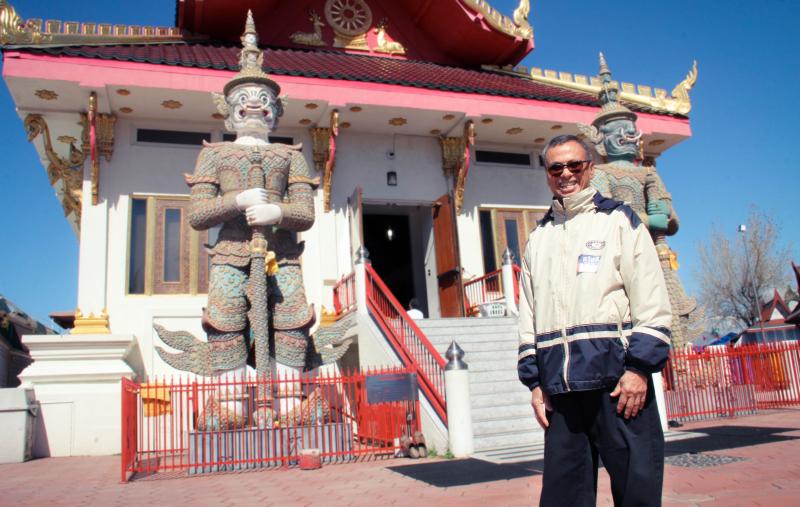 Pichid Roongsang is one of the 8.6 percent—the 8.6 percent who bothered to vote in Tuesday's 2015 L.A. City Elections.
The Thai-American cast his vote for incumbent Nury Martinez of District 6, who late Tuesday looked poised to keep her seat against her challenger, Cindy Montañez.
Not only did Roongsang send his mail-in vote for Martinez, the retired immigrant also volunteered at a polling station at the Buddhist Wat Thai Temple in neighboring District 2 where incumbent Paul Krekorian led his single challenger, Eric Preven, by a margin of 3 to 1.

The few voters who traveled to the Wat Thai Temple were met with an American flag which waved at its entrance. In the polling room, there they were welcomed with a jolly smile and laugh by Roongsang, who said voting has been important to him ever since he moved to America 30 years ago.
"Oh, absolutely. I love it," he said. "I have only one word: power. I have power through the people of the United States. That's good."
Roongsang immigrated to America in 1984. He came with his 2-year-old son and wife.
"I moved to this area to start a new life," he said. Before moving to America, Roongsang was a lawyer in Thailand. Life was good, but his job was the very thing that made him want to leave. "I know the law. When people have power, they don't go by the law."
Roongsang moved to the United States because he was fed-up with Thailand's government.
"Thailand's democracy is not too good," said Roongsang on the country's corruption. "If you read the newspaper, it's not a government from the people. It's a government from the soldiers."
In America, Roongsang had to give up practicing law due to language barriers. So instead, he worked as an electrical and mechanical technician making silicon chips for Mitsubishi and snowboards for an Oregon snowboard company called Morrow Snowboards.
Today, Roongsang is most proud of his now 33-year-old son.
"With my new life, I built him up," he said.
Roongsang's son attended West Point Military Academy, and afterwards got his Masters degree in international relations at the University of California San Diego. Now, his son works as a United States ambassador in Singapore.
This year's election brings to Roonsang's mind a number of issues. The biggest problems for him are cleanliness and crime.
"In front of my building, it is not clean. It needs to be swept. It needs to be cleaned," he said. Roongsang lived in Burbank just two years ago. He said it was much cleaner and safer there.
Roongsang has also been affected by crime on multiple occasions. His car cover was stolen from his apartment's parking lot. He's also had his car broken into, and he's not the only one.
"The next couple weeks, it happened to my neighbor. They broke the hood. Battery was gone," Roongsang said. "Every month. Who's gonna have bad luck this month?"
Roongsang hopes his vote for Nury Martinez will go far, especially when it comes to these issues. He chose Martinez because he was especially impressed with her campaigning. Two weeks ago, Martinez sent someone to his front door. "She sent a layperson to come talk to me," he said.
After Roongsang met with one of Nury's campaigners, he studied the other candidate, Cindy Montañez, a community advocate. But in the end, Roongsang stuck with Martinez.
"I voted for her because I think she's going to do something good."
But that still comes with a catch. Roongsang wants to make sure his vote will help with the crime and cleanliness in his neighborhood.
"That's why I tell the layperson. Hey, clean up the town," he said. "Let's see if they're gonna be good or not."
Reach Staff Reporter Cameron Quon here.