NBA
The Least Of The East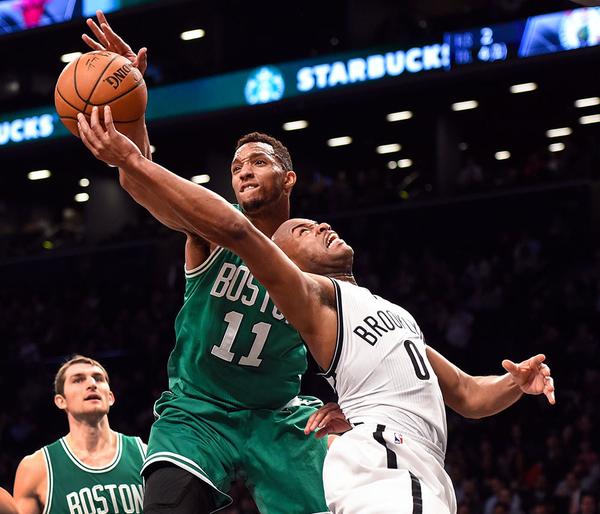 Ah, there's nothing quite like the excitement of playoff races to usher us into the postseason, right?
How does a four-team-for-two-spots battle not sound enticing, exciting and captivating?
What? You mean, Jarrett Jack, Solomon Hill, Marvin Williams and Phil Pressey are not enough to get you riled up?
(Note: Those are actual basketball players, NOT names for your local law firms.)
All kidding aside, given the the bottom of the Eastern Conference's utter incompetence, coupled with the East-West imbalance many have long griped about, the inevitability of not one, but two of these sub .500 teams playing even more games, demands our attention.
Year after year — for the past 15 years — the West's 8th seed has made the East's equal part look like just the opposite, averaging a better finishing record by a whopping 5.8 games.
To revisit the seemingly unjust system that gifts a groveling squad with life, while withholding a deserved bid from better candidates across conferences seems cloying at this point. As of now, no change is in order or forthcoming, and though the East has given us dry limes instead of lemons to try and make our playoff lemonade, we must inject our interest juice into this race in hopes that the sooner it is over, the sooner its survivor will be dispatched back home at the hands of the Atlanta Hawks or the Cleveland Cavaliers.
So, with that in mind, let's scrape the bottom of the bowl and see what possible intrigues each candidate brings to the leftover table. In other words, from a purely entertainment standpoint, which team can temporarily quench our thirst for playoff justice the best?
Miami Heat
A resuscitated Dwyane Wade flanked by surging star center Hassan Whiteside and speedy point guard acquisition Goran Dragic are belittled by the sole reason everyone outside of the state of Ohio wants to see this team in the playoffs: A possible 2–7 matchup that would involve the Cavaliers having to face the Heat.
No one truly believes the Heat could oust the perennial conference favorites, but man, wouldn't it be fun to watch them try? The Cavs are already 0–2 in South Beach and say what you want about Heat fans, but when LeBron steps on that court, they shift from begrudgingly thankful to of daunting aggressors quicker than Joey Crawford can call a charge.
They say friendships aren't true if they aren't competitive, and no one is seeming to take that to heart more than Wade. Oh, LeBron is coming to town? Knees be damned, fatigue be forgotten, as the tree-time champ quickly reverts to his dominant old self in the blink of an eye when he sees his pal on the other side of the court.
Wade has posted points totals of 32 and 31 in both home games against The King and his Land, and like it or not, his play feeds the insecure disdain Miami fans naturally have against LeBron. Seeing their hometown superstar remain in their city and look so motivated and dominant against the one that left them, only makes them more certain of who the protagonist and antagonist are in their minds.
All those narrative-driven storylines and constructed dislike between these two teams are enough to add some spice to an otherwise drab Eastern conference playoff series, thus, Miami's success these last few weeks is something we can all get behind.
Excitement level: Must-see TV until LeBron decides enough is enough and takes over the series en route to a 4–1 final.
Boston Celtics
We all know that after ridding themselves of both Rajon Rondo and Jeff Green the Celtics shouldn't be in this list. But alas, by the wizardry of Brad Stevens' dry-erase whiteboard and the much-needed, crunch-time spark plug that is Isaiah Thomas, the Celtics are somehow in control of their playoff destiny.
Sure, if you look past defensive-minded rookie Marcus Smart, long-standing member Avery Bradley and the aforementioned duo, there is not much to catch your darting TV eyes or satisfy your insatiable palate for playoff basketball.
Kelly Olynyk's luscious mane notwithstanding, nothing about Jonas Jerebko, Phil Pressey, Tyler Zeller, Jae Crowder and Luigi Datome screams playoff basketball. Although apparent triple-double dabbler Evan Turner is the basketball equivalent of 'The Newsroom', so hate-watch at your own peril.
Either way, by taking care of the ball and passing it well (Top-5 in assist % and assist-to-turnover ratio), the Celtics are riding their improving defense — 100.7 points per 100 possessions since the break — into the uncharted waters of the playoffs; a unplanned consequence of their first expected journey.
From the looks of it, it appears Danny Ainge's competitive blood has usurped his sagacious GM instincts on the priority list, as the C's veer away from tanking to better their umpteenth first-round draft pick in lieu of a short playoff thrill ride.
And let's be clear: For both them and the teams listed below, a short playoff thrill ride is all this will ever be.
Excitement level: Only tune in to watch Isaiah Thomas in the 4th quarter or Brad Stevens' play-calls out of timeouts.
Indiana Pacers
The derailing effect of the Paul George injury was thought to be enough to eliminate the Pacers from having any shot at a playoff appearance, but once again, we all underestimated the lowly qualifications that would be required of an Eastern Conference playoff team.
What most also underestimated was Frank Vogel's ability to coach this nameless squad to something other than a disaster aimed at tanking until their superstar returned. Yet, though their resiliency to not fall to the conference basement where the likes of the Knicks have made their home this season is commendable, the reality is this team is not a joy to watch by any stretch.
Their methodical style which revolves mostly around midrange jump shots and emphasis on stopping rather than scoring has ascribed them a bottom-ten ranking in offensive efficiency, fastbreak points and true shooting percentage.
The lack of a playmaker has essentially forced this team into a defensive mindset that cares none, or very little, for scoring at a high level. But though their play is not appeasing to the eyes, give them credit, it has worked well enough to put them in contention amidst their subpar peers.
Excitement level: Unless Paul George comes back and plays, is there any way we can slot them on truTV so we can just pretend we can't find the channel?
Charlotte Hornets
You think the Pacers' offense is hard to watch? The Hornets are somehow making a Paul George-less squad look like an offensive juggernaut.
Charlotte hits the terrible trifecta by ranking dead last in effective field goal percentage, 29th in true shooting percentage and 28th in offensive efficiency. And that's with Michael Kidd Gilchrist having his best offensive season to date.
Yes, getting star point guard Kemba Walker back into the swing of things should help, but Al Jefferson's offensive output has not been nearly the same during this year's campaign, and they sorely miss what Josh McRoberts also brought to the table last year.
For the Hornets, describing this season as a disappointment might be putting it nicely, especially given how highly some thought of their outlook with the addition of Lance Stephenson. Instead, Lance has largely been a detriment to the squad, as they find themselves in the midst of this tire fire barrage that is the East.
Their offense, or more accurately lack thereof, coupled with their descent into sub-mediocrity may have many postulating that their misery be put to an end as soon as possible, but if they make the playoffs, they can at least have that as partial redemption. Not that they should really proud of it, but a moral victory is a victory nonetheless.
Excitement level: Call me if Lance Stephenson gets to guard LeBron again, otherwise I think both us and the people of North Carolina are going to wish the Tar Heels were still playing somewhere.
Brooklyn Nets
If this race is the conference's lowest point to the date, this Nets team may be Billy King's lowest point as well. Think about that for a second.
Not only have the Nets given away every possible draft pick like free samples at Costco, but their own players are playing like they've been eating all those free samples by the dozen. Before the games.
When the addition of Thad Young turns out to be enough to keep you the team in relative playoff contention, troubling does not accurately describe the situation. Tack on the fact that their second-highest player was recently said to not even be the best point guard on their roster — meaning that honor would be bestowed upon … Jarrett Jack *shudders* — and we've reached pitiful levels of despair in Brooklyn.
The fascinating thing about the Nets is this is their only option, to keep on prodding aimlessly toward a hopeful birth that will give them nothing but the satisfaction of its assignation. Their desperation to make the postseason is counterintuitive on the surface, but compared to their future, a first round sweep somehow turns out to be better than heading home early on vacation.
That's a dark place to be.
Excitement level: … Brook Lopez? Deron Williams? Joe Jesus? You know what, let's just pray instead and hope that they don't make it. Not even NBATV deserves this.
(All statistics via NBA.com)
Reach Associate Sports Editor Paolo Uggetti here, or follow him on Twitter at @PaoloUggetti.