National
Justice Department Reveals Racist Practices in Ferguson Police Department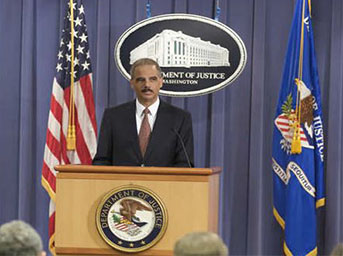 Two Police officers of the Ferguson Police Department were fired Friday due to racist emails found by the United States Department of Justice, according to CNN. The Justice Department found the emails during their investigation that sparked from the slaying of unarmed black teenager Michael Brown by white former police officer Darren Wilson.
Amoung the racist emails from Police officers Rick Henke and William Mudd was one that depicted President Barack Obama as a chimpanzee. One email sent in June 2011 described a man who wanted to put his dogs on welfare because — say the emails — they were "mixed in color, lazy, can't speak English and have no … clue who their Daddies are," according to CNN.
Ferguson's top court clerk, Mary Ann Twitty was also fired earlier this week due to the emails, said city spokesmen Jeff Small.
READ MORE: On Black Lives Matter: An Interview With Patrisse Cullors
United States Attorney general Eric Holder said the Justice Department will use it's total authority to demand police reforms for the city.
The report created by the Justice Department showed the frequent arrests and high amount of traffic citations obtained by African Americans in Ferguson, according to the Huffington Post. The figures from the report were considered "disturbing," according to the Washington Post.
The reports state that African Americans make up 67 percent of the population in Ferguson. Between the years 2012 and 2014, African Americans accounted for 85 percent of Ferguson Police Department traffic stops. They also receive 90 percent of FPD citations and 93 percent of arrests within those two years, according to Washington Post.
The majority of times when the police used force were on African Americans, 88 percent of cases where the police used force from 2010 to August 2014 were on Black people. African Americans are also more likely to obtain several citations within one single incident, according to the Washington Post.
From October 2012 and July 2014, an African American received four or more citations on 73 occasions. This occurred only twice for non-African Americans during that same time period according to Washington Post.
SEE MORE: LAPD Body Cameras Could Be 'A Cop-Out' Say Angelenos
President Obama spoke out about the situation in a town-hall style meeting at Benedict College, a historically black college in Columbia, South Carolina. He said events where officers used traffic stops to raise revenue and the singling out of African Americans for citations and searches was "oppressive and abusive," according to Time.
The Department of Justice has not filed any charges on former police officer Wilson, the state of Missouri also has not filed anything against him, according to CNN.
Now Ferguson must decide whether they will go against the Justice Department's accusations or adopt the reforms. Ferguson officials have not shown any indication that they plan to give the town's law enforcement to another agency, according to Huffington Post.
The cost and process of reform could cost millions of dollars over multiple years. The process would include a court ordered monitor, according to the Huffington Post.
Merrick Bobb, executive director of non-profit organization Police Assessment Resource Center believes that dismantling FPD will provide a solution to problems.
Protest organizer and Ferguson resident Tony Rice wants FPD to disintegrate, but is uncertain in the police department being taken over.
"St. Louis County approved the militarization of the officers," he said. "I am not fond of them."
Related Articles
Department of Justice report on the Ferguson, Mo. Police Department
The 6 Most Racist Ferguson Police Emails Made Public
Reach Web Producer Amanda Scurlock here and follow her on Twitter here.