Arts+Culture
How To Keep Up With SXSW (When You're Not At SXSW)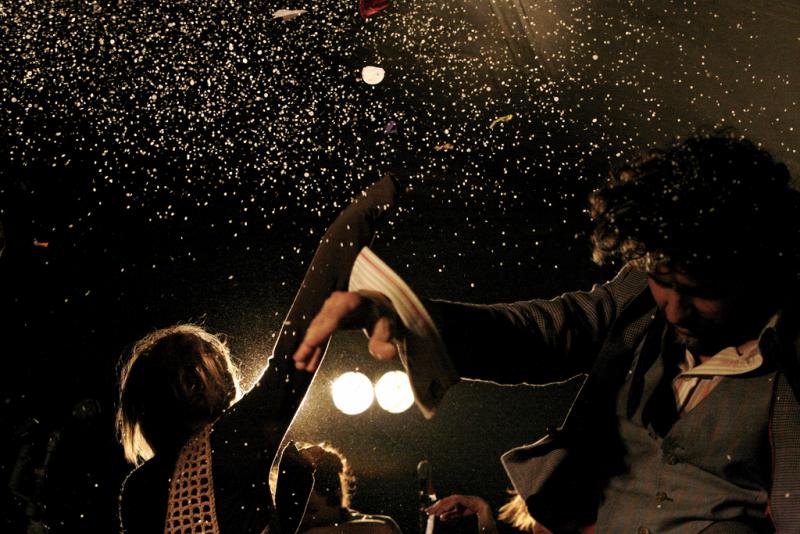 You've tried it all. The contests, the raffles, the unsolicited emails, the desperate calls, the Craigslist-hunting, but no dice: looks like you're not going to South By Southwest this year.
So now it's not so much about what panels you're going to attend and what shows you're going to see, but instead about how you're possibly going to keep up with all of the industry news and buzz-worthy acts bubbling out of Austin like a particularly virulent strain of cultural influenza.
South by Southwest, for the uninitiated, is an annual week-long tech & culture conference held every March in Austin, Texas. For seven days a year, the world's most important players in the fields of film, technology, music and marketing descend on the hip Texas city, bringing with them millions of dollars worth of promotions, parties, and pop-up events.
It's actually pretty amazing that the entire North American landmass doesn't tip over with all of the people flocking to the bottom of the country for this must-attend festival, but of course there are always plenty of people rending their garments because they can't attend to balance it all out... me included.
So for all of us broke, betrayed, jealous and all around FOMO-stricken wannabes sitting in our dark bedrooms 1000+ miles away from SXSW, here are a few easy ways to stay in the know.
This one's fairly obvious, but a good place to start. While the official SXSW Twitter account mainly concerns itself with posting jealousy-inducing updates and reminders about events currently occurring at the festival, there are also video recaps, photos, quotes and reports about all the hustle and bustle.
Collecting top bits of news from all three areas of SXSW (Interactive, Film, and Music), the official feed is an informative if cursory account to keep a close eye on.
#2 Mashable
Mashable, a technology, media and entertainment website, is doing a detailed and engaging running liveblog of this year's SXSW. Medium-length articles, updated multiple times a day, recount events and encounters in marketing, tech and social media.
If you're interested in the more geeky side of the festival, then refreshing this page would definitely help make sure you don't miss anything viral, robotic or virally robotic.
Geek & Sundry, the nerdy multimedia brainchild brand of geek icons Felicia Day and Wil Wheaton, has a massive presence at SXSW this year, putting on events and sponsoring parties galore—many of which are being livestreamed and liveblogged right on their Twitter feed!
If you're a gamer, a geek, or at all into the Interactive section of SXSW, keep up with Geek & Sundry's feed & website for frequent glimpses into their fun-filled fest schedule.
Buzzfeed's Matt Bellassai is known for his irreverent, flamboyant and no-holds-barred Twitter personality, spewing off running jokes about being in love with Harry Styles and Tumblr-teen-tailored daily diary updates.
He's continuing his winning streak of charming commentary as he attends SXSW, so definitely follow him on Instagram and Twitter for his latest escapades and a hilarious perspective on the overwrought epicenter of pop culture that is Austin this week.
#5 Indiewire
For indie film buffs, missing SXSW is like missing that one day in school where everyone undergoes a traumatic bonding experience and you come in the next day and you just don't Get It, leaving you isolated and confused.
To avoid reenacting this undesirable metaphor, follow Indiewire's Twitter for well-written and comprehensive film reviews and news out of the cinematic portion of the festival.
Brooklyn-based music & events company The Wild Honey Pie is at SXSW this year putting on a bunch of parties and shows that are sure to be well-attended by the most important players in the ever-burgeoning indie scene.
Their Instagram and Twitter will chronicle the most exciting moments of everything going down on the music side of the festival, and even though you won't be able to hit up the events listed on their comprehensive unofficial guide, it will definitely help you keep track of the hottest up-and-coming artists to check out afterwards!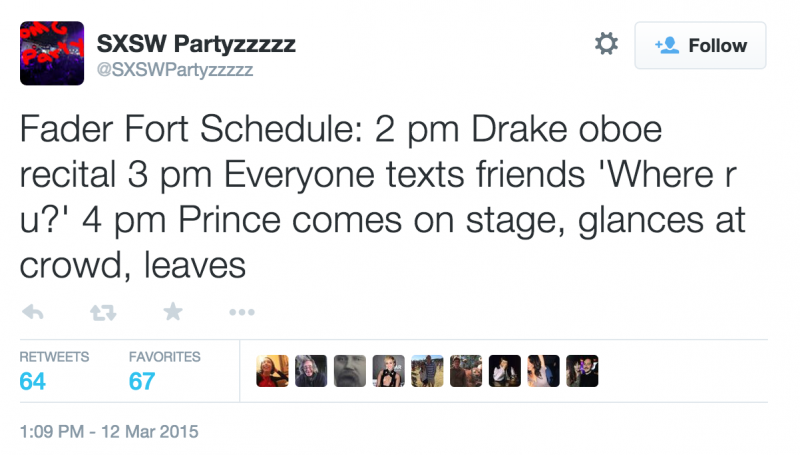 Okay, so this one's a parody account, but it's a damn good one. SXSW Partyzzzzz on Twitter (that's 5 z's, for the record) will make you feel a little better about not being in Austin with its pithy digs at line-sitters, badge-holders and show-goers.
Nothing like a little timely satire to lighten the mood while you're scrolling through your Facebook feed watching everyone having fun without you!
Contact Contributor Allegra Rosenberg here and follow her on Twitter here.