Los Angeles
LAPD Fatally Shoots Man on Skid Row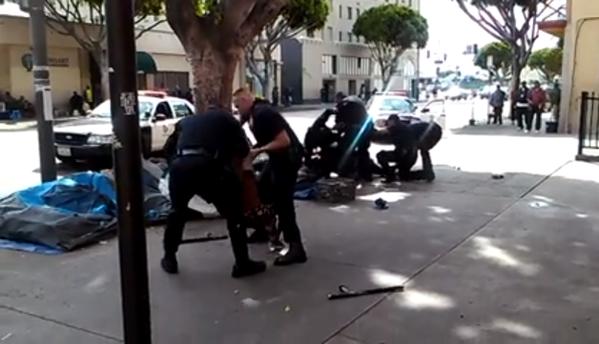 Police fatally shot a man on Skid Row Sunday during a fight over an officer's weapon, authorities say.
The shooting was caught on camera by Anthony Blackburn, who uploaded the video to Facebook. The graphic footage has been viewed over three million times.
According to Commander Andrew Smith, the police were responding to a call about an possible robbery, reports the LA Times. The officers approached the man, who began fighting with the officers, Smith said. At that point, the officers tried to take him into custody and even used a taser, which the LA Times reports was "ineffective."
In a statement released by the Los Angeles Police Protective League says that "audio heard on a video recording during the incident clearly suggests that the officers felt they were in life-threatening danger."

L.A. Weekly reports that audio from the video clip appears to have at least one officer yell "gun" and then "drop the gun" before the shots ring out. Five gunshots are heard on the recording.
Witnesses have identified the man as "Africa," says the LA Times but the police have not identified the man or reported how many officers were involved.
A vigil was scheduled in Pershing Square Sunday night, but most people dispersed due to the rain by the late evening. Another vigil is supposedly scheduled for 1pm at the Los Angeles Community Action Network, according to the Instagram account la_movement.
People immediately took to social media to discuss the killing.
Follow Neon Tommy's continued coverage here.
Reach Senior News Editor Rebecca Gibian here or follow her on Twitter here.