Sports
Homecoming Queen: Serena Williams Rewrites The Troubled History At Indian Wells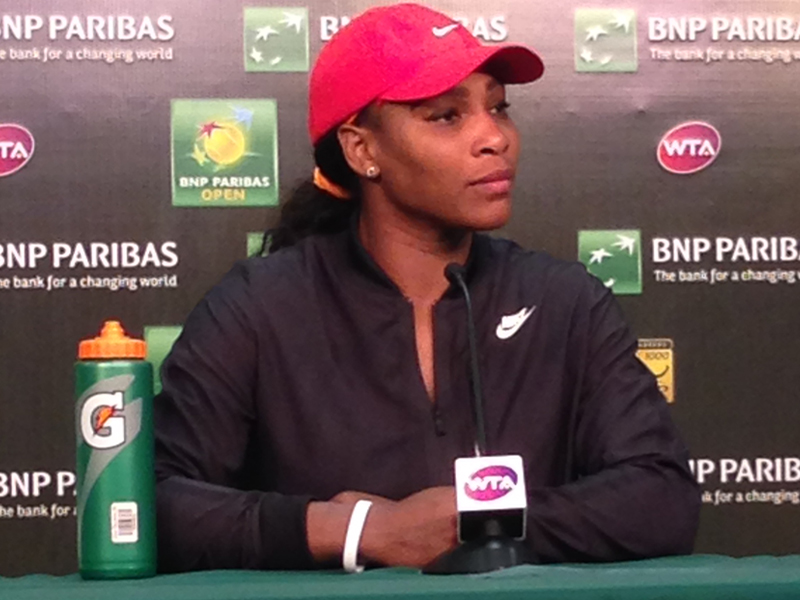 The last time Serena Williams won a match at the Indian Wells Tennis Garden, she was booed. After a 13-year boycott of the event, the California-bred champion made her triumphant return with a 7-5, 7-5 victory over Romania's Monica Niculescu to warmth and acceptance.
Having not played a professional match in a little over a month, Williams struggled early, quickly going down 0-2. The Romanian's quirky slice-and-dice style of play proved problematic for Williams, who could not find her rhythm off the ground.
"I felt great," said Niculescu following the match. "The plan was to play relaxed, to play my game, to try to mix it up, don't play the same--because she likes it--and I think it worked."
After holding serve in an arduous third game to prevent falling behind 0-3, Williams settled into the competitive affair.
The world No. 1 battled, not only a crafty opponent for a little over two hours Friday night, but also her own emotions. Williams was brought to tears walking out onto the center court at the BNP Paribas Open to a thundering standing ovation.
"I didn't know what to expect," Williams said in her post-match press conference. "I was overwhelmed by it. It was such a warm feeling."
Such praise was not the case when Williams defeated Kim Clijsters in the controversial 2001 championship for her second Indian Wells title.
Before reaching the final that year, Serena was set to play her big sister Venus in the semifinal. Moments before taking the court, Venus withdrew from the tournament citing tendinitis, sparking rumors that their father, Richard Williams, had fixed the match.
During Serena's warm-up for the final, the crowd booed as Venus and Richard made their way to their seats. The stadium's discontent lingered for the duration of the championship match, wildly cheering for any winning shot made by Clijsters and every error from Williams' racquet. The controversy thickened with racial undertones, as Richard Williams would later confess to overhearing racial jeers directed at he and Venus.
Serena reflected on that match during her pre-tournament press conference: "I remember sitting down and praying," she shared. "I said, 'I don't want to win this match, I just want to get through this moment.'"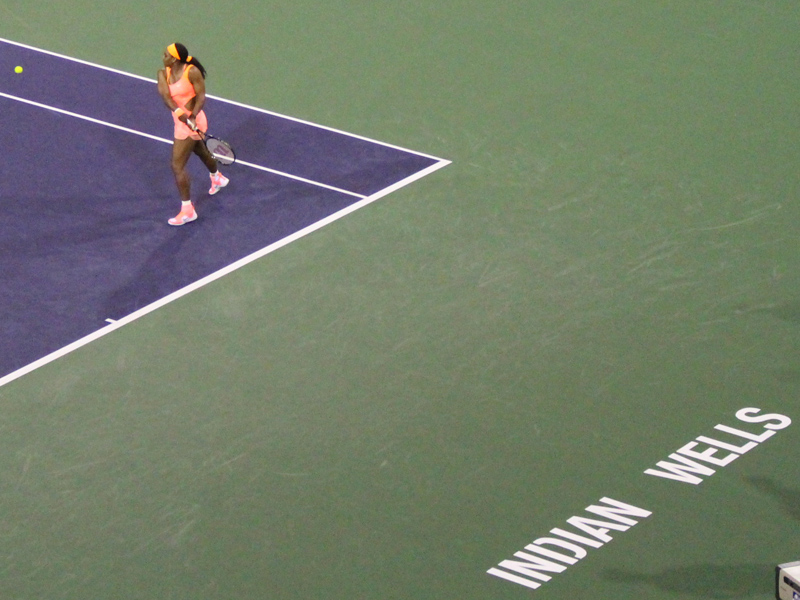 The sisters would never return to the prestigious tournament, until Serena decided to take a wildcard into this year's event in February without sister Venus (but with her and her father's support).
"In order to forgive, you have to be able to really let go of everything…I kind of let go a long time ago…but I still wasn't at the point where I was ready to come back to Indian Wells," Serena said.
While the 19-time Grand Slam champion said there was no defining moment that led to her return, she consulted with family, friends and tournament directors about the possibility of playing before committing.
Williams partnered with the Equal Justice Initiative for her return, encouraging fans to donate to the nonprofit to win, among other things, a chance to return her serve and sit courtside for her matches.
Although there are many matches yet to be played, the world No. 1 isn't too concerned with wins or losses.
"I feel like I've already won this tournament. I don't feel like I have to actually hold the trophy up to win this…I've never felt that way before. I feel like just being here is a huge win not only for me but for so many people," she said.
Serena will continue her Indian Wells campaign against No. 28 seed Zarina Diyas of Kazakhstan on Sunday.
Reach contributor Bryce Christian here.