Film and TV
Film Review: 'Tracers'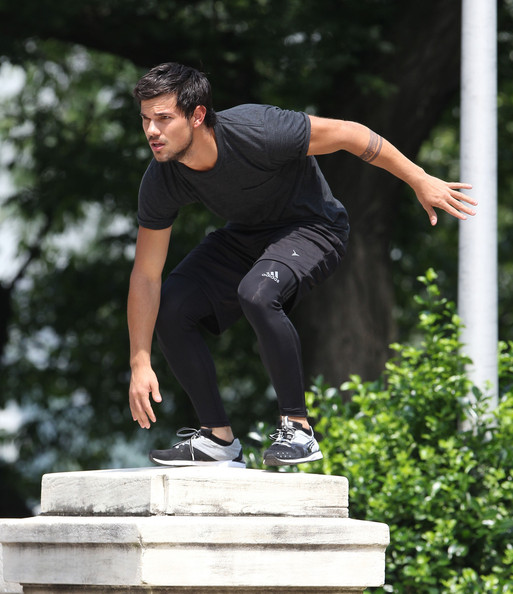 Director Daniel Benmayor brings parkour - a street sport version of classic military obstacle course training - to the big screen in an unexpectedly delightful way in "Tracers."
Parkour, originally developed in France, is about focus and maneuvering. Those who practice parkour, called tracers or free-runners, are able to nimbly run, climb, swing, roll, jump, vault and otherwise use their agility to breeze past obstacles in typically urban spaces.
In "Tracers," this extreme sport is combined with a decent plot and fresh-face actors to present a type of movie that has yet to be overly recycled by filmmakers.
READ MORE: Film Review: 'Focus' Premiere And Film Review
Taylor Lautner's character is named Cam, an orphan who lacks a solid identity and possesses few resources to his name. He's also wanted by the most dangerous Chinese mafia in New York for failing to pay off a loaned $15,000 on time, which his bike messenger occupation can't sustain.
One fateful day, a mysterious stranger falls from the sky and causes Cam to total his bike. Swept off his feet, Cam searches the city for her and finally tracks the fearless female down during a workout session. He introduces himself to Nikki (Marie Avgeropoulos), whose sport of choice is parkour.
From there, nothing was the same for the young 20-something whose most prized possession is a broken down muscle car. Cam is fascinated by the art of parkour and starts training on his own (Admirably, Lautner did some of his own stunts for the role, which he learned from his stunt double). Nikki pulls Cam into her world of danger and uncertainty, leading him to adopt a lifestyle full of crime and (avoidable) punishment. For the first time in his life, Cam finds his reason to be… And runs with it.
Cam meets and goes to work for Miller (Adam Rayner), a father-like persona who protects runaways with few opportunities like Nikki and her brother Dylan (Rafi Gavron). Soon, Cam is stealing police evidence and moving illegal shipments for Miller, using his newfound parkour tricks to escape sticky situations.
READ MORE: Film Review: 'Blackhat'
The filmmakers involved know how to keep an audience alert and intrigued. The action scenes are intense, especially because the stunts (like jumping between floors in a sketchy parking lot) are executed to be as realistic as possible. When Cam and the crew are running for their life, we believe it. We see them straining to push themselves to their physical limit. We sense the electrifying energy radiating from these athletic badasses. The filmmakers did not use special effects or safety wires on its actors. These stunts are authentic and we, the audience, can tell.
The cast dynamic is just as real. Lautner and Avgeropoulos shared real-life chemistry for a short while after the movie was filmed. The free-runners look like they're having fun during their stunts and enjoying time together. They look like casual friends. There's no awkward, unsettling feeling of false acting.
This is not an A-list move casted with A-listers. Taylor Lautner is the biggest name in the cast, and even he has slipped in his film career since "Twilight." "Abduction," his last major project, was not nearly as well-received. Lautner widely lost the fandom from "Twilight" that followed his costars Robert Pattinson and Kristen Stewart to other significant roles. He has untapped potential and deserves another mainstream role to showcase it. "Tracers" won't take him to the next level, but it's a good mark on his acting resumé.
READ MORE: Film Review: 'Hot Tub Time Machine 2'
As for Avgeropoulos and Gavron, these two have a budding future ahead of them. Can they take their individual careers to higher levels? That remains to be seen, but they certainly deserve to. We're sold on Nikki's alluring sensuality and Dylan's passive aggressive demeanor.
The idea to use New York - an urban jungle - adds to the appeal of the movie. Though it is an overly used location, the incorporation of parkour makes the landscape into a playground that has not been brought to the big screen before. It is refreshingly new, while also staying classic.
"Tracers" will ultimately be underrated through no fault of its own, along with the cameramen who chased after the free-runners - while carrying heavy equipment - to capture the best shots. The camerawork was done by a crew who could move just as efficiently and quickly as the parkour professionals. For that, we applaud them.
READ MORE: Film Review: 'Kingsman: The Secret Service'
This is an action movie, a crime drama and a sport feature all wrapped into one. Whether you're a parkour fan or not, this movie will certainly get you interested in looking up parkour videos on YouTube in your free time.
"Tracers" drops March 20. Check out the trailer below.
Reach Senior Entertainment Editor Kathy Zerbib here. Follow her on Twitter here.