Los Angeles
Driver Of Car In Train Crash Is A USC Student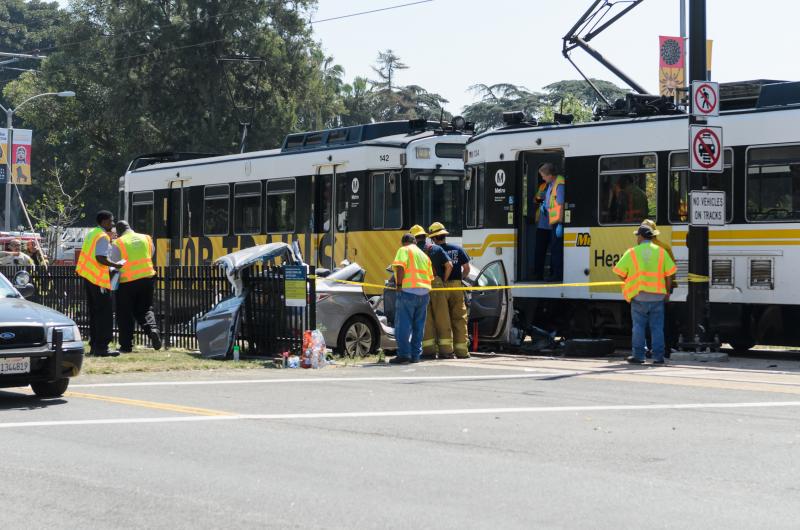 The driver of the Hyundai Sonata that collided with an Expo Line train early Saturday morning was a USC student, according to law enforcement officials.
Los Angeles Police Dept. South Traffic Sgt. Hendley Hawkins confirmed to Neon Tommy that the driver was a 31-year-old student. The driver remains in "critical condition," according to Hawkins. LAPD and Los Angeles County Sheriff's Department officials are not releasing the student's name.
A Los Angeles County Sheriff's Deptartment watch commander said over the phone that the driver was taken to California Hospital Medical Center.
SEE ALSO: Expo Line Train Hits Car Near USC, 21 Injured
A member of the Los Angeles Fire Department who was on bike patrol Saturday night said the driver "was bleeding out of his femur," and added that the major artery in that area of the body was cut.
Neon Tommy called the hospital at 9:16 p.m. to get an update, but officials would not release any information.
SEE ALSO: Crenshaw's 'Railway To The Future'
This comes after rumors swirled for hours that the driver was a student at the university, located just north of the train tracks.
Rebecca Gibian contributed reporting to this article.
Natalie Zhang filmed and edited the video in this article.
Reach Civic Center Bureau Chief Max Schwartz here; follow him on Twitter here.