Politics
Crime, Employment, Education on District 8 Voters' Agenda
Crime and safety, job availability and wages, and the state of public schools were among the issues on voters' minds Tuesday in Los Angeles City Council District 8, just south of the University of Southern California campus.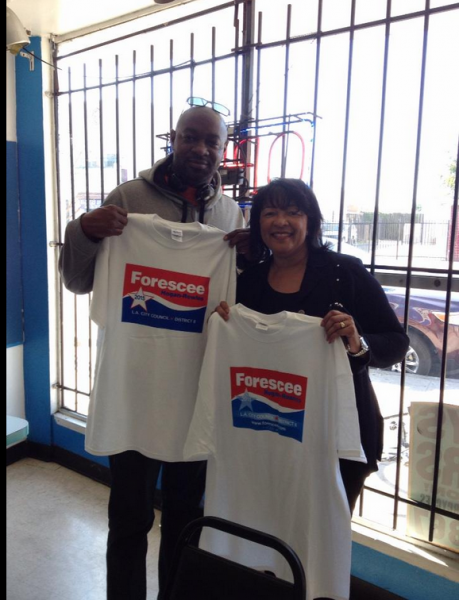 Voters go to the polls Tuesday to choose a replacement for Councilman Bernard Parks, who is termed out after 12 years in office. Forescee Hogan-Rowles, Marqueece Harris-Dawson, Bobbie Jean Anderson and Robert L. Cole Jr. are running for the seat. If none gets a majority of votes cast, the top two candidates will continue to a runoff on May 19 as part of the general municipal election.
The following were among the issues District 8 voters said Monday are their chief concerns:
Crime and Safety
District 8 residents seemed most concerned with the safety of their children and the presence of drug use and prostitution in their community. A greater police presence would help, according to several people interviewed. All four city council candidates also list safety as a top priority.
"It's simple, we need more security," said Oscar Andrade, 37, walking out of a Smart & Final store on Vermont Avenue, near USC. "I want to see more surveillance -- not just more police, but video surveillance to stop the violence. That's the real problem that needs fixing."
Violent crime is on the rise in the community. Between Jan. 1 and Feb. 21, 208 violent crimes were reported by the Southwest Community Police Station, District 8's primary station, according to the Los Angeles Police Department's website. During the same period last year, there were 191 violent crimes reported.
"I wish the police would do a better job and I want to support safer neighborhoods, so I would vote for whoever supports law enforcement," said Carlos Renta, a 19-year-old Baldwin Hills resident.
Greg Nixon, a Crenshaw retiree, said a candidate who works closely with the police would be best for the area.
"No one can live here without some sort of police force keeping the area safe," he said. "We need some kind of help."
James Summers, a 26-year-old Ralphs supermarket cashier from Crenshaw, said he is concerned about his family's safety.
"Both me and my girlfriend are scared to let our kids go outside and play alone," Summers said.
Herman Hurtado said a friend of his was recently attacked on his way home from school. Hurtado, 23, said he will be voting for Harris-Dawson in Tuesday's election because he believes the candidate, if elected, will crack down on the violence in District 8.
Edgar Flores, 25, is also worried about crime, but said that he has seen the area get better.
"It's kind of sketchy sometimes, but it has improved," Flores said. "There's not as much of the gang element anymore. Even the graffiti is better. It's nicer, it's getting better."
Jobs
An overwhelming majority of residents say job creation is another major issue in the district. From those looking for a job, to those who have a job, it seemed everyone had been affected by a lack of jobs in the district one way or another.
Joe Vignes, a retiree living near Coliseum Street and La Brea Avenue, said the job market is more difficult now than he can ever remember. Vignes once owned his own car-maintenance company and said that while he has experienced business downturns, they were nothing compared to the economic climate now.
"There's very high unemployment in the area," said Vignes. "A lot of young people have trouble finding jobs nowadays. These are difficult times."
But it isn't only young people that are having trouble finding jobs. According to the California Employment Development Department, more than 370,000 Angelenos were unemployed in December 2014, the last month for which data is available.
"I've been looking for work for years now," said Lee Davis, 70. "Something needs to be done to get people off of the streets and give them somewhere to work and some money to earn."
And for others, the issue of jobs is actually keeping them from the polls. Thirty-year-old Maria Alvarez is scrambling to balance time between a job search and caring for her son.
"Every day is a new challenge," Alvarez said. "I see signs in people's yards for the elections, but I don't care. There's not enough time for me to worry about that."
Even for those with jobs, seeing other people struggle with unemployment is troubling.
"Every day there's young men, and older men, who just hang out," said Wendy Croomes, a make-up counter worker at the Macy's at Baldwin Hills Crenshaw Plaza. "They just loiter all day, every day, drinking and maybe selling drugs. [They're there] early in the morning to late at night, and the police just pass by and they don't do anything."
For those in the district who do have jobs, wages are a concern. With the issue of jobs comes the issue of minimum wage. Richard "The Man" Henderson, a Food 4 Less employee, said the current pay rate of $9 an hour isn't enough.
"We need $15 an hour," Henderson said. "That's a minimum!"
Henderson said he's casting his vote for the candidate who supports giving him the wage he believes he deserves.
Education
Many constituents in District 8 also have concerns about the condition of the public-school system. The Los Angeles Unified School District has dealt with a variety of issues, including a steady drop in enrollment. According to data in the district's L.A. School Report from December, overall enrollment has plummeted to 650,000 from 750,000 since 2003. A financing shortage also has hobbled schools in District 8 and elsewhere across Los Angeles.
"My daughter is in 10th grade and she participated in school a lot," said Elizabeth Pablo. "But a couple of years ago they took away a lot of the programs because there wasn't a lot of funding and now she's not busy and not involved with her school."
High school students, such as Carla Daniels, understand the frustration many adults have with the underfunded school district. However, all she wants the LAUSD to do is pay for better teachers.
"I'm so bored in class," said Daniels. "I don't want to be there and I'm not learning anything that helps me in life. I just want to go to college and learn what I want to learn. Teachers seriously don't care and it's so annoying."
Some voters are hoping for an increase in youth and after-school programs, believing they will go a long way in keeping kids in the classroom and out of gangs.
"There is not much structure for youth and it leaves them nothing to do besides go to school and come home," said Linda Ramirez, a District 8 resident. "School is generally safe, but there is a lot of spare time for children to be on the streets."
Voter Apathy
Some residents seemed unaware of the upcoming election, echoing the voter apathy that's plagued the entire city in recent years. Just 23 percent of registered voters turned out for the 2013 mayoral election, when Los Angeles Mayor Eric Garcetti won his seat.
"I don't think I know anyone voting -- not my family or friends or nothing," Crenshaw resident Carlos Ramirez said, "We just kind of stick together. You know, people take care of themselves."
Flores, the 25-year-old worried about crime, said he won't be voting tomorrow. He said he usually votes in presidential elections.
"I don't like voting if I'm not informed," Flores said.
Some residents said they are following the election and believe whoever is elected District 8's next city council representative will have an impact on the future of the community. Albert Fernandez, who works at the Baldwin Hills Crenshaw Plaza shopping center and says he lives a few blocks away, said he plans to vote for Harris-Dawson because "he understands how this community works and what it needs."
"Voting really does matter and I think it's sad that more people don't come out" to the polls, Fernandez said.
Also contributing to this report were Savannah Ajar, Noah Camarena, Christina Cameron, Jason Cheng, Meghan Coyle, Alex Duplessis, Avery Etuk, Brooke Gignac, Sarah Hansen, Simon Makowicki, Kevin McAllister, Marc Sallinger, Russell Simon, Kayla Sukert, Casey Tamkin, David Tepper, and Andrew Tweedy.