Los Angeles
A City Divided: Will The Minimum Wage Hike Make or Break L.A.?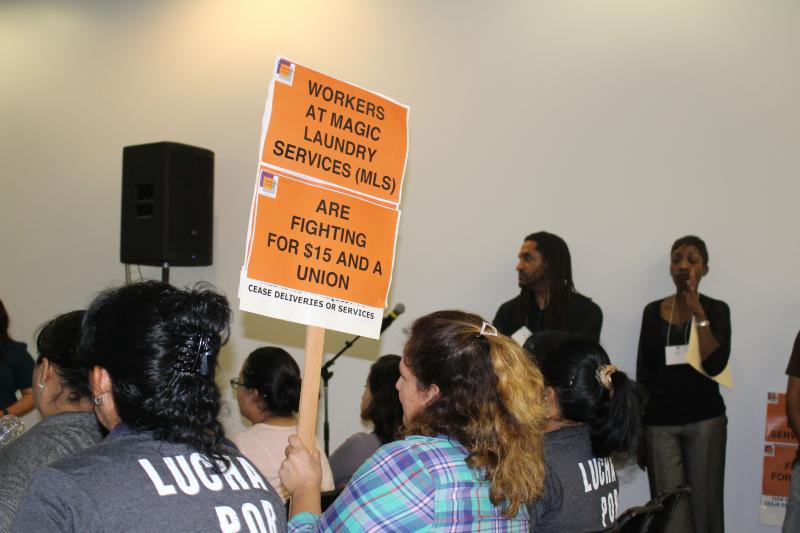 Following the trend of other West Coast metropolises, the Los Angeles City Council is actively considering raising the minimum wage to just over $15 by 2019.
The discussion, however, has highlighted the polarizing opinions between those in the city who oppose and those who support a pay hike. Both sides have two very different predictions — either an L.A. with an economic surplus boosted by workers with bigger wallets, or one suffering a stalled economy choked by price hikes.
"Many do not believe there should be any minimum wage — that instead, we should allow the market to decide," said Kent Wong, the director of the UCLA Labor Center. "The reality is there is a huge low wage economy here in Los Angeles amidst tremendous wealth."
There are currently two proposals for a minimum wage increase in the city of Los Angeles. The first was set forth by Mayor Eric Garcetti last September, and recommends a raise to $13.25 by 2017. The second, which is headed by some council members and builds off the mayor's plan, is proposing $15.25 by 2019.
The latter number originated from calculations in 2014 that a single adult needs to earn just over $30,000 to have a minimal standard of living in Los Angeles, said Daniel Flaming, the president of the nonprofit Economic Roundtable. His organization was one of three to produce studies on the minimum wage increase that were released in March. They are now being utilized by the City Council Economic Development Committee in their string of hearings this month regarding the wage raise.
The Economic Roundtable, along with a study led by the Berkeley Institute for Research on Labor and Employment, were in favor of a wage hike.
"It's needed and feasible for L.A.'s economy to make the [minimum wage] lift," Flaming said. "Two of the studies that used different data and methodology validate each other."
The one dissenting study, however, prepared by Beacon Economics and commissioned by the Los Angeles Area Chamber of Commerce, is in line with the fears of many business leaders in the city: that a minimum wage increase could stunt job growth and send businesses fleeing to nearby cities.
"There will be negative impacts [from the minimum wage increase] as businesses adjust and compensate due to their added costs," said Leron Gubler, the president of the Hollywood Chamber of Commerce. "You will see employees with reduced hours and employees being laid off, but the greater impact will be less hiring."
The Hollywood Chamber is recommending that instead of a blanket measure, the city instead provide safeguards for small businesses and nonprofits.
One business group in particular has sounded the horn against raising its wages: restaurants. Net profit margins for restaurants are notoriously thin, averaging about 3 percent in 2013, according to the research firm Sageworks. That is less than half of all other private industries in the nation.
And the California minimum wage increase to $9 enacted in 2014 is still leaving some restaurant owners reeling, as state law now does not distinguish between tipped and non-tipped workers. An increase to $13.25 or $15.25 could be crippling.
"How would I be able to make my payroll with 15.25?" asked Richard DiSisto, who owns three restaurants in the Sherman Oaks area. "That's impossible."
DiSisto warned that continued wage hikes could soon facilitate the demise of non-corporately owned restaurants.
"Restaurants are already closing at lightning speed in Los Angeles because they can't make payroll," he said. "[A minimum wage hike] is like putting a dagger through the heart of the restaurant industry."
But exemptions are seen as a slippery slope from wage hike advocates, who warn that if they are too pervasive, they could be exploited.
"These should really be in the small minority," Wong said. "The more you provide opt outs for employers, the more you tend to reduce the coverage for more workers and the minimum wage should be as expansive and exclusive as possible."
Advocates of the minimum wage increase have also highlighted that lower income workers spend their money at faster rates then those who are more affluent. Putting more money into the pockets of low wage workers could produce a positive economic effect, experts say.
"If a higher share of business revenue goes to workers that live locally and spend dollars immediately as the data shows they do, there is in fact a stimulus effect out of this," Flaming said. "There are more dollars staying in the local economy and being spent more quickly in the local economy than would otherwise be the case."
Mary Kay Henry, the president of the Service Employees International Union, dismissed outright what she referred to as the commonly used "small business story," or in other words, the idea that small businesses are victims to a wage increase.
SEIU worked extensively in the campaign to increase the minimum wage in Seattle, and Henry said in her experience, small businesses were instead agreeable to such increases.
"Our lived experience in building coalitions is that small businesses want us to raise the minimum wage because it gets more business in the door for them," she said.
The City Council will hold two more hearings on March 31 and April 2 regarding a potential hike. Until the city makes a definitive action, however, two very different predictions lie in its future.
"The reality is we don't know with certainty what the effects will be," Flaming said. "We don't know with certainty if the economy will contract or expand."
You can contact Staff Reporter Matt Lemas here and follow him on Twitter here.